Hunt Slonem
|
1951 | Kittery, ME
Photos
---
Artist Bio
Inspired by nature and his 60 pet birds, Hunt Slonem is renowned for his distinct neo-expressionist style. He is best known for his series of bunnies, butterflies and tropical birds, as well as his large-scale sculptures and restorations of forgotten historic homes. Slonem's works can be found in the permanent collections of 250 museums around the world, including the Solomon R. Guggenheim Museum, the Metropolitan Museum of Art in New York City, the Whitney, the Miro Foundation and the New Orleans Museum of Art.
Since his first solo show at the Fischbach Gallery in 1977, Slonem's work has been showcased internationally hundreds of times, most recently at the Moscow Museum of Modern Art and the State Russian Museum in St. Petersburg. In 2017 and 2018, he was be featured by the National Museum of the Republic of Kazakhstan, the National Gallery in Bulgaria, and in countless galleries across the United States, Germany and Dubai.
His flair and admiration for far-flung destinations has been a staple of his life since childhood. Slonem was born in 1951 in Kittery, Maine, and his father's position as a Navy officer meant the family moved often during Hunt's formative years, including extended stays in Hawaii, California and Connecticut. He would continue to seek out travel opportunities throughout his young-adult years, studying abroad in Nicaragua and Mexico; these eye-opening experiences imbued him with an appreciation for tropical landscapes that would influence his unique style.
After graduating with a degree in painting and art history from Tulane University in New Orleans, Slonem spent several years in the early 1970s living in Manhattan. It wasn't until Janet Fish offered him her studio for the summer of 1975 that Slonem was able to fully immerse himself in his work. His pieces began getting exhibited around New York, propelling his reputation and thrusting him into the city's explosive contemporary arts scene. He received several prestigious grants, including from Montreal's Elizabeth Greenshields Foundation, the National Endowment for the Arts, and the Cultural Counsel Foundation's Artist Project, for which he painted an 80-foot mural of the World Trade Center in the late 1970s. He also received an introduction to the Marlborough Gallery, which would represent him for 18 years.
As Slonem honed his aesthetic, his work began appearing in unique, contextual spaces. By 1995 he finished a massive six-by-86-foot mural of birds, which shoots across the walls of the Bryant Park Grill Restaurant in New York City. His charity work has resulted dozens of partnerships, including a wallpaper of his famous bunnies designed specifically with Lee Jofa for the Ronald McDonald House in Long Island.
Slonem continues to draw great inspiration from history, forging palpable connections to the past through his art. His popular portraits of Abraham Lincoln reframe the historic figure as a pop-art icon, and he is currently working on a nine-foot-tall bronze sculpture of French explorer Robert De La Salle, to be displayed publicly in Louisiana.
Yet Slonem's most ambitious project has been his mission to save America's often forgotten historic buildings. Realizing too many of the country's architectural gems have fallen into disrepair, Slonem has found himself drawn to these national landmarks, inspired by the depth of their age and old-world beauty. Among his accomplishments are the restorations of Cordt's Mansion in Kingston, New York; the Lakeside and Albania mansions of Louisiana; and the Scranton Armory and Charles Sumner Woolworth's mansion in Scranton, Pennsylvania. His sixth and latest endeavor is Belle Terre, a storied property in South Kortright, New York.
Numerous books and monographs have chronicled Slonem's art, including Bunnies (Glitterari Inc., 2014), Birds (Glitterati Inc., 2017) and Hunt Slonem: An Art Rich and Strange (Harry N. Abrams, 2002). His studios and homes have been profiled in such books as When Art Meets Design (Assouline Publishing, 2014) and Pleasure Palaces: The Art and Homes of Hunt Slonem (powerHouse Books, 2007), among others. His latest will be Gatekeeper (Assouline Publishing), showcasing his reclamation of the Scranton Armory, and its transition "from arms to art."
---
Artist Exhibitions
AWARDS

2015 Russian Academy of Art Medal of Merit
2013 Louisiana State Arts Council Inaugural Lifetime Cultural Achievement Award, Baton Rouge, LA
2013 The Horticultural Society of New York Award of Excellence, NYC
2009 D&D's Stars of Design, Award in Art, New York, NY
2007 ARTrageous Children's Expressions Project, Gala Dinner and Art Auction Honoree, NY, NY

2006 Urban Stages Award for Fine Art, New York NY
1991 National Endowment for the Arts
1986 MacDowell Fellowship, Peterborough, N.H.
1984 MacDowell Fellowship, Peterborough, N.H.
1983 MacDowell Fellowship, Peterborough, N.H.
1983 Ragdale Foundation, Lake Forest, IL

1982 Millay Colony, Austerlitz, NY
1978 Cultural Council Foundation Arts Project, NY
1976 Elizabeth T. Greenshields Foundation,
Grant for Painting, Montreal, Canada
1968 Rotary International Exchange Student, Managua, Nicaragua

---
---
Artist Catalogues
Hunt Slonem 2022
URL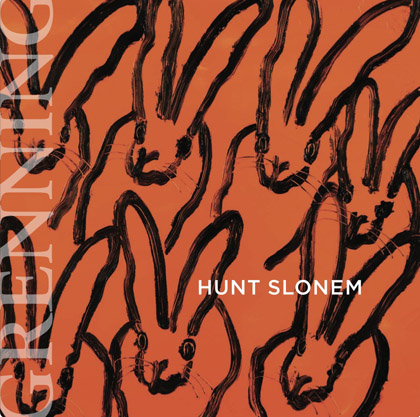 Exuberant expressive and inspired by nature, Hunt Slonems ubiquitous bunnies, birds and butterflies are popping up everywhere. I first saw his work in some of my best clients homes, and then recently in a European gallery mainly featuring my favorite 19th century impressionist masters. Upon deeper investigation, I quickly realized that Slonem was more than just that guy who painted bunny rabbits. Hunt Slonem has created a global brand while creating work that is both critically important AND sensually appealing – which is a needle few living artists thread. Slonem has deep and broad institutional support and interest – his work is in the permanent collections of the Metropolitan Museum of Art, the Whitney Museum, the Guggenheim, the Smithsonian, and the National Gallery of Art, Moscow Museum of Modern Art, Miro Museum in Barcelona, and the Odessa Museum in the Ukraine just to name a few of the over 200 public collections. Slonems work can be found in galleries AND museums across the United States and Europe, and Asia.
---
---
---
---