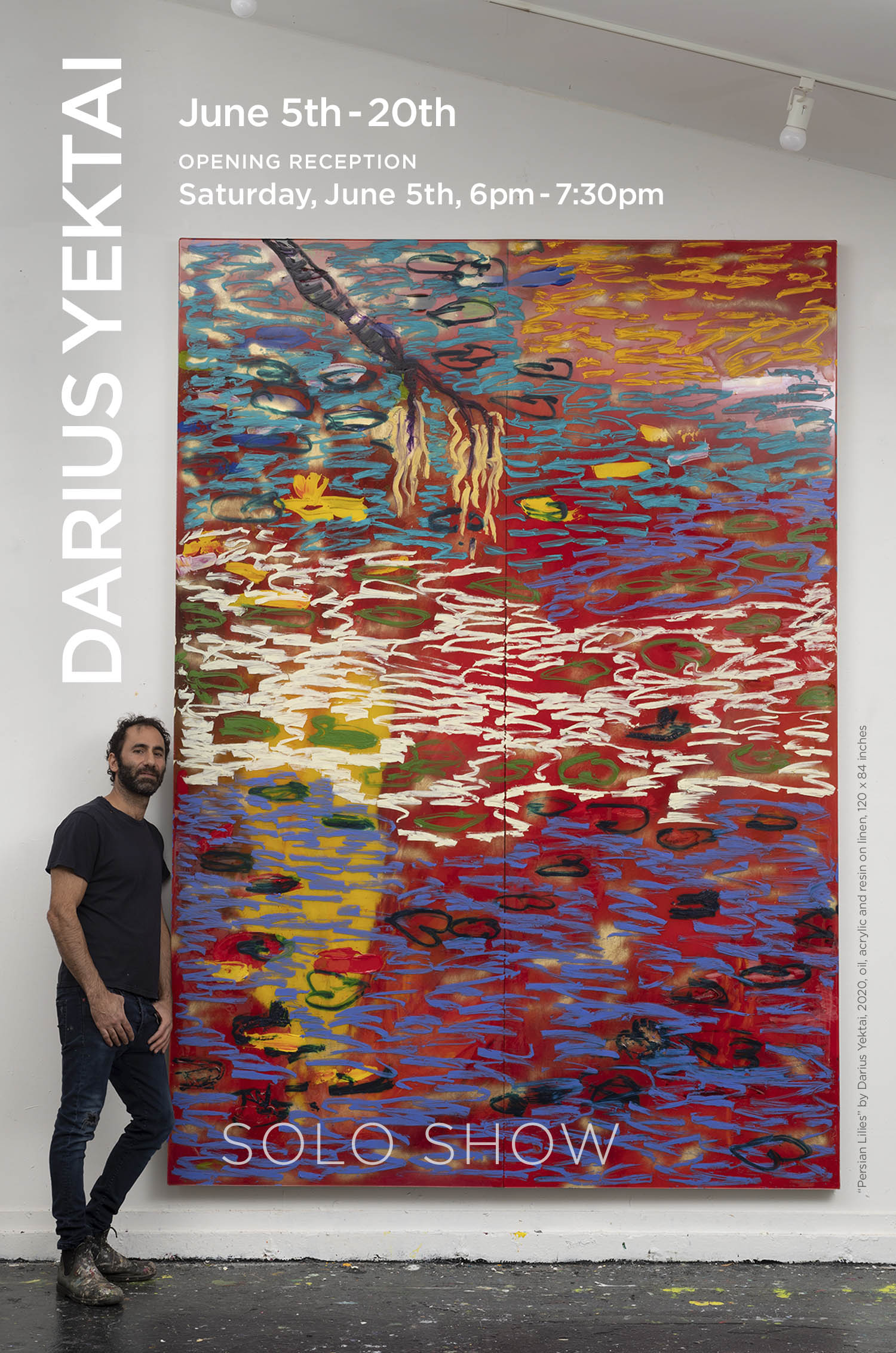 Darius Yektai Solo
|
June 5 - June 20 2021
The Grenning Gallery is pleased to announce the second annual Solo Show for Darius Yektai, opening June 5th, at 26 Main Street, and on view through Fathers Day, June 20th. We will host an Opening Reception for the public on Saturday, June 5th, from 6pm-7:30pm.
Darius Yektai (b. 1973) Southampton, New York) is an East End of Long Island painter with aboriginal roots in the Abstract Expressionist movement out here. Although at first glance, Yektai may seem like an outlier at the Grenning Gallery, he is exactly what weve been looking for: a bridge between our classically trained artists to the realm of dignified contemporary abstraction.
Interestingly, Yektai has a degree in Art History, not painting. Unfettered by the constraints that years of traditional training may do to yoke an artists expression, Yektai is free to explore his subject matter and experiment with his materials. Every series is its own investigation and Yektai has demonstrated that he is both sincere in his inquiry and also unafraid of failure. His passion to understand great artworks from the past and integrate them into a contemporary visual language has landed Yektai on a curious and brave path which has, luckily, intersected with the Grenning Gallery.
Ignited by Yektais own painting "Water Lilies: After Monet" 2013 -2018, this show demonstrates an artist in his prime, diving deep into a subject matter, and painting a rich and broad series. In the Persian Lilies group, we see an exciting coagulation of his many influences. Yektais personal heritage (his father was a Persian painter and poet) is mixing it up with his exposure to art history and the result is a painting with jewel like colors woven together, recalling the spirit of a magical carpet. The boldness of the color is matched by the supersized scale, as this sealed diptych reaches 10 feet up the wall. In order to see it in person, one will have to make an appointment to visit his studio here in Sag Harbor, which can be done by calling the Grenning Gallery at 631-725-8469.
In a nod to the contemporary monochrome, Yektai created a sublime series of single-color water lily paintings. Here all distractions are stripped away, so the viewer can focus on each elemental brushstroke and the watery effect rendered by the resin. Each one, stands alone as an homage to the purity of color expressing an emotion, and together, they create a symphonic effect.
Another intriguing branch of paintings in this series are "Waterlilies" and "Woven Lilies", and "Wind Blown Lilies" . These are the marquis examples of Yektais water lily paintings on raw natural linen. This group highlights Yektais sensitivity to the materials that he is working with. By experimenting with resin over natural linen, a new rich brown color emerged, thereby creating the perfect juxtaposition for the deep greens, yellows, and blues that he abstracted from his trips to the local ponds.
Finally, Yektai didnt limit his experimentation to materials and color....he has also pushed the envelope with his shapes. In this series, we have several super-sized round paintings (61 inches in diameter) with "Yellow Pond" and "Nymphaea Ordorata". He also created a custom canvas "Willow Pond" which is 61 x 96 inches , with one of the vertical sides shortened, which allows it to fit snuggly along the roofline of the cathedral ceiling in his living room.
---
= SOLD
---