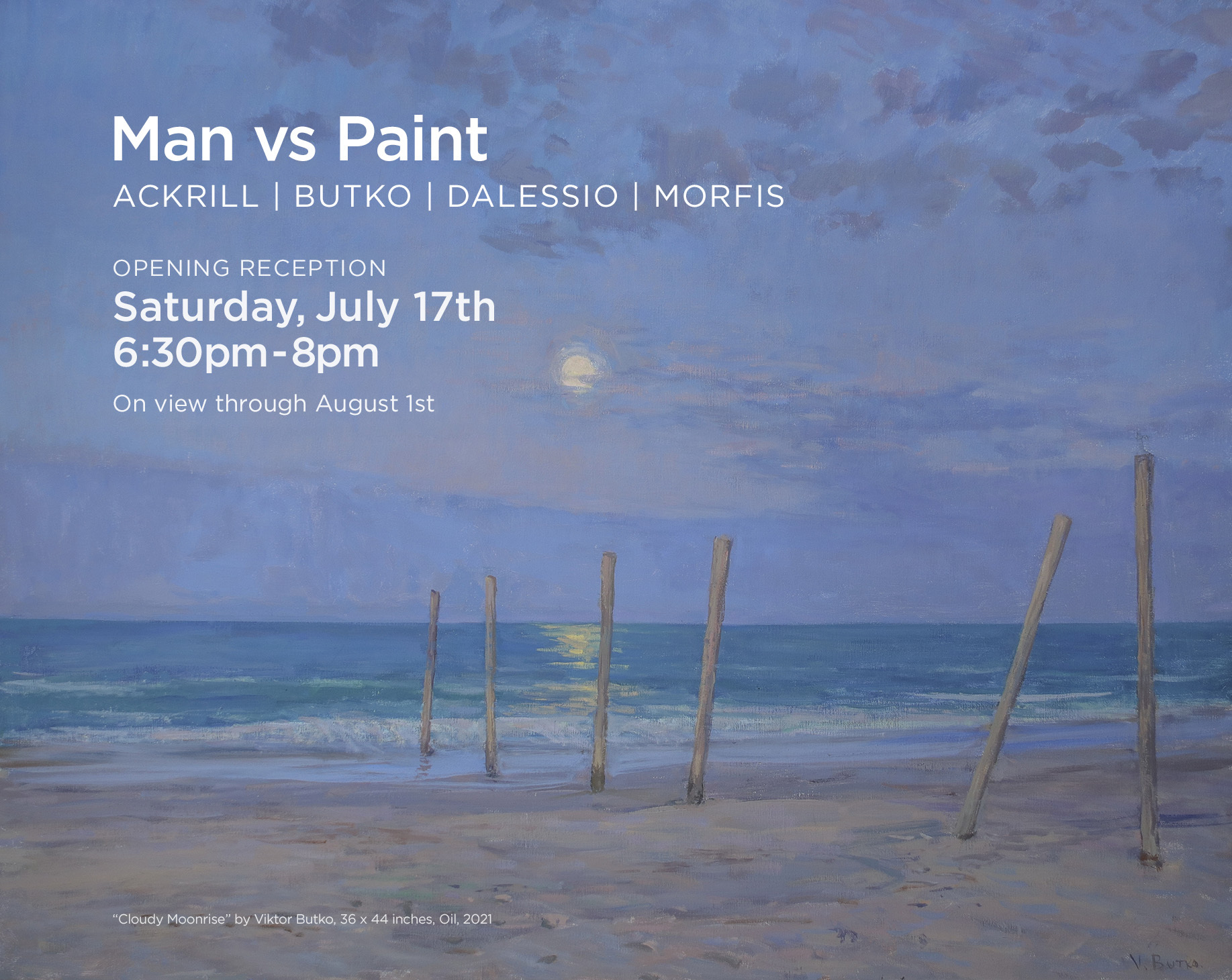 Man vs Paint
|
July 17th - August 1
Ackrill, Butko, Dalessio, Morfis
Opening Reception, July 17th, 6:30pm - 8pm.
On View through August 1, 2021.
_
For anyone who has sat down to a blank canvas, they know well what a challenge it is to create a three-dimensional world on a piece of stretched linen. Each of these mid-career artists have spent most of their lifetimes facing this challenge, constantly working to capture the subject as they saw it. This show highlights their latest successes as they press on in their fight for great paintings. Please join us for the Opening Reception of these top Grenning Gallery artists on Saturday July 17th from 6:30 - 8 pm in our newly renovated space at 26 Main Street, Sag Harbor. This show will hang through Sunday August 1st.
Viktor Butko (b 1978, Moscow) delights us with his most recent moonscapes and late winter snowscapes painting mostly out here on the East End of Long Island. Long overdue, we just published our first catalogue for this highly respected Russian born and trained painter. Well on his way to having a distinguished international career, Butko has shown work in museums and galleries around the world almost every year since he was 22 years old. He is also already represented in several museum collections.
As the third generation in a family of painters, ensconced in classical training, Butko's singular focus on creating art has served him well. His unfettered dedication reveals itself as he works in one inspired series after another. Shelter Island any time of day, any time of year inspires him. The heavy snowfalls last winter brought out his Russian roots, and he painted some of the most charming snow scenes of the East End I have ever seen. Intoxicated by the twilight sky and a smudge of moonlight has yielded a wonderful series of moonscapes on the East End. We are excited to be a part of Viktor Butko's unfolding career, especially as we get to be in the wake of his rich and painterly approach to our local landscape.

With his usual elan, Anthony Ackrill (b. 1958, Alaska) has four major figurative works all of which are deeply realistic yet challenge our reality. In "Refuge", we see the verso of a male figure standing in a body of water against a distant stormy sky. Birds perched atop his outstretched arms. Perhaps before or after a lengthy flight, dodging the storm ahead. The man acts as a sacred safe-space, or refuge, for these birds. In nature, it's often the animals that know first when a shift is approaching their environment. Maybe it's a signal to Man's awareness of, and connection to nature, in general.
Next, in his pair of female nudes, we see an empowered eve managing the snake in "Awakening" and a forlorn mermaid in "Dusk". Ackrill's respect for women and their power is seen in his decision to make these figures heroic in scale, in relation to their environment. His handling of paint and ability to capture texture and surfaces is well matched by his knack for quirky questions that his paintings force the viewer to mull. Lastly, to our delight, Ackrill delivers another small and funny still life, titled "Family Ties". Ackrill stations his wit alongside his trained hand, bonding the sumptuous fruit by means of a rugged, industrial bolt. Finally someone finds a new angle for the ubiquitous and, to many clasically-trianed painters who've arduously painted this subject, time and again, the now dreaded pear still life.
Marc Dalessio (b 1972, Los Angeles) despite being under strict quarantine for most of the pandemic, has been able to paint several stunning landscapes from his home in Portugal and while searching for his newest residence, in France. Revisting the lily pond, as other Grenning Gallery artists have been doing this year, Dalessio's latest large work called "Pond Near Laon" delivers on every count - beautiful colors, expert composition, shimmering with light. We also have several fabulous paintings of vast green fields glowing with sunny yellow flowers in the quaint countryside of Plieux. We are also very pleased to report that we have gotten our hands on some of his most prized small-scale plein air paintings of New York and coastal towns from the US to Europe. Especially notable is "Saxaphonist, Central Park" in New York and "Zadar, The Riva" in Croatia.
John Morfis (b 1976) continues to work hard at the art of tackling the tromp l'oeil. One of the cool things about Morfis, is the unique items he chooses to paint. They range from old tools to kitchen cutlery, and sometimes even clothing. This year, Morfis has delivered three colorful sand shovels; two-of which raise Morfis's work to the realm of "Pop-Art". "Big Load Beach Shovel" is a realistically depicted old-fashioned metal beach shovel, decked-out with bright yellow paint, a contrasting red handle, and a cartoon of a dumper trailer underscored by the words "BIG LOAD". "Happy Sandman Shovel" is of the same breed, painted with blue, red, and white stripes, and adorned by a cartoon of a boy in overalls, whistling a tune as he walks forward with his pet dog, and his own shovel slung over his shoulder. These objects force the viewer to either laugh, or feel a great sense of nostalgia for their wonder-years, playing in the sandbox as a child.
"Paul's Jacket" is the largest canvas Morfis has delivered to date. Although, we're not sure who Paul is quite yet, we're sure he was/is an important figure in Morfis's life. A classic red tartan flannel zip up jacket hangs on a wooden hanger, from a single nail in the wall. All of which Is depicted against a grey backdrop, in Morfis's signature style.
---
= SOLD
---