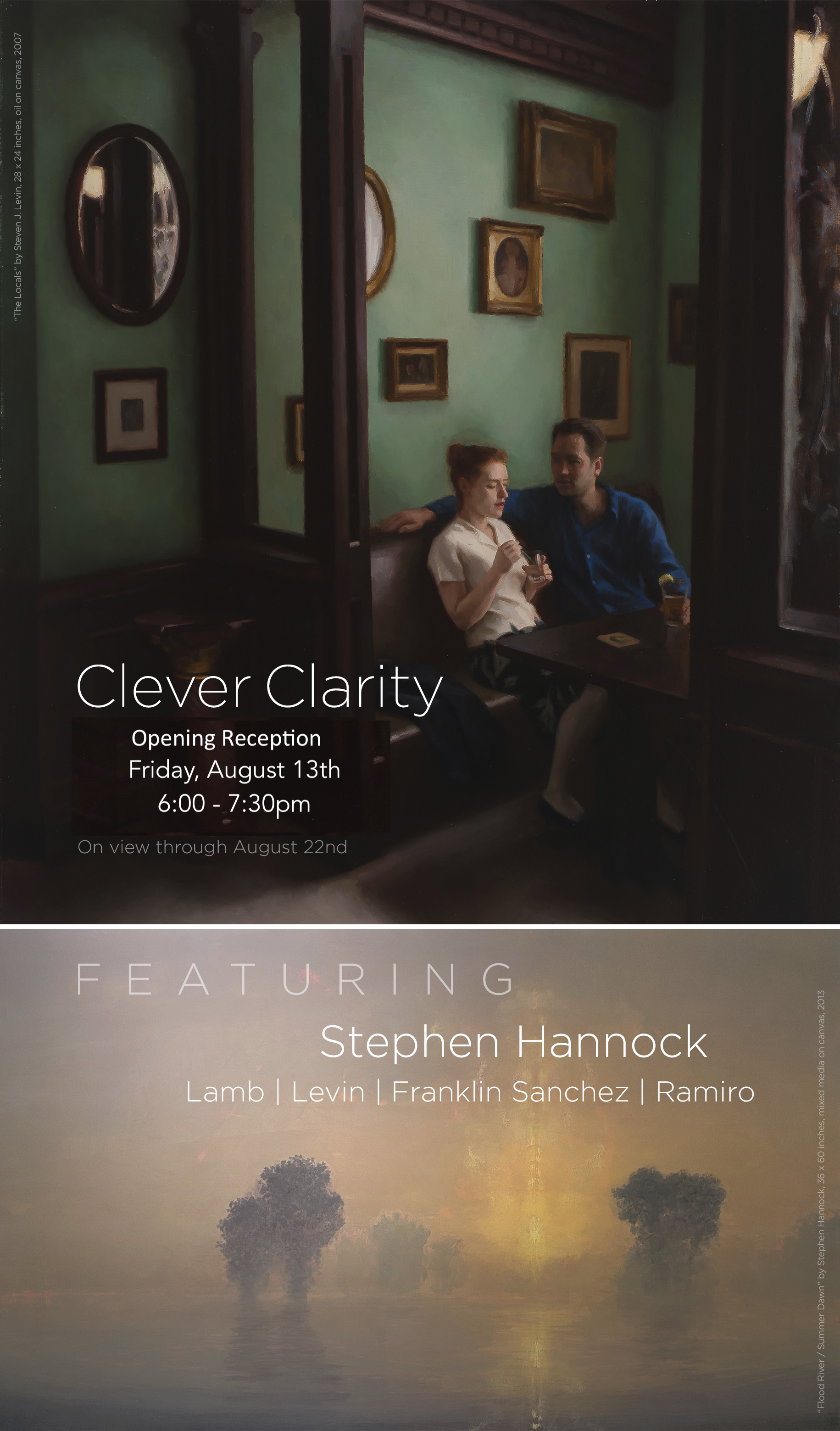 Clever Clarity
|
August 7 - August 22
A Group Show featuring some of todays finest realist painters.
Stephen Hannock
Sarah Lamb
Steven J. Levin
Melissa Franklin Sanchez
Ramiro
Join us for our Opening Reception on Thursday August 12th from 6:30 to 8pm for our exhibit "A Clever Clarity". Anchored by one of the most acclaimed living American landscape painters, Stephen Hannock's work epitomizes the clarity that comes from cleverly responding to nature's mysteries. Deeply focused on their patient process, these artists reach under and behind the surface of their subjects to somehow paint the spirit of the thing. Whether it's Lamb's precise still life compositions, Levin's entrancing narrative interiors, Franklin Sanchez's mystical observations of her home, or Ramiro's figurative paintings; the viewer gets a deeper understanding of reality - a clever clarity emerges. The exhibit will hang from August 4th through August 22nd
Hannock's "Flooded River / Summer Dawn" is an excellent example of his now famous flooded river series. His ability to see and paint the shimmering dawn light through the mist here is both aesthetically powerful, and somehow also deeply spiritual. We are honored to be able to show such an important painting here at the Grenning Gallery. Interestingly, Hannock has turned his sensitivity to light towards two nocturnes which are both quintessential Hannock's, yet also a fresh subject matter. Both of these nocturnes speak to the quiet desolation of our Western buttes and prairies, yet the faraway car lights and the rudimentary runway lights, respectively, leave us with a sense of hope and adventure. Like the Hudson Valley painters who discovered the great lands out there, Hannock cleverly captures that spirit of the American West in his ever light sensitive style!
Stephen Hannock (b. 1951, Albany NY) is one of the most notable landscapes painters in America today. He has effectively inherited the mantle of the Hudson River Painters, yet his process is decidedly contemporary. Hannock was originally on track to continue painting with his friends and colleagues in lower Manhattan in what is now called The New York Paint School. A man after my own heart, in early mid-career, he decided to move up to Williamstown, Massachusetts to start a family. Once out in nature on a regular basis, his work shifted. Inspired by the nearby Oxbow River, Hannock is best known for his moody and luminous paintings of flooded rivers. However, rather than following old school rules for creating a glow in oil painting...Hannock reaches for modern tools and materials. He meticulously paints thin layers of oil paint and plastic glazes over neon colored ground paint and uses a hand sander to ground down through the layers, and then paints on top of that, to build up the canvas until it literally glows with mystery. In addition to beautifully and mysteriously creating the subtle mood of a foggy or misty flooded river, Hannock also overlays his paintings with writing and sometimes collage. The fact that his subject matter and techniques span the last 200 years of painting has caught the eye of most major art museums. In fact, the Metropolitan Museum of Art owns 13 works by him, but more importantly they had one of his major Flooded Oxbow painting on view for over 11 years, which is almost unheard of for living artists. Hannock's work can be found in the Museum Collections including The Whitney Museum of American Art, National Gallery of Art, MoCA San Diego, and The Worcester Art Museum, to name a few. Hannock's work can also be found in many University Museum Collections including Harvard University, Yale university, Princeton University Williams College, and Hannock's alma mater, Bowdoin College.
Steven Levin's (b 1964, Minneapolis) gentle eye falls upon interesting human exchanges, and with careful planning, he is somehow able to capture the emotion of the moment in his compositions. "The Locals' is one such painting by this master of narrative interiors and still lifes. We also love "Revolving Door" for its mirth and balance. Clearly, in this work, he is using an everyday occurrence to poke fun at a fact of life that we all ultimately come to understand as reality. In both "Guitar player" and "Looking at a Rembrandt", Levin cleverly composes these images and catching another set of intimate moments, beautifully and convincingly. Levin is part of an important thread of classical training that has evolved in Minnesota, where other important Grenning Gallery artists have emerged.
Sarah Lamb's (b 1072, Petersburg, VA) now legendary still life paintings are at once, fabulous compositions with an echo of the Trompe l'oiel yet somehow very up to date. Her "Lemons" painting is so concise it's almost as if you can smell the lemons, with the round citrus fruit popping off of the neutral background. We are pleased to have another new painting from Lamb's sought-after weathervane series with "Rooster". In a nod to Martin Johnson Heade, we are pleased to have a new "Magnolia" painting, as well as one of her most prized white flowers still life's, "Peonies in Glass Vase". Hailing from Georgia originally, Lamb was educated at Brenau Women's College, but found her true guidance from Jacob Collins at the original Brooklyn based Water Street Atelier, now located in Long Island City and called the Grand Central Academy. In fact, the Grenning Gallery is pleased to have given Lamb her first proper gallery show over 20 years ago on Main Street in Sag Harbor.
Melissa Franklin Sanchez (b. 1984 | Warwickshire, England) delivers a new series of oil paintings on metals; all of which glow with an exceptional mystical delight. "See Me in the Past, Meet Me in the Present, Find Me in the Future" 1 and 2, her two newest interiors, sparkle with light and transports a new fascinating vivacity to an uninteresting subject, a door. Franklin Sanchez notes: "These doors represent a moment of timelessness that I seem to find myself in more often than ever, perhaps due to the pandemic. There is more need to recognize the beauty of the moment, as it has been hard to look too far ahead." The artist believes, "We are one with our past, our present, our future". These images of doorways connote this belief; "Within the two paintings, are signs of the present: the light that travels the room so quickly that you have to be watching to see it, a single bubble suspended in time. The warm light from the other room tempting towards the future, and the marbles abandoned on the floor by little hands before school, is evidence of this morning's past." This deep thoughtfulness and poetic interest in the ordinary, brings to mind overtones of Vilhem Hammershoi, a danish impressionist.
Franklin Sanchez's work is embedded with notes of gratitude. Mysterious and spiritually personal interiors, a cornucopia of fresh veggies and fruit, hot colors of the Tuscan sunset from Fiesole, contemporary cropping of fruit spilled out on the counter - all of these leave the viewer with a feeling of abundance and connectedness.
Finally, we are pleased to include a few recent studies from our long-lost figurative artist, Ramiro (b. 1974 | Maracaibo, Venezuela) who has been busy with a massive commission, transforming his large paintings into finely crafted mosaics, for St. Bede's Catholic Church, a major cathedral in Williamsburg, Virginia. "The Infinite Love" depicts a nude figure, presented gracefully atop a stage of waterlilies. Her arm extends outward like a tree-branch, where a frog sits perched on the crux of her inner elbow. The two creatures gaze towards each other, with intrigue and in agreement. A nod towards the importance of an inherent desire to connect with nature, and to accept the many transformations life forces us to overcome.
---
= SOLD
---