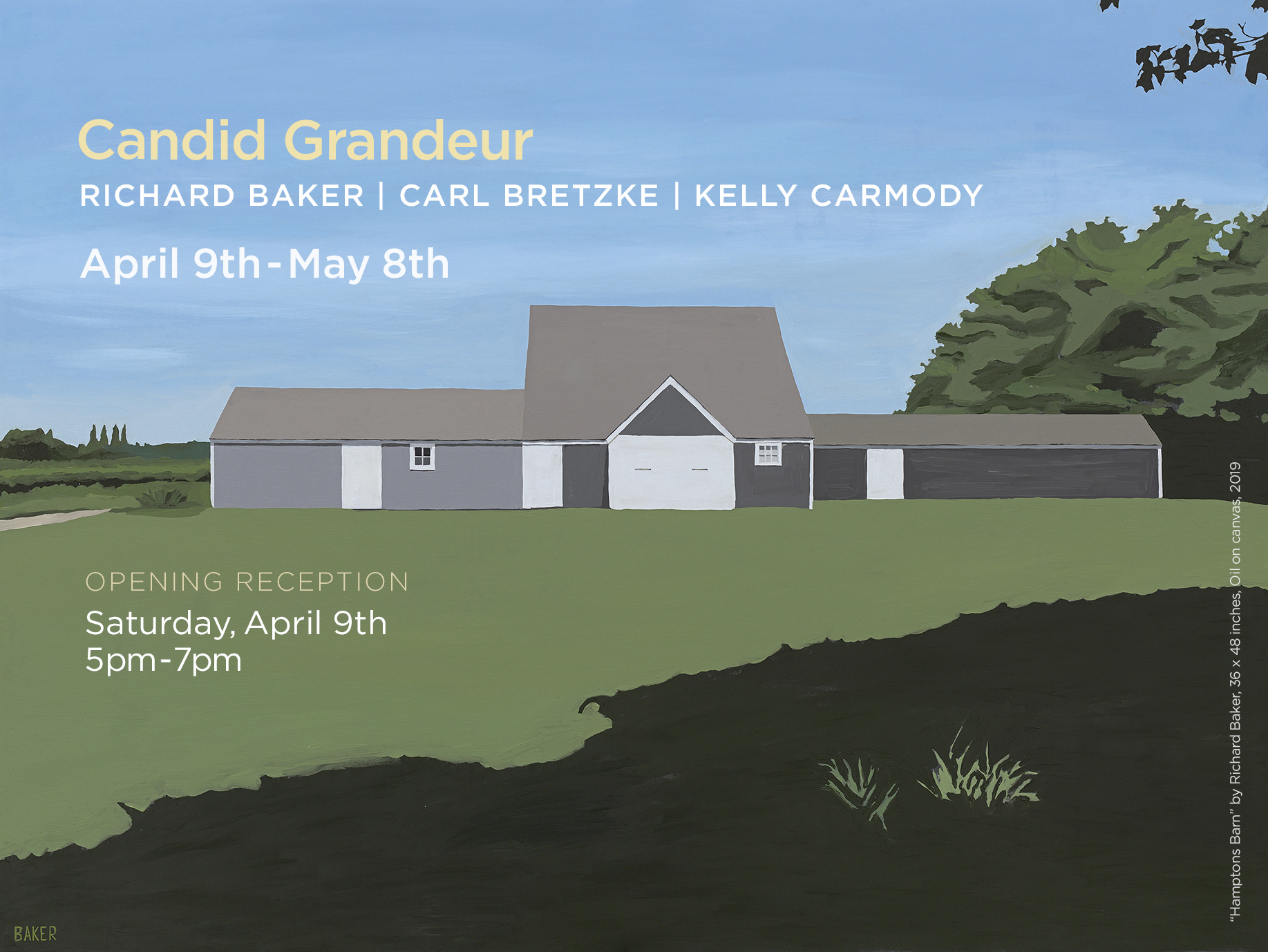 Candid Grandeur
|
April 9 - May 8 2022
Candid Grandeur focuses on three American Artists who are each inspired by the beauty of everyday life.
Carl Bretzke (b.1954, Minnesota) delivers his quintessential plein air paintings which examine the effects of natural and artificial light. In "Main Street Liquor Store" Bretzke captures a bright red-neon-lit facade, flanked by leafy trees, and abutted by the shiny contemporary wagons of Sag Harbor's denizens, Range Rovers. Meanwhile, in "Longboat Key Sunset" Bretzke presents a Florida Shoreline, populated with figures, backlit by the colorful spectrum of light as the sun sets beneath the horizon.
Kelly Carmody (b.1977, Massachusetts) brings us her impressions from the shores of Shelter Island, and her smart compositions of humble still life's. However, the truly fascinating new works this year from Carmody are her neo-expressionist meets realist depictions of multiple figures in her studio; Carmody captures this crowd dancing, in opulent attire, & concurrently, as motionless - immersed in discussion around a dimly lit table. This dichotomy of tones within similar compositions sheds light on the artist's own ambivalence towards her subject - are we happy that Covid is seemingly over? Or are we anxious about what bad news is coming next...alas, distant countries are currently at war. This progressive urge to celebrate doesn't feel sensible anymore. Furthermore, being social doesn't feel as effortless as it did two years ago, pre-covid. Perhaps a drink by oneself like in "At the Bar" makes more sense these days. It's clear that Carmody is looking at historical paintings from other times of apprehension - think: end-of-century works form Edvard Munch, or the abnormal yet unforgettable paintings of artists from Germany's Weimar Era; like Ernst Ludwig Kirchner, or Max Beckmann. Carmody also found inspiration for coloring, patterns and figurative compositions from French painters like Henri Matisse, Pierre Bonnard, and Jean-Edouard Vuillard.
Finally, the Grenning Gallery is pleased to introduce Richard Baker (b.1950, Baltimore, MD.) to our audience. Baker finds beauty in the everyday, from figures resting on blankets in the park in "Sunday at Chelsea Park" (brings to mind - Manet's Luncheon on the Grass) to the classic and familiar "Little Red Schoolhouse" - painted with a bold simplification of elements. Influenced by Richard Diebenkorn, and having studied with Rackstraw Downes at UPENN, Baker's works is modernist. Drawn to the beauty of landscapes in Wainscott and Sagaponack, Baker deeply resepcts his subjects, despite the reductive quality he executes.
---
= SOLD
---