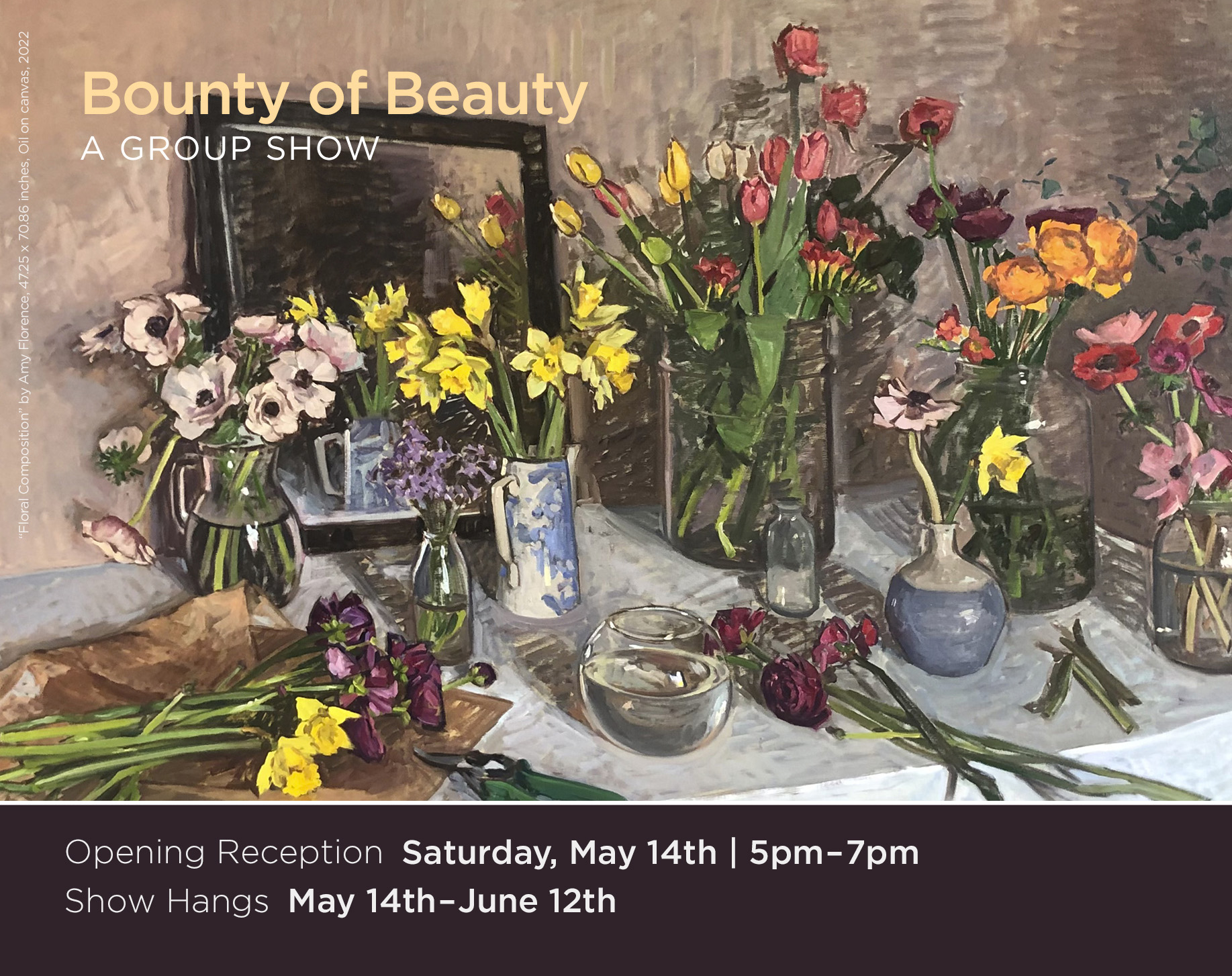 Bounty of Beauty
|
May 14 - June 12, 2022
Women from all over the world celebrate their craft by painting a popular, yet timeless subject, Florae. There is something spiritual about working closely with flowers. From planting and nurturing the seed, digging one's fingers into dirt, and tending to the soil until a bud of pale green pokes its head above ground. Once the stem has ascended and the flower has bloomed, it's cut and brought inside. Now the gardener curates' bouquets within vessels made of glass, ceramic, porcelain, etc. Placing one flower carefully beside another, making sure each blossom has room to breathe. Flowers are beautiful, but their lives are short, so maintaining their fleeting beauty can be precarious and must be handled gently with delicate hands. Painting these ephemeral subjects can be tricky - as a healthy blossom yesterday might be less sprightly today; petals curl inward or fall off, wilting. It's a genuine achievement to successfully capture a healthy flower in its prime - eternalizing it in paint.
The act of tending to flowers is not only a transcendent experience, but the allegory of the various species of flora can convey intentions. Tulips can symbolize rebirth, or deep love. Ranunculus epitomize charm and attractiveness. Magnolias embody femininity and endurance. Anemones signify fragility. Roses represent romance, beauty, and courage. And each flower's meaning can be specified even further when classified by color.
All of these artists have long investigated flora's glory, yet it is not the only subject they are drawn to. In this show, we will also see local and foreign landscapes, intimate interiors, and precious portraits of loved ones close to the artists.
Amy Florence (b.1989, London) delivers a vivid series of paintings which each present the glory of flora in a variety of juxtapositions. Having been trained under contemporary classicist Charles Cecil at his namesake academy, Florence has all the tools on her belt to create an academically balanced painting. However, she chooses to use a style that merges classical realism with Impressionism - each subject is scrupulously defined, yet the realm in which these subjects live pulsates with a vibrant vitality.
In "Tulips, Ranunculus, and Books" each flower is treated with overt respect, whether it's been arranged in a vase with water, or resting upon the tablecloth. A cream washed linen and a neutral-toned wall both help to underwrite each blossom's thriving appearance of ample volume and bright, saturated colors. Crisp green stems indicate abundant health. Only one single petal can be found on the tabletop, fallen from its pistil. Florence positions glass vases along a rectangular table. A small glass cannister holds a single white anemone, place along the edge of the table. Florence composes the rest in groupings of two or more, arranging certain vases atop pedestals of books, a leaving the others at level. By doing this, she creates a symphony of notes both high and low for our eyes to dance to. At the other end of the table, a pair of pruning shears rests along the surface's edge, handle pointing out toward the viewer, inviting one to enter the painting, hold the shears, and cut a stem or two. In Twilight, Florence arranged flowers near a windowsill, and waited for that end-of-day light. A single anemone in a small glass bottle, a flourishing group of peach-toned ranunculus stand beside that. And finally, a pair of pink ranunculi collected with a single white anemone rest atop a wide purple book. Beyond the window-glass, night is falling - but it has not yet fully fell. The sky is a deep blue radiating light recently lost, or perhaps a moon high in the sky. A classic Tuscan farmhouse glows gold along the horizon - indicating the paintings setting, as well as creating intrigue to life beyond the artist's studio.
Maryann Lucas (b. 1959, Long Island) has been on a mission to replicate beauty since she first picked up a paintbrush as a young girl. She exposes that beauty within the local landscape, as can be seen in "Changing Tides" or "True North" - both of which were painted on Peconic Bay just steps from her home and studio. Her garden is an endless source of inspiration. She gathers the joy of early spring in works like "Daffodil Delight" and "Golden Trumpets", as well as the untamed splendor of uncut foxgloves as in "Ascension Seekers" and "Bells on a Hill". Finally, this year, Lucas examines the saturated color in ribbons and wrapping paper, and how they relate beside another. Lucas's love of color has always guided her choices, and this year, as king of her canvas, she has amped it up with her gift-wrapped package series.
Rachel Personett (b. 1991, Hawaii) has travelled the world for most of her life, as the daughter of a pilot. After studying painting at the Savannah College of Art and Design here in the States, she flew overseas to train in the city where the masters of the Renaissance originated: Florence, Italy. As a studio assistant to Marc Dalessio and Ben Fenske, she learned a lot fast, and was introduced to us very early in her career. After some time studying at the Angel Academy and The Florence Academy, she hopped from country to country, continuing her education and painting en-plein-air. Personett's masterful paintings of flowers on black backgrounds have earned her a slot on our gallery roster. However, in this exhibition, we're displaying some of her paintings from her most recent time abroad, like "Norwegian Sunset" from when she studied at Odd Nerdrum's studio, or "Basilica de la Sagrada Familia" the extraordinary unfinished Antoni Gaudi church in Barcelona, Spain. We'll also see a few studio still life's offering international delicacies as in "Turkish Coffee and Wild Cherries" or "Black Truffles".
Tina Orsolic Dalessio (b.1983, Zagreb, Croatia) wows us with her personal take on a field of flowers - abstracting the subjects as it bleeds beyond the edges of the canvas. She also delights us with some poignant landscapes in this show. Her recent move to France (from Portugal) will no doubt yield new and interesting work in the coming year.
Melissa Franklin Sanchez (b. 1984, Warwickshire, England) latest works are freshly inspired, also reflecting her recent move from an apartment in Fiesole, to a farmhouse in the countryside to the north. Her signature style of painting on copper continues, as she expands her subject matter to include almost abstract sprigs of blossoming trees in "Cherry Blossom." She also continues to create deeply intimate interiors, featuring treasured everyday objects, all singing her melodious song of lavenders, pinks, and rich copper undertones.
Finally, an exhibition celebrating florae would not be complete without Sarah Lamb (b. 1972, Petersburg, VA) one of the country's leading female realist painters. Lamb spends more time setting up the composition of her subjects than she spends painting the canvas. Each subject is treated like a cherished pearl, its backdrop a tailored platform to enrich its beauty.
---
= SOLD
---