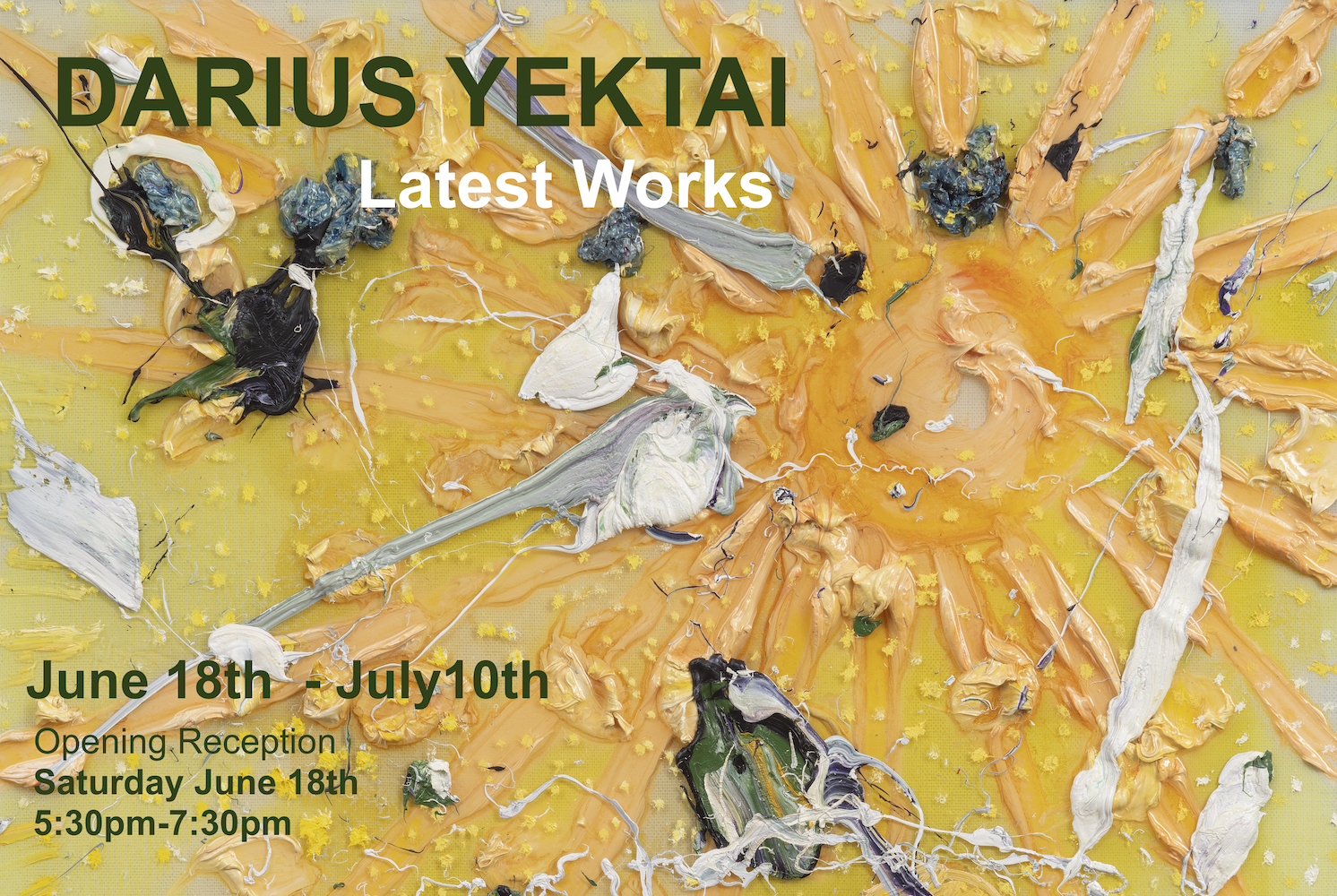 Darius Yektai Latest Works
|
June 18th - July 10th
Unbounded by rules yet informed by art history AND his family's tradition of Abstract Expressionism, Darius Yektai's latest work is at once an homage to tradition while also being a journey of experimentation. The Grenning Gallery is pleased to welcome the Latest Works of Darius Yektai (b.1973, Southampton, NY) as he returns for his third annual Solo Show. The exhibition will open Saturday June 18th, and run through Sunday July 10th. The Gallery invites the public to the opening reception Saturday, June 18th, from 5:30 to 7:30pm.
Yektai's urge to paint is innate; an affinity for the medium surges through his veins, as he is the son of the longest-lived Abstract Expressionist from the East End's mid-century modern art movement. He is a direct descendant of the Action Painting movement, with a shared obsession with the "materiality of paint" that Pollock and DeKooning embodied out here in the Hamptons.
Yektai's work this year demonstrates how inspired he is by our local environment - ever expanding his creative ambit. In pure Grenning Gallery fashion, he found himself motivated to paint out-of-doors, or en-plein-air. We see the beginning of a series of local landscapes where the AbEx meets the Impressionist and the party begins. In a Surrealist overlay, Yektai integrates his florals into, and ONTO the plein air landscapes. We see hints of Van Gogh's early countryside drawings in "Parsonage Field" and then an explosion of luscious unrestrained fistfuls of smeared colored brushstrokes in "On the Hill". The latter technique is a direct homage to his own father's work.
In his frenzy of action painting, we now see Yektai veering off into pure abstraction, while also fully utilizing his degree in Art History from The American University in Paris. As one meanders through this new series, Yektai re-asserts techniques and tones from the past like Pointillism from Seurat to Patterning from Bonnard, as seen in "Nasturtium" and "Black Table" respectively. He continues to investigate the Falling Flower theme with two large works that could hang vertically or horizontally.
Few contemporary painters are brave enough to re-approach the Waterlily theme, given Monet's fame. Yektai's blow out Solo show last year on this theme, inspired a deeper investigation yielding larger works like "Silver Pond", more creative canvases like "The Red Lily" and more experimental color and brush work as seen in "Waterlilies on Yellow Abstract" and "Waterlilies on Pink Abstract".
---
= SOLD
---