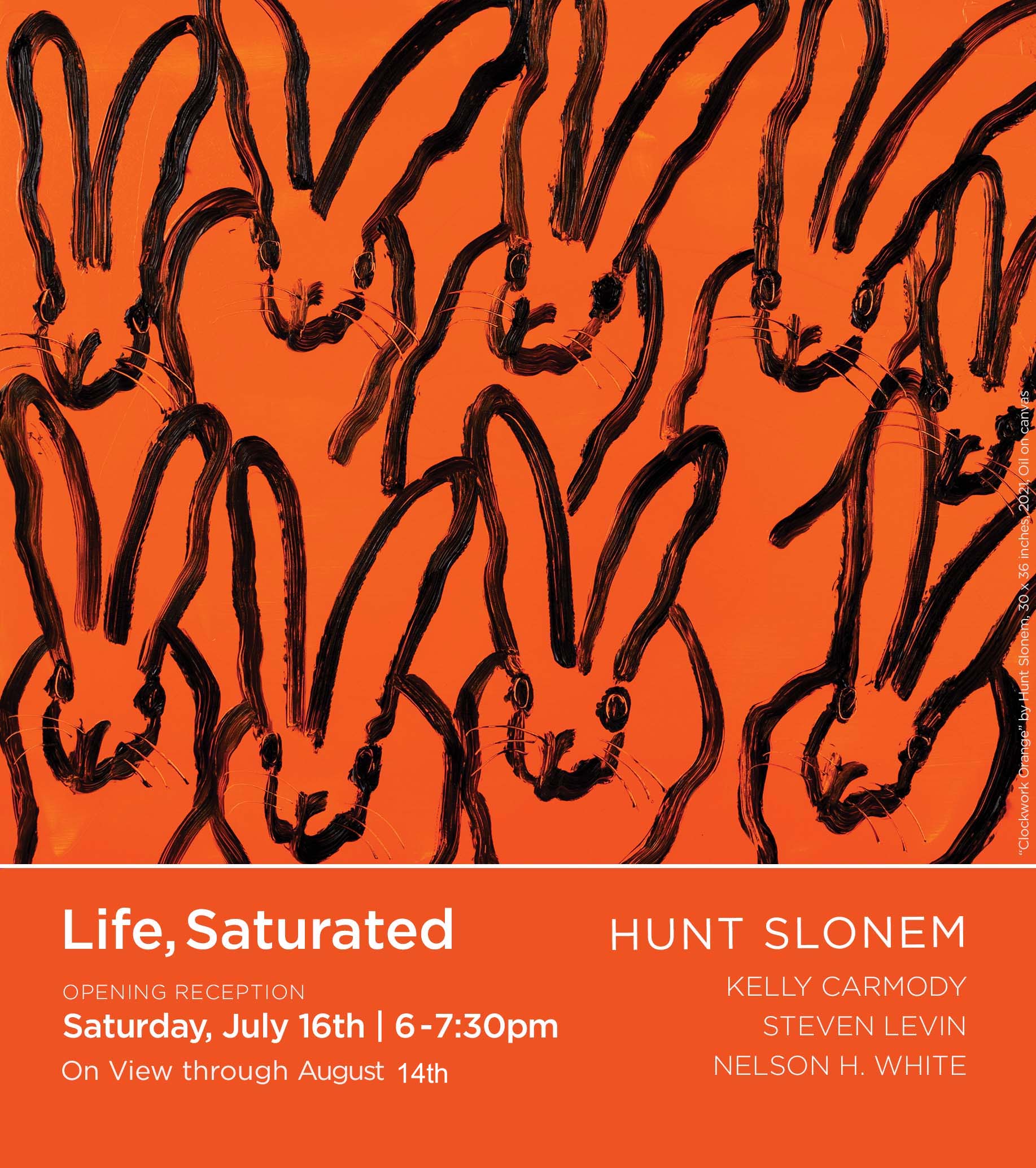 Life, Saturated
|
July 16 - August 14 2022
The Grenning Gallery is pleased to present our latest exhibition: Life, Saturated, a group show featuring four contemporary painters. Anchored by Neo-expressionist, Hunt Slonem (b.1951, Maine) this exhibition highlights the exuberance and meditative qualities that humans unearth when perceiving the natural world. How does the application of, or the texture of that paint relate to the subject in regard to classical rendering? Some followers of the Grenning Gallery may wonder how Slonem's bright yet simplified canvases fit into our niche of exhibiting artists devoted to classical realism. Life, Saturated makes this connection by juxtaposing Slonems colorful canvases with classically trained painters like American Impressionist Nelson H. White (b.1932, Connecticut) , the exceedingly polished palette and execution of Steven J. Levin (b. 1964, Minnesota), as well as classical-portraitist turned notional-colorist Kelly Carmody (b.1977, Massachussetts).
Exuberant, expressive, and inspired by nature, Hunt Slonems (b. 1951, Maine) luscious paintings of bunnies, birds and butterflies are popping up everywhere. I first saw his work in a client's home, as I was installing new Grenning Gallery paintings. Then, a few years ago at a gallery in Aspen, and soon after that, in a European gallery mainly featuring my favorite 19th century impressionist masters. Clients and friends implored me to go visit Hunt's studio, if only for the quirky fact that he shared his studio with a flock of parrots, surrounded by a rich tropical jungle-like garden. Upon deeper investigation, I discovered that Slonem has built a global brand while creating work that is both critically important AND sensually appealing - which is a needle few living artists can thread. Last summer, on our first visit to the Brooklyn studio we were blown away by the vast series of gallery display rooms, staged with antique wooden tables set with fine china, as if guests were coming for dinner any minute. With oriental rugs under foot and rich jewel toned walls, Slonem's vibrant paintings hanging in gold frames created an unrepentant display of his neo-Edwardian aesthetic. I fell in love with Slonem's color-rich paintings. They are also a perfect counterbalance to the spartan neutral toned interiors in fashion these days. As it turns out, I am not alone in my appreciation. Slonem has deep and broad institutional support, evidenced by the fact that his work is included in a wide range of important permanent collections around the world; from the Metropolitan Museum of Art, the Whitney Museum, the Guggenheim in New York, and the Smithsonian and the National Gallery of Art in DC to the Moscow Museum of Modern Art, the Miro Foundation Museum in Barcelona, and the Odessa Museum in the Ukraine...just to name a few.
Slonems paintings strike a sincere and spiritual chord. His child-like awe of nature exudes from every painting. His work demonstrates my Animist philosophy of great oil paintings; I believe that one cant separate the way the artist was feeling when they made the painting from the way it makes us feel when we are in front of it. Last week we sat down in his Manhattan studio to chat during a busy day. Slonem had a string of wooden beads, connected by a long red thread, looped around his free hand, dangling almost to his knees. I asked if they were rosary beads and he said no - that he was more of a Hindu and American spiritualist. I wasn't surprised to later read that Hunt considers each painting to be like a prayer to the subject, as his paintings are created in a meditative state. This explains the repetitive nature of his work. Interestingly, from a market perspective many wonder - aren't there too many Slonem's out there? To this I say no - he is like Warhol - creating an easily recognizable series of works - except every single one is an original! His team meticulously records the name and serial number for each work - so authentication will be easy in the future. With all these vested institutions and galleries, I foresee the potential for an active market in trading these paintings.
Kelly Carmody (b.1977, Massachussets), a newly minted convert to Colorism, has been breaking out into new territory. Her excellent classical training which guides her compositions and color combinations, are being brought out into nature as she offers us a series of very recent plein Air painting . We are excited about this shift to challenge herself and get out of the controlled studio setting. In these works, we see a much richer application of paint, demonstrating an increasingly bolder and more confident style. Carody is responding to light and color in real time, and the result is a much more expressionist technique. She is simplifying objects and shadow shapes to almost sculpt with panels of color, rather than drawing an illusionistic picture with her paint brush.
Steven J. Levin (b. 1964) delivers a series of still life's of items made by, and cherished by, mankind, yet he juxtaposes his subject with the natural world. In Books and Butterflies a stack of history books are placed atop a marble pedestal, before an airy sky speckled with clouds and light. White butterlies flutter between books and pages, seemingly interested in what man has to say about the realm in which we both inhabit. In Three Hats Levin aims his focus upon finely tailored hats: a fedora, a porkpie, and a velvet cap with a feather. These well-made chapeaus were staples in early to mid-20thcentury society but are not as appreciated today like they once were. A tender moment of a robin's egg having hatched within a silk lined bowler, creates a sense of warmth and tenuousness.
Nelson H. White (b.1932) is delving deeper into his abstract perception of his tried and true subject matter - the beachscapes. This year, we have a series of smaller works that truly capture the feelings of someone who is standing there on the beach in Italy or Sag Harbor. His palette knife application, and saturated blue sky with his deep orange umbrellas hang beautifully next to Slonems meditattions on nature.
---
= SOLD
---