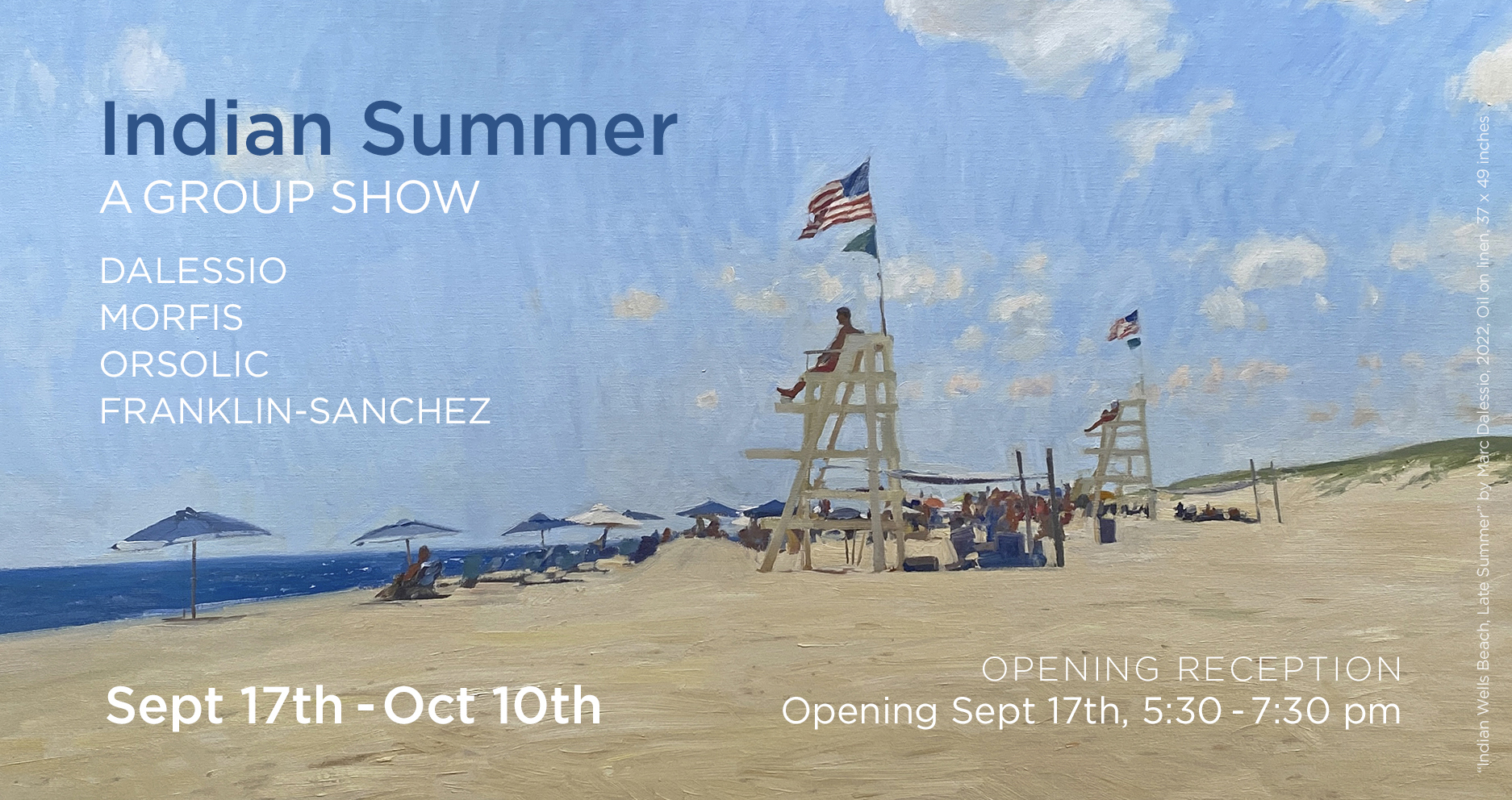 Indian Summer: A Group Show
|
Sept 17 - Oct 10
The Grenning Gallery is pleased to announce Indian Summer which will hang from Saturday, September 17th through Monday, October 10th, 2022. In this show we feature the latest work from Marc Dalessio and Tina Orsolic Dalessios recent visit to the East End and various tours around the world. John Morfis treats us to many new iconic tromp loiel paintings. This show also features Melissa Franklin Sanchezs most recent landscapes and interiors created in Italy and Sagaponack. We invite the public to our Opening Reception 5:30- 7pm on Saturday, September 17th. The exhibit will hang through Monday October 10th, 2022.
Marc Dalessio (b.1974, California) is one of the world's leading plein air painters according to Eric Rhodes, the publisher of Fine Art Connoisseur Magazine (among others). Dalessio, after three long pandemic years, finally returned to paint the East End of Long Island this summer! Although this was a quick visit, Dalessio was able to capture the delightful late summer light at Indian Wells Beach seen in the banner image for this show. He was also able to capture an interesting perspective of Sag Harbor's pier in "Boats on the Beach, Sag Harbor". Several seascapes created around Louse Point top off the fresh local landscapes, which combine beautifully with his recent plein air paintings of Morocco, England, Portugal and France. With his recent move to a small farming village in the southwest of France, we expect to see many more works out of his permanent studio space. Now that the pandemic is over, Dalessio will be able to travel to paint new subjects and work on larger studio works when home.
Melissa Franklin Sanchez (b. 1984) displays a heartfelt peek into to her home life with a her most recent series of interiors and landscapes. Also, with a recent move to a country house just outside of Florence, Franklin wows us with her sophisticated compositions of otherwise simple subjects, especially seen in "Reflections of Reality". We remain intrigued by her decision to paint on copper and/or brass. Franklin's magical realist masterwork this year is called "Where Worlds Meet". This painting captures her young children playing on the floor, while their imaginary world seems to be growing up around them - with fireflies aloft and flowers sprouting out of the oriental rug.
Another breakthrough image is an animated interior called "Prelude". The Hammershoi-like spartan interior with her son, Raphael, playing the piano is at once intimate but also a masterful study of warm and cool light, while also displaying an expert understanding of composition. The two doorways with the full natural light streaming towards the viewer are offset by the orderly punctation of framed paintings on the "white" walls. It's always the mark of a deeply observant painter when they see a rainbow of color in a white wall - which is what we see here. Franklin sensitively uses the warm undertones of the metal surface to help display the endless combinations of color that can work to make the atmosphere in the room vibrate, which works perfectly to emit the musicality of her child.
Her love of color is displayed in their small but gorgeous series of paintings of the autumn and the spring around their home. The "Autumn Glory" painting deftly puts the orange persimmons against that deep blue autumn sky delivering a delicious visual effect.
John Morfis, (B. 1976) delivered a lovely combination of mesmerizing trompe l'oiel paintings of his treasured single hanging objects. These acutely observed objects visibly pop off of their surfaces, as Morfis's ability to render combined with his natural sense of color create memorable iconic images. Working directly from nature in his light-controlled studio for many hours on each painting, these 11 paintings account for the better part of this year's work. The large "Paddle" painting, on his perfectly toned "overcast sky blue" background, combined with the "Buoy" on the dark blue background make an impressive pair of major works for this diligent and poetic painter. There are also two new key paintings, which are always the first paintings to sell, as well as three new antique beach shovel paintings. Interestingly, he has a cap gun hanging upside down on a nail, which may or may not be a political statement. Either way, this toy cap gun looks decidedly inert as a weapon so, instead, with this painting we can enjoy the lines and the tones of the object separate from the danger it could normally connote.
Tina Orsolic Dalessio (b. 1983, Croatia) has a wonderful series of new works ranging from plein-air landscapes, to still lifes, and even some interesting quick figurative works painted out of doors in natural light. Orsolic also travelled to the East End late this summer and was able to hit a lot of the great spots to paint. "Quiet Day on the Beach, Montauk", this summers largest, is a lovely painting of a small family enjoying the day. Orsolic was also able to paint the windmill in Sag Harbor and the lighthouse in Montauk. Orsolic's sensitivity and interest in color are becoming her trademark. Pinks, yellows and reds peek out of her landcapes like blinking lights embedded in the work, enlivening an otherwise modest landscape.
---
= SOLD
---