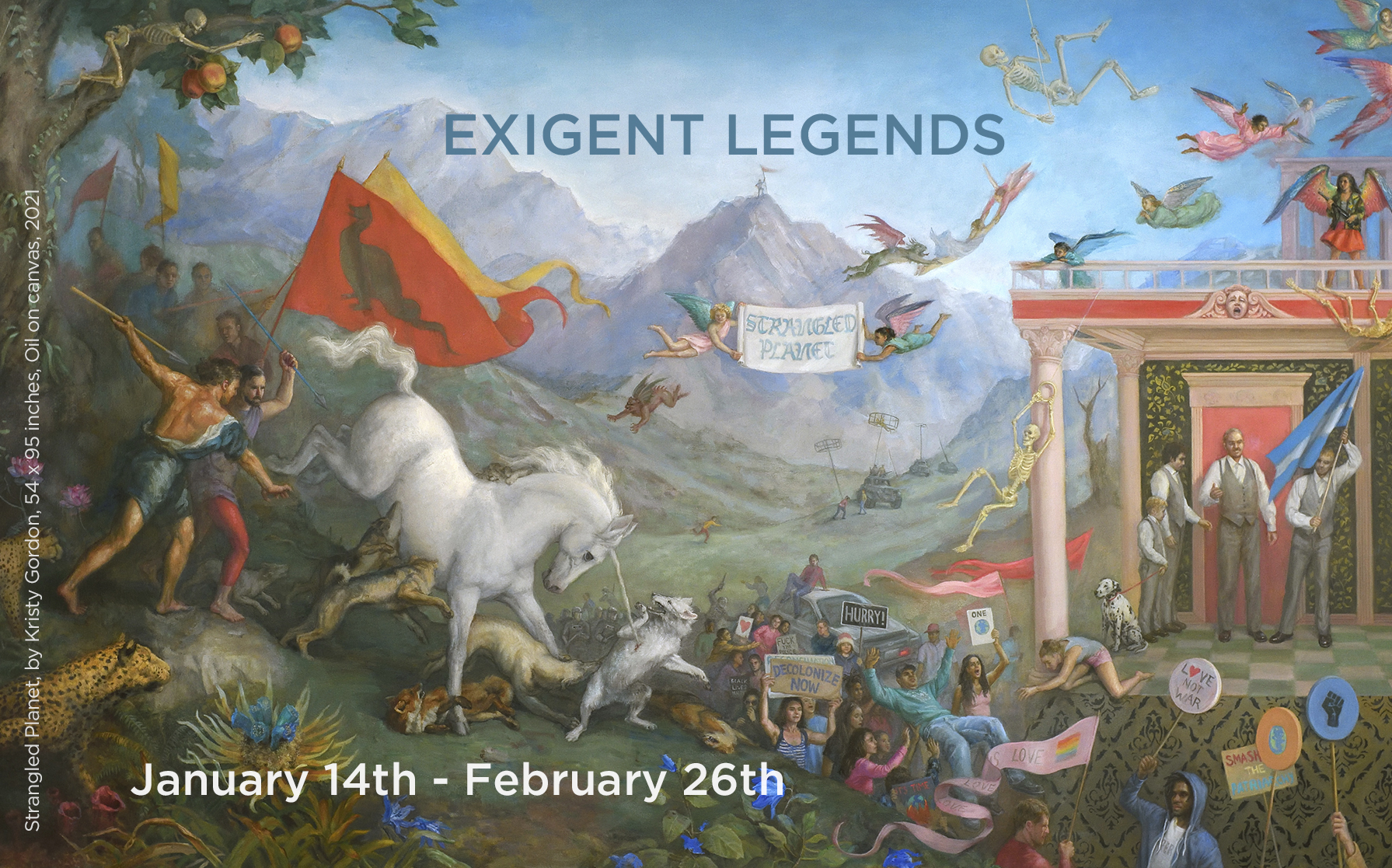 Exigent Legends
|
January 14 - February 26, 2023
Exigent, as defined by Merriam Webster Dictionatry, is classified as something which requires immediate aid, action, and attention. The January exhibition at Grenning Gallery was originally slated to be a showcase for each artist to be exhibited in the coming year. However, when Toy went to NYC to pick-up new paintings from Kristy Gordon's studio, she felt compelled to place them directly onto the gallery's walls. "We have Gordon on our calendar for a 3-Man show in July, our high season, and I still intend to show her then, but I couldn't possibly place these into our storage racks until then, they need to be seen NOW."
Kristy Gordon's (b. 1980 | British Colombia) work is inspired by her many visits to The Metropolitan Museum of Art, looking deeply at historic paintings from early Renaissance masters like Hieronymus Bosch and Jan Van Eyck, as well as beautifully decorated artifacts from the ancient Near East. Gordon gleans compositional cues from these historical treasures, and implants them into her contemporary narratives, which include present day people, paradigms, and pieties. Gordon has the technical ability to tackle these remarkable opuses, due to her many years of studying and training in classical painting techniques. She received her MFA at the New York Academy of Art, a BFA in Drawing and Painting from the Ontario College of Art and Design, and she spent time at the Academy of Realist Art in Toronto and the Andreeva Portrait Aceademy in Santa Fe. Perhaps most importantly, she has pursued private apprenticeships with the great contemporary painters; Yuqi Wang, Odd Nerdrum, Juan Martinez, and Jeremy Lipking.
"Strangled Planet" is the showstopper of this exhibition. Just under 5 feet tall and 8 feet wide, this super-scaled mural is a frenzied scope of the human experience across millennia. Gordon started this painting in 2018, after a heated presidential election in the USA, which solidified an inordinate divide between our civilians. The patriarchy in power, further subjugating the female - can be found symbolized by the men on "stage" towards the right. An angel with rainbow wings stands above them, yielding a gun. Other angels, and half-bird half-women figures fly through the sky above her - quietly oversee-ing all, nurturing humanity from a distant and great height. A large protest bustles through the right foreground - where figures desperately stand for what they believe to be right. "Love Not War" "Smash the Patriarchy" "Decolonize Now" "One Earth" and "Hurry!" are a few declarations written on signs. In the distance, we see figures among futuristic "Mad-Maxian" vehicles trudging through the terrain, perhaps even capturing angels in the sky. A single figure stands tall at the mountain's peak, holding a flag, claiming his newfound discovery as his own - a nod towards colonization and the entitlement of man. One of the focal points of this turbulent mural, is the unicorn in battle. The unicorn is vulnerable, avoiding attacks from multiple angles, and out of fear, she attacks; piercing a wolf with her horn. The men behind her recall ancient soldiers, barefoot in flowing robes, clenching spears. Beautiful organisms decorate the foreground in an electric blue hue. The blue is so vibrant it almost makes these plants and flowers appear alien, or supernatural. Yet, Gordon is simply calling attention to the beauty that we have around us, Nature will constantly continue to grow, despite the vagaries of humankind. And finally, skeletons can be found along the edges of this story, appearing more active and playful than a corpse typically would- climbing trees, reaching for fruit, or swinging from ropes. Death is ever-present among us, and it's not something we should shy away from.
These same theories continue in Gordon's smaller scale works. Death and rebirth, our constant fixation with the meaning of life, redefined spirituality, and the stories we tell ourselves to understand the mysteries of life and consciousness. Few classical realists are able to use compositional choices from bygone eras yet packed them with so many layers of contemporary life. Gordon's dreamlike paintings are not only fascinating, but they are also an aesthetic visual feast.
Anthony Ackrill (b.1958 | Alaska) has been gracing the Grenning Gallery with fantastic figures and mythological milieu for over two decades. If you go to his "SOLD" page on our website, you will find likenesses of "Icarus" the "Birth of Venus" and many figures painted like gods or heroes from well-known legends. In EXIGENT LEGENDS you'll see a lonesome mermaid reclining along a rocky shoreline in "Dusk". A Rubenesque reclining nude among a glorious Garden-of-Eden-like landscape caresses a coiling snake in "Awakening". Finally, a nude woman stands proud and willing in "Transformation", her feet sprout from a lily pond, and butterflies surround her as she emerges into the effervescent goddess-like figure she has become; a single shining star overhead signifies her divinity.
The Grenning Gallery is thrilled to introduce Anthony Mastromatteo (b. 1970 | Akron, OH) to our followers and clients. Laura Grenning has a couple of his paintings in her own personal collection but has never shown his work in the gallery before. Having studied Art History at Princeton University, to rigorous training at the Water Street Atelier in NYC under Jacob Collins, Mastromatteo has mastered his craft and has been professionally painting since 2002. His style is meticulous, expert realism, with a humorous trompe-l'oeil excellence. We plan on showcasing his work in Fall 2023, but we were lucky to secure two paintings this month which both fit into this exhibition. "Ouroboros (Regarding Creative Block)" is a small-scale grouping of eight 1-inch paintings, symmetrically arranged in a way that creates a whole image: a continuous No.2 pencil. No eraser, or graphite tip can be found on this writing instrument, which can be read as a metaphor for an artist's creative block, not knowing where to start, or how to finish. The title "Ouroboros" refers to an ancient symbol depicting a serpent or dragon eating its own tail, which can be found in ancient Egyptian iconography and Greek Magical traditions.
"The Dark (K)Night" is a confounding painting of an old comic book poster haphazardly taped up on a royal blue wall. The ripped, yellowed paper appears to be lifting off the canvas, as if one could peel away the tape and run off with the vintage cartoon. However, perhaps the thieving culprit should think twice, because the caped crusader is known for protecting virtue- he is a symbol of morality, a hero for humanity to most 20th Century Americans. Batman has been an icon for eliminating criminals and protecting the good-of-society since his 1939 debut in DC Comics.
Patrick Byrnes (b. 1984 | Busan, South Korea) - is another student of Jacob Collins's Grand Central Academy (formerly known as Water Street Atelier). Byrnes studied under Collins for four years in NYC and stayed on as an instructor for three years, until in 2017 when he relocated to Paris, France, where he now lives and works. Byrnes determination to evince the beauty and vulnerability of his subjects provides the inspiration for his painting. In EXIGENT LEGENDS, we have four precisely painted tondo's of pink roses, and peonies. Painting with precision takes time, but a flower's lifeline is a ticking clock. From one day to the next, a petal may wilt, so preserving the organism in its state of glory is not an easy achievement.
Also on view from Byrnes, are two striking portraits. "Jamaal in Profile" depicts a black man staring straight ahead, arms crossed and resting on a hard wooden surface. Mid-length locks of black hair frame his face like a lion's mane. "Keshia in Profile" illustrates a black woman, lit from above, gazing forward stoically. In these paintings, there are no symbols, icons, supernatural creatures emerging into view, to create a story for the viewer to comprehend. We simply see our subject, against stark white backgrounds, plain and simple. These subjects are just as worthy to hang in a gallery, and one day a museum. Centuries have come and gone where persons like these would not be the main character. Societal standards of beauty have long been known to omit the abundant masses of beauty originating from African descent. In the 21st Century, we acknowledge beauty in all forms - it is crucial that we, as a society make-up for time lost in celebrating instead of degrading an entire race.
In continuation of that same narrative, we have hung the limited edition print of "Mars", the award winning 2016 charcoal drawing by George Anthony Morton (b. 1983 | Kansas City, MO). An edition of 50, we have less than 20 prints left. We are selling them in support of Morton's new Atlanta-based classical arts initiative "Atelier South", 100% of proceeds with be donated to Atelier South. You can learn about Morton's journey from an incarcerated man to a classically trained artist on the HBO Max documentary, "Master of Light" streaming now.
And finally, Steven Levin (b.1964 | Minneapolis, MN)'s two paintings on view transport the viewer to a prestigious museum: The National Gallery of Art in London. In both compositions, we see historic masterpieces hanging on the walls, and it feels as though, we, the viewer, are situated on the wall as well. In "Looking at a Rembrandt" we see museumgoers contemplate a Rembrandt painting we cannot see. The viewer takes on the vantage point as a powerful work of art - not an easy feat to achieve for any contemporary painter! Yet Levin has succeeded in placing us, ordinary us, on the wall alongside the old masters, giving us a taste of historic prominence. These fit into our EXIGENT LEGENDS exhibition because they reminds us again of what types of paintings are worthy enough to hang in our museums. What subjects do we regard with reverence?
---
= SOLD
---