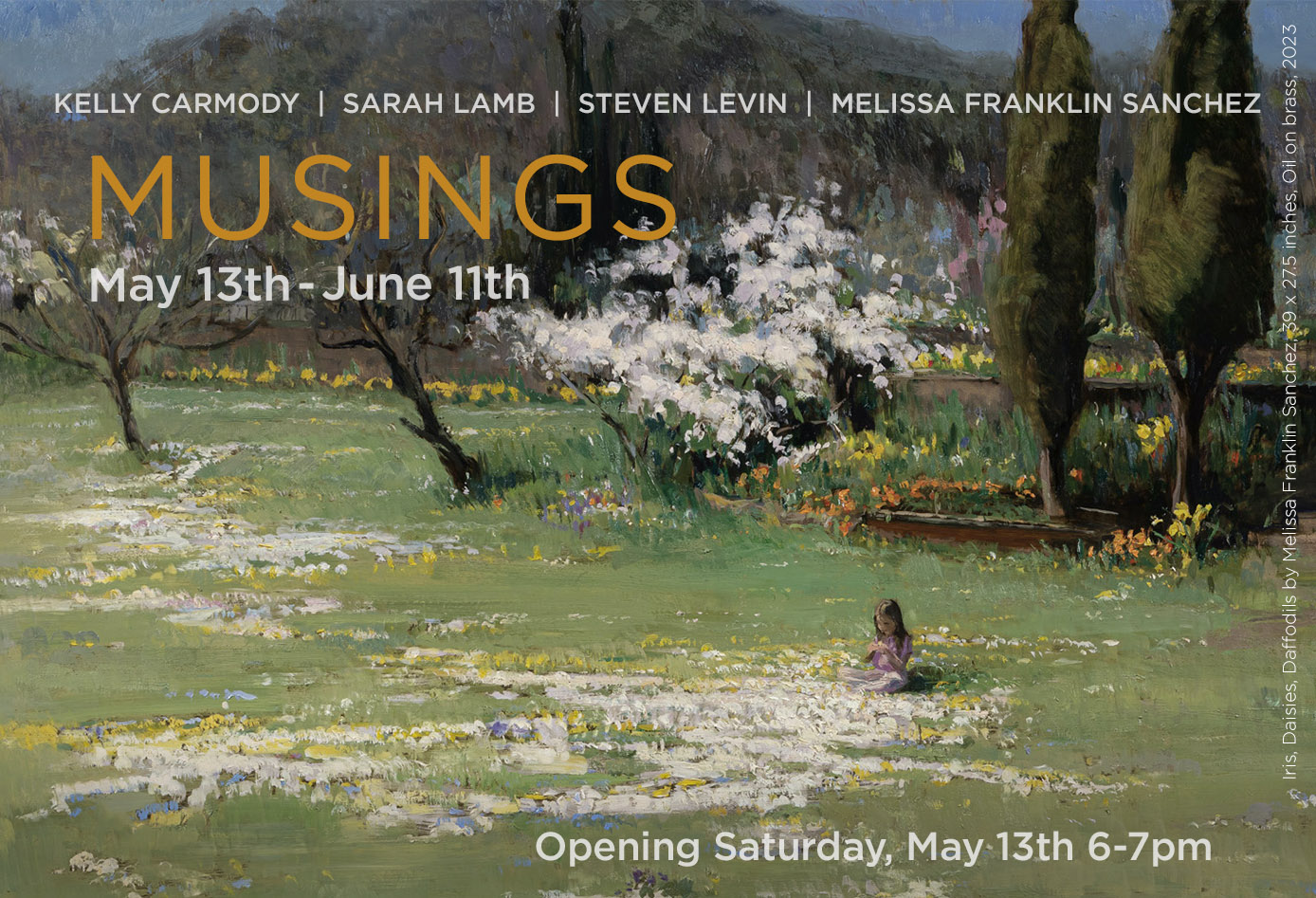 Musings
|
May 13th - June 11th 2023
The Grenning Gallery is pleased to unveil our next exhibition "Musings" a four-person group show featuring the latest works from Grenning Gallery artists Kelly Carmody, Sarah Lamb, Steven Levin, and Melissa Franklin Sanchez. This exhibit will hang from Saturday, May 13th through Sunday, June 11th , 2023. Please join us for an Opening Reception on Saturday, May 13th from 6-7pm.
Kelly Carmody (b. 1977, Massachusetts) delivers a colorful collection of expressively painted interiors, portraits, and still lifes. Carmody expertly and abstractly carves up her canvas with color, light and line. The subject matter of these paintings are flowers in various styles of vessels, arranged atop tables with layered linens and assorted dining fixtures. These items are nominal and merely excuses for the painter to propels one's eye to dance from one object to the next and peruse the background and the foreground. In "Still Life with Lemons" Carmody presents a medley of objects, each of which enjoys a unique shape and volume. A small blue cup, a painted porcelain pitcher, and strong reaching blossoms sing loudly in chorus. A couple of white mugs, a pair of candles, and a scattering of lemons carry the tune in supporting hums.
Carmody also delivers some figurative paintings, which are interesting because they have highly saturated color, yet the sitters exude quietness in their context. Many figures Carmody paints are engaged in low-energy tasks, reading books, or in "Yellow Dress" taking a nap. Carmody's ladies are embracing a leisurely lifestyle; vibrantly dressed, and exceptionally relaxed.
In "Iris, Daisies, Daffodils" Franklin's daughter sits amid blooming spring flowers in their backyard in Italy. The choice to push the horizon line to the top of the canvas, allowed her to truly invite the viewer into the world she was standing in when she made the painting. The sea of green's vastness is indicated by the precisely shaped dashes and dots of flowers, as the relative size beautifully indicates the distance. The hint of the blue sky pushing through the trees across the top of the panel is a perfect lid to the scene. This painting somehow evokes a memory of when I was a young child sitting amongst flowers popping up through the green carpet of my grandpa's back yard on Shelter Island. "Beyond Sight" recalls another wonderful childhood memory - of catching fireflies at twilight. The early evening sky is punctuated by a warm toned full moon overlooking her children crouching in a field of neutral hues. Franklin's uncommon practice of painting on copper panels is put to good use here... she creates glowing fireflies by dabbing the yellow paint onto already warm copper underground. The visual warmth matches the cozy image, without slipping into sentimentalism. These are priceless images, and no doubt Franklin will spend the second half of her life trying to buy back some of these gorgeous paintings of her children created during their magical years.
Hammershoi's successful influence is felt in Franklin's "The Sound of Silence" as she paints an interior with more profundity than before. Franklin, happily, has moved into a farmhouse and her interiors reflect an expansiveness as a result. Here she decides to eliminate most of the detail in the foreground and instead dives into a study of line and plane, with alternating cool tones and warm tones as the light swirls around the scene. This refined telescoping composition holds our attention in a circular composition informed by rectangles.
Steven Levin (b. 1964, Minneapolis) continues to wow our clients with his original and finely crafted paintings. This year we received the largest and most interesting floral "Peonies and Locket". Here is an ironic set up. On first glance, Levin seems to be mimicking a 17th century Dutch still life, yet he is setting it on a cement wall with a grandiose sunset scene behind. This combination pushes his work into something of a 21st century surrealist milieu. Nonetheless, the painting delivers, as it is striking for its originality, yet calming for its nod to the Dutch Masters. In 1997, the Grenning Gallery started to follow these classically trained painters to see what they create once they had gotten the highly refined hand of the masterful painter. In this group of recent works from Levin, we are delighted to see art history merged with an ironic whimsy that somehow takes the heaviness out of the paintings despite their extremely refined level of finish.
Levin's frolicking wit is expressed clearly in "Books with Wine", another wonderful surrealist still life in a series of very successful book still lifes he has been working on for years now.
Recalling one of our favorite paintings from the impressionist era, "Caillebotte's "Floor Scrapers" Levin turned to the workman in house as a subject in "Plaster Repair". The dramatic shapes of light burn out the eyes at first, and then as we linger, the quiet workspace emerges as a beautiful study of light and dark, and hard and soft in the space.
Sarah Lamb (b 1972, Petersburg, VA) shares with us a rare "Hydrangeas and Berries" still life, which she just finished! Her refined still lives have been a Grenning Gallery favorite since her first show with us in 2002. The florals with silver vases are a known collector's item.
---
= SOLD
---