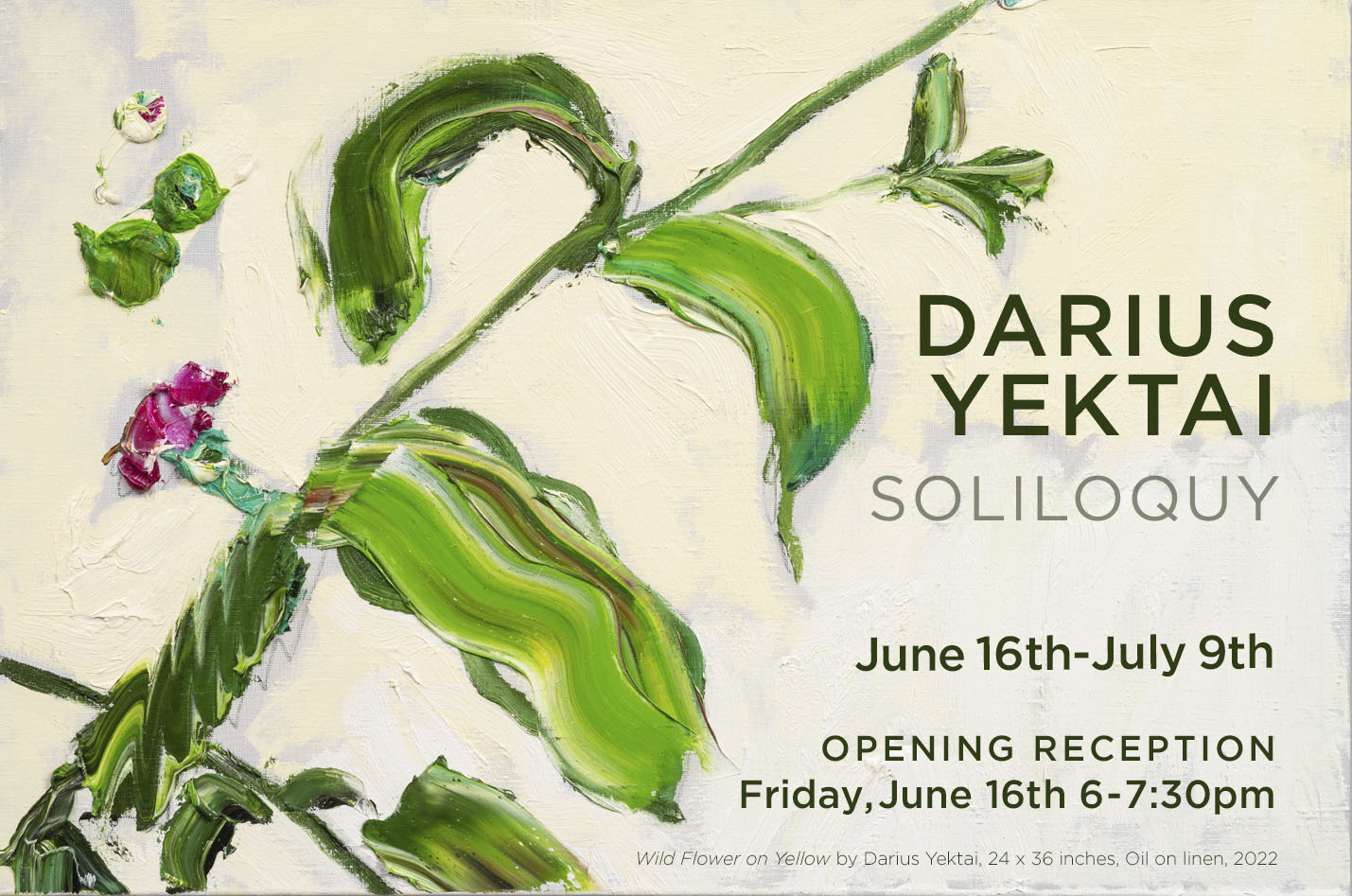 Darius Yektai | Soliloquy
|
June 16th 2023 - July 9th, 2023
The Grenning Gallery is pleased to unveil Darius Yektai's third annual solo exhibition, "Soliloquy." This year, Yektai has turned up the volume on his palette, using bold, saturated colors as well as unconventional materials to convey his powerfully inquisitive perspective. This exhibit will hang from Friday, June 16th, through Sunday, July 9th , 2023. Please join us for an Opening Reception on Friday, June 16th from 6-7:30 pm.
A soliloquy is "the act of speaking one's thoughts aloud when by oneself regardless of any hearers" according to the Oxford Dictionary. Yektai continues to bring us on his fearless journey, investigating his inner response to a beautiful and sometimes chaotic life in the 21st Century. As the son of the last living Abstract Expressionist in our storied Hamptons art scene, Darius Yektai could easily be compared to Hamlet. Yektai answers Hamlet's question "To be... or not to be?" with a resounding "I choose TO BE!" Bursting with saturated colors and found objects, Yektai's works are like archeological digs into his soul.
In a natural progression of his now-famous Waterlily Series, Yektai created Cobalt Lilies, which straddles the present and some otherworldly dimension. Like the deep-blue matte plaster ceilings of the Florentine chapels, this rich cobalt background is a perfect symbol of spiritual depth while also connoting endless expansion. Standing back and looking at this whole painting, we see hints of a waterlily scene--like etched glass over a portal into the cosmos.
In Broken Vessels, Yektai continues to blur the edges of painting and sculpture. Recently he discovered that his father's, Manoucher Yektai's now empty studio was broken into, and the only remaining items, two vases were smashed by the vandals. Yektai keeps unexpectedly introducing broken pottery into his work, and this created an opportunity to bring something from his father's studio directly into his work. The scattered fragments affixed to the surface of this painting could be seen as a literal and symbolic nod to the immigrants' "melting pot" experience. They also symbolize the fragility of material plane, where our keepsakes are usually found. Yektai also drops a skull into the mix, reminding us of the fleeting nature of any life, surreptitiously bringing us into a contemporary version of the age-old Vanitas tradition. This heavy message is juxtaposed by the effervescent yellow background and reflective resin, exuding positivity. Carpe Diem!
Yektai continues the theme of Vanitas in this stunning triptych. Reading from left to right, two consecutive lean flower still lifes lead to a skull, placed in the same way--on an abstracted table. The classically beautiful and the macabre are synonyms here. Momentary delight and morbidity live in tandem; Yektai embraces both ideas when he paints.
Falling Stargazer is the latest in a long series of Falling Flower paintings. Here the Yektai signature swipe of blended color is mixed with stems and flowers falling akimbo to each other. Together, the pure white canvas and the top resin layer highlight that stylistic fingerprint we see from both Darius AND Manoucher Yektai.
There is also a series of florals like no other. Yektai abstracts every element of this 'traditional' composition to bring these paintings to a place well outside of what one would expect. Especially notable are two vibrant florals.
Delphiniums in Glass Vase Double Still Life is part of a new series debuting in this show, where Yektai has inculcated nature--employing the late 20th century effect of including 'found objects" into his paintings. Here we see actual delphinium stems bursting out of the vase in the foreground. Just to remind us of who is king of the canvas, he rakes the whole composition with wide dashes of paint to emphasize each section's role. We see black dabs to push back the deep green background, wide white marks to bring the table forward and bright red swashes of oil paint on the right to balance out the composition, creating a flag effect out of the whole painting.
In Spring Orchid on Sag Pond with Geese Yektai utilizes found objects again, adding the invasive phragmite into this composition to wonderful effect. Here the resin pins down the feathery caps of these reeds while the front protrudes. The cerulean blue pond is dotted with a flock of active black and white Canadian geese, which all serve as a perfect foil to the robust jabs of color rich paint on top. These seemingly random strokes somehow capture the delicate pale yellow and white spring orchids.
Dots and dashes, scumbled foregrounds and untouched canvas backgrounds, layers and layers of uncontained color mash ups--the remaining florals are rich in tradition but utterly new in the genre. We are rapt, lucky to be overhearing Yektai's soliloquy.
---
= SOLD
---