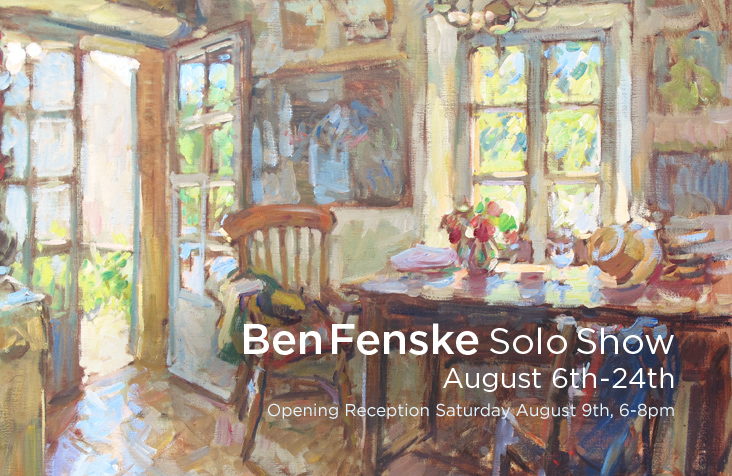 Ben Fenske Solo Show
|
August 6th - August 24th
The public is invited to the Opening Reception of Ben Fenske's Solo Show Saturday August 9th, from 6:00 to 8:00pm, at Grenning Gallery, 17 Washington Street in Sag Harbor, NY. The show hangs through Sunday August 24th.
Also, please note that he will have a solo show in New York City at the Union League Club courtesy of the Grenning Gallery from September 5th through September 30th.
Fenske's solo show is rich in color and variety, as always, but with an added heft this year, as we unveil his largest painting to date. Inspired by a visit to Plastov's studio, a 20th century Russian artist in Moscow last September, Fenske painted the physical and emotional anchor to this show, the glorious figurative work "Florence, Olive Tree" which is 67 x 79 inches.This scale of the painting is rarely seen from these classically trained contemporary realists. Fenske was invited to Russia by the Minister of Culture to join notable Russian painters on a plein air painting trip. After researching his interest in the Russian painters, we have a newfound respect for Fenske's role in this Poetic Realist movement.

Fenske is becoming a linchpin artist, reuniting the split yet parallel traditions that developed in impressionist and realist painting, starting with the Russian Revolution and not ending until the fall of the Berlin Wall. Having trained in the Bougie Studio, which is a direct descendent of Ives Gammel, and the Euro-American impressionist and realist movements, as well as a brief stint at the Florence Academy of Art, Fenske has spent the last several years actively researching and studying the Russian painting and sculpting traditions. Fenske's bold choices of everyday subjects and rigorous focus on light effects in nature speak of the Russian influence, while his meticulous adherence to accurate drawing and appropriate values show his Euro-American influences. Whether it's a vase of flowers, a nude on a bed, or a dramatic moonscape, we delight in his accurate yet unfettered expressionist brushstrokes.

Fenske's interest in Russian painting was piqued by his visits to the Museum of Russian Art (TMORA) which is based in Minneapolis, MN, his home state. Filled with some of the finest paintings from the late 19th up through mid 20th century, this museum has set Fenske on an original path, which has exposed him to another family tree of artists that were largely undiscovered in our country until after the wall came down in 1989. At that time, Raymond E. Johnson, an art dealer in 19th and 20th century American Realist art, along with other experts armed with knowledge that Russia had upheld other classical arts, including dance, music, theatre and literature, went there to search for interesting paintings. Over the following 13 years he built a business and collection of the greatest, yet lesser known, painters from Russia. He founded the museum in 2002, and Fenske wandered in there shortly thereafter. This is where he first saw Plastov and the Tkachev brothers, who Fenske has been researching and looking at ever since.

Arkady Aleksandrovich Plastov (1893-1972), was considered one of the major Socialist Realist painters, but is best known for his painting "Spring" which is a purely humanist painting of a woman stepping out of her sauna to speak with a little girl (you can see it at tretyakovagallery.ru - search Plastov, there are only two in the museum). This work is famous because it visually captured a "thaw" in the dogma from the state, and it marks the point at which Russian painters started to paint more personal subjects. As one of the top students from the Moscow Art School, and protege of Serov and Arkhipov, Plastov caught Fenske's eye with his large-scale figurative work, especially the scenes of village life, painted en plein air.
Plastov was initially compelled to paint propaganda mostly, then as the 20th Century wore on, the Socialist Realists were permitted to paint more personal works. Fenske was drawn to these more personal paintings. He is fascinated by Plastov's ability to paint people and animals, inside and outside, under wide ranging light effects, all infused with a sense that the painter had intimate knowledge of his subjects. Toward this goal, Fenske has achieved a lot in this show. This exhibition is filled with paintings that sensitively and accurately reflect his every day life, ranging from intimate interiors, to portraits, to landscapes in and around his home, to a thoughtful and emotional major scale figurative painting created in his back yard. Bravo!

Laura Grenning, July 2014
---
= SOLD
---