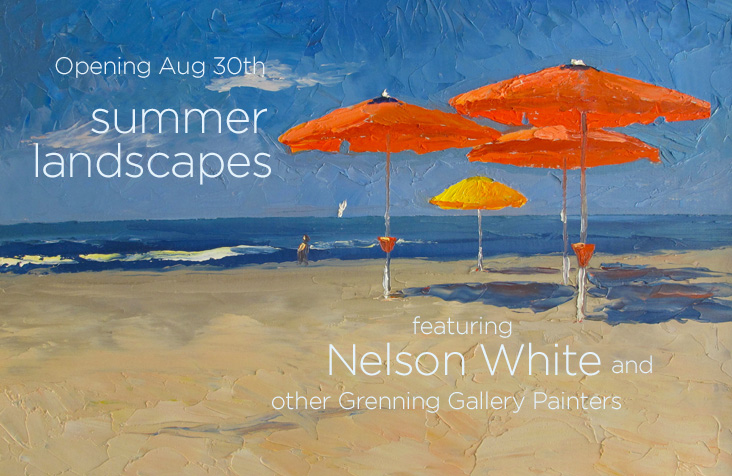 Summer Landscapes
|
August 27th - September 28th
The public is invited to the Opening Reception of Summer Landscapes on Saturday August 30th, from 6:00 to 8:00pm, at Grenning Gallery, 17 Washington Street in Sag Harbor, NY. The show hangs through Sunday September 28th. We are also excited to announce that we are re-expanding the gallery to include the loft space in order to accommodate our prolific painters.
"Summer Landscapes" is out catchall group show to present the local plein air work of our artists, most of whom travel from far to paint the East End all summer. Nelson White's best work from the last few years of Plein Air painting will anchor the show. We are especially excited about his most recent painting of Mashomack Point. Its scale and vibrancy remains unmatched! We are also debuting new smaller works by Nelson, and several new trademark umbrella paintings from Via Reggio.
Ben Fenske's obsession with local light effects is examined closely and beautifully expressed in his paintings of Montauk, Gibson Beach and Short Beach in Sag Harbor. "Short Beach" truly captures those gorgeous tonal values of Long Beach at sunset.
Ramiro presents a major work of Gibson Beach, which was created mostly from a small sketch in his studio. The vibration of colors and movement of the wave is delicious in this large-scale painting. We also see a series of smaller local scenes, which usually get snapped up quickly. Melissa Franklin, with their new baby bobbing in the baby Bjorn, painted a lovely series of East End paintings as well.
Daniel Graves's presents a whole series of backlit romantic landscapes, and several beautifully rendered street scenes form rustic Italy. Leo Mancini-Hresko will also show two great new works, which capture the lovely summer light through the trees, and a sultry lily pond.
We would also like to introduce Hal DeWaltoff of Cape Cod. His painting trip to Amagansett earlier this summer yielded a few bright little gems, which caught my eye. We are pleased to show this new painter in our Summer Landscape show.
---
= SOLD
---