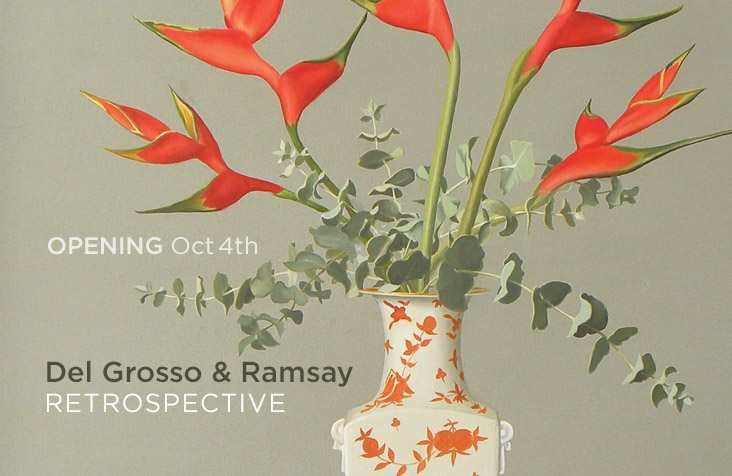 Del Grosso & Ramsay Retrospective
|
October 1st -
The public is invited to the Opening Reception of this retrospective show on Saturday October 4th, from 5:30 to 7:30 pm, at Grenning Gallery, 17 Washington Street in Sag Harbor, NY. The show hangs through Sunday November 2nd. We are also happy to announce that we are re-expanding the gallery to include the loft space, which will show our regular Grenning Gallery painters concurrently.
This retrospective highlights the work of two pioneers in the Poetic Realist movement, who have recently passed on. James Del Grosso (1941- 2013) and Dennis Ramsay (1925 – 2009) were swimming way against the stream of their time. Born in the early part of the 20th century, they were hitting their prime just as abstract painting was peaking in the mid century. Both chose to look to nature for inspiration and researched the old masters and any living painter for classical training at a time in art history that was anything, if not hostile to classical painters. They are rare in that they stayed the course and both succeeded as fine artists, despite the odds. Their success is a testament to their talent, their training, and of course their separate and singular sensibility.
James Del Grosso (1941- 2013) was a very talented painter who lived and worked on the East End since the 1960s, and was a full time resident of Springs since 1986 with his wife, Eve Eliot. Del Grosso's intense focus on the natural world, and his delicate hand, and natural yet unified palette all comes together in the 15 paintings that we have in this Retrospective show. His "Blue & Gold Kisses" painting refers somewhat to Andy Warhol's pop art, but his observations of light falling on these supersized American confections are poetic. One of the critics said "Through scale and light, he forces viewers to abandon what we assume or know about specific objects and to view them anew." Painting at home since the age of 9, Del Grosso attended Cooper Union in the 1960s, and as a result was a center of the New York Abstract Expressionist movement, and painted as such. He worked as an art therapist in a psychiatric facility as a volunteer earlier in his career. According to his widow, Del Grosso always believed that painting was a healing force in a century that seemed to be dedicated to ego and all its pitfalls. Del Grosso was generally known as a calm and gentle man, who would rather paint alone in his studio than be out and about. In fact, I had the pleasure of meeting him on several occasions, as he and his vivacious wife would visit the gallery from time to time. He had a wonderful gallery career, selling at Grand Central Gallery, Ok Harris, and several other galleries around the country and world. I am delighted to report that he had told his wife that the Grenning Gallery was the only gallery that he would like to be shown in on the East End due to our shared values, beliefs and aesthetics. As such, we are honored to show his work here this month.
Dennis Ramsay (1925 -2009) lived a bold and brave life on many levels, yet he remained tuned into nature and humanity, which makes him another hero in the Poetic Realist movement. He left behind a visual recording of this awe in a wide range of meticulous still life and portrait paintings, and we are delighted to show six of his still lifes in this show. Ramsay has also left behind a loving stepson, who contacted me about showing Ramsay's work in an effort to honor the artist and the man who remained deeply devoted to his mother in the final third of their lives. This stepson is Graham Leader, a well-respected filmmaker from New York and the East End. Interestingly, he brought these tempera grassa (pigment and oil) paintings into the gallery, without the uncanny coincidental knowledge that my own painting instructor and now gallery artist, Nelson H. White, also studied with the famous Italian painter Pietro Annigoni. Dennis Ramsay's work and underlying motivations to observe and capture the truth in nature make him a Grenning Gallery artist in spirit, and kudos to Mr. Leader for spotting this!
Ramsay's meticulously observed paintings are executed in this ancient technique, which he learned from Annigoni when he studied in Florence with him from 1953 to 1956. Ramsay was born in England, and in addition to being an art hero of mine; he was also an actual hero, as he served in the Royal Air Force from 1943 to 1946. Then after returning to England, Ramsay, as any great classical painter would, taught painting in the 1960s and 1970s in London, again leaving behind notable students, including Helen De Borchgrave who went on to become the chief restorer at the National Gallery. Ramsay also painted the portrait of Princess Alexandra (1955), Dame Flora MacLeod (1956), King Faisal of Iraq (1957), Sir Winston Churchill (1967 – posthumously), Robert Menzies (1968), and then Prince Phillip (2001). He left England in 1986 to move to Melbourne, where he lived and worked until his death in 2009. Throughout his life Ramsay had gallery shows in England and Australia and has work in many private collections as well as the National Gallery in London and in Scotland.
Laura Grenning, September 2014
---
= SOLD
---