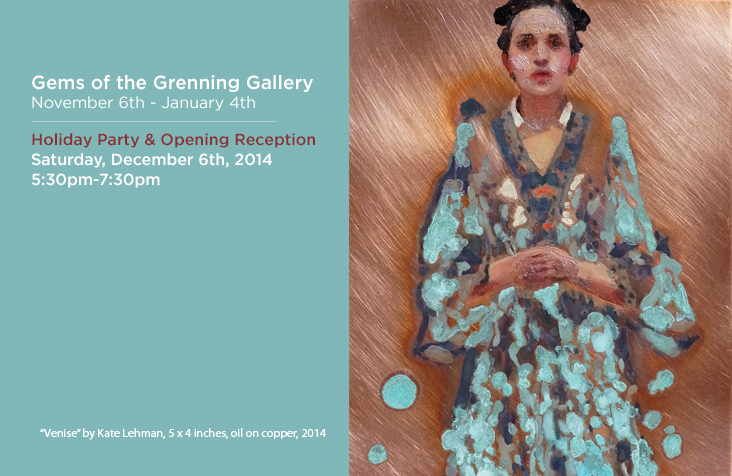 Gems of the Grenning Gallery
|
November 6th
Please join us for our annual Holiday Party on Saturday December 6th, from 5:30 to 7:30, which is also our Opening Reception for our Gems of the Grenning Gallery show, which is already on view and will hang through to the New Year.
We will wrap and ship any paintings that are purchased as presents on or before December 15th this year!
We are truly honored to reintroduce Kate Lehman and Travis Schlaht back into the Grenning Gallery fold. We proudly exhibited their work in our early years, and since 2001, they have been busy with their careers, showing and selling well in galleries across America and they have each had several key museum shows. Lehman and Schlaht have since started a family (with two young children), and spent the last two years in Paris but have returned to their home in Tribeca. Welcome back!
This comprehensive group show includes a series of brand new Via Reggio umbrella paintings by Ramiro, interesting new still lifes by Maryann Lucas, delightful mountain paintings by Kristy Gordon, serene seascapes by Edward Minoff, a lyrical figure by Hege Haugen, a classic still life and small sketches by Ben Fenske, and recent New York sketches by Marc Dalessio. We are also introducing the works of several new painters; Carl Bretzke,Barbara Castrucci, Jas Knight, Edwina Lucas, John Morfis and Fanny Rush.
Kate Lehman (b. 1968) has always been an individual within a crowd of talented painters having studied at the Academy in Paris and the Water Street Atelier in Brooklyn. She has always created original images despite her deeply classical hand, and now she is also experimenting with different mediums. Painting on copper panels, with oil paints, as well as using acids to oxidize the copper, Lehman is creating rich and unpredictable marks, which she builds into her composition. Although the technical aspects of this expression are still being worked out, the cover image for our show "Venise" highlights the beginnings of a mesmerizing melding of mediums. Hints of Klimt's influence on Lehman are reappearing in these works, which we also see in Schlaht's most recent work. Lehman has also been sculpting for years, and we will have three small bronze sculptures here for this show. My favorite is the "Yin and Yang" which is a three dimensional riff on a painting we sold in 2001. Lehmans's elegant "In Repose" is one of the finest and truly contemporary nudes exhibited here in years, as this classical pose is modernized by the model's armband tattoo prominently displayed on the top arm. The deeply relaxed figure, in a dark grey and brown ethereal interior, painted in lower Manhattan in the early part of this millennium, recalls some of the other great nudes that marked their times like "Le Dejeuner sur l'herbe" and "Olympia" by Manet.
Travis Schlaht (b.1975) is a highly respected painter, represented in galleries in New York, San Francisco, Cape Cod, and Greenwich Connecticut. He was also an instructor at the Grand Central Academy of Art and the co-founder of the Hudson River Fellowship. His work has turned an important corner, which is why we are pleased to announce that he will be having a one person show in May of 2015. In this Gems show, there are two tantalizing hints at his new body of work with Schlaht's "Self Portrait" and "Red Suspenders".
Schlaht's exquisite still lifes and portrait commissions are in high demand, but something has happened this year - we see a major shift. After painting 'en plein air' in Paris for a year, when he returned to his studio in New York last summer, he found himself filled with questions about his next step artistically. As he mulled over his new perspective Schlaht wrote his thoughts and some quotes from other artists on the walls of his studio in charcoal before he started on his "Self Portrait". He then started painting his friends and colleagues, in various poses and settings. In a long over due studio visit, we were thrilled by the results of his introspected shift.

Schlaht captured the likenesses, honestly and with integrity, as expected...but something else is happening in these paintings. We see an influence of the early to mid 20th century, Klimt and Redon included, as this highly refined classical realist is starting to let go of some conventions. The emotionally compelling faces are enhanced by Schlaht's decision to lose some of the edges and details that most contemporary realists wouldn't dream of skipping. He is also playing with the patterns in the clothing and flattening out planes, as well as introducing stronger colors which all work to evoke the sitter's personality, already exuding from their refined portrait. There is even a slight nod to the pop artists as well, as the pattern on a dress, in turn, populates the background of one of the paintings.
"Red Suspenders" has a deep red roughly painted background - it's simple, pure, abstract, and rich in color. This background color surprisingly reaches down his shoulders, indicating suspenders. His gaze is steady and hands are relaxed, yet his plaid shirt is completely flat, like a colorform cut out with no shape or form indicated. Rather than take away from the portrait, these abstractions call attention to the rich figurative painting. "Self Portrait" is an amazingly accurate yet loose painting, on a grey background, not unlike his studio walls. Interestingly, all of those thoughts and quotes that he had written on the walls make it into the background of the portrait. While we know that writing within a painting is not big news, the effect of the black on grey text behind such a sensitively painted self portrait is unforgettable. The full body of work will be shown in our spring Solo Show for Schlaht, but please join us for the Gems show to see the first few paintings in this series.
In the coming weeks, we will highlight each of our new painters with a bio and some images, and we look forward to seeing you at the holiday party!

Please call Laura Grenning's cell 631 767 5302 or Joanna Gmuender at the gallery 631 725-8469 if you have any questions.
---
= SOLD
---