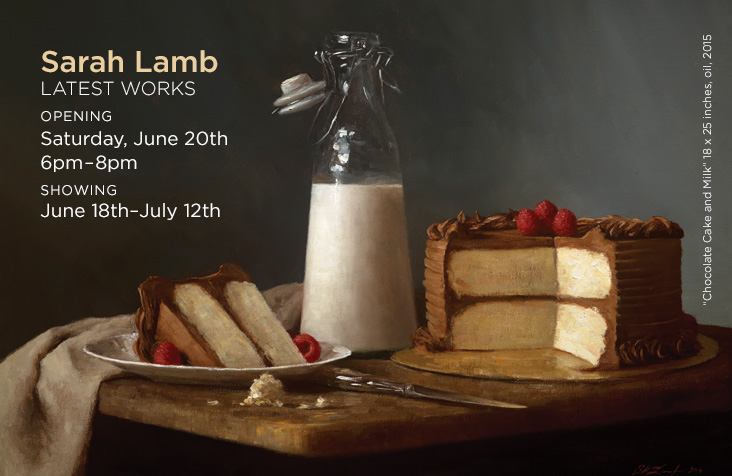 Sarah Lamb | Latest Works
|
June 18th - July 12th
Sarah Lamb 's role as one of our country's leading Poetic Realists is demonstrated clearly with this solo show. In addition to her deft use of the abstract composition and design, we are now seeing her deeply American sensibility emerge. Lamb's juxtaposition of European illusionistic still life and tromp l'oeil techniques applied to distinctly American objects is mesmerizing. Her recent move to Texas is starting to widen that gap even further as she supplants her familiar East Coast objects with Southwestern Americana. Lamb's national following, comprised of collectors, the press and museum curators, eagerly await new works from her consistent and insightful hand.
This show is anchored by the grand scale weather vane paintings, which build on the theme she started in 2010. These giant tromp l'oeil paintings are technically entrancing, AND compelling compositions from across the room. Lamb is able to marry her highly refined craft to a more modern aesthetic by simplifying her palette and her design. "Dexter III" a moody interpretation of a popular subject, a galloping horse, is a quiet and powerful image of this very New England antique weathervane.
"Chocolate Cake and Milk" a contemporized version of the Dutch still life, however, somehow feels so... American. The coolness of the milk and the rich chocolate frosting is almost palpable. "Lobster", "Mussels with Pitcher" and "Seckel Pears" each capture the feeling of her Mid-Atlantic States origin. To contrast, the partridge and pheasant still life paintings mark a shift toward a sporting life that is more particular to her new home in Texas. Of course the beautifully rendered copper pot is not new to her oeuvre. To round out the show, as a nod to her ardent followers, Lamb offers a series of stellar white flower still lifes, for which we continue to see an endless appetite.
Born in Petersburg, Virginia in 1972, Lamb always demonstrated a passion for art and art history. She graduated from Brenau Women's College with a BS in Studio Art in 1993, and during that degree program studied in Florence, Italy. Subsequently she studied with the renowned classical painters Jacob Collins in New York and then Ted Seth Jacobs in France.
Sarah Lamb recently moved to Houston Texas with her husband, the artist David Larnard, and their 5 year old daughter Sadie, from their home in Pennsylvania's Brandywine Valley.
Comments by Laura Grenning, May, 2015
---
= SOLD
---