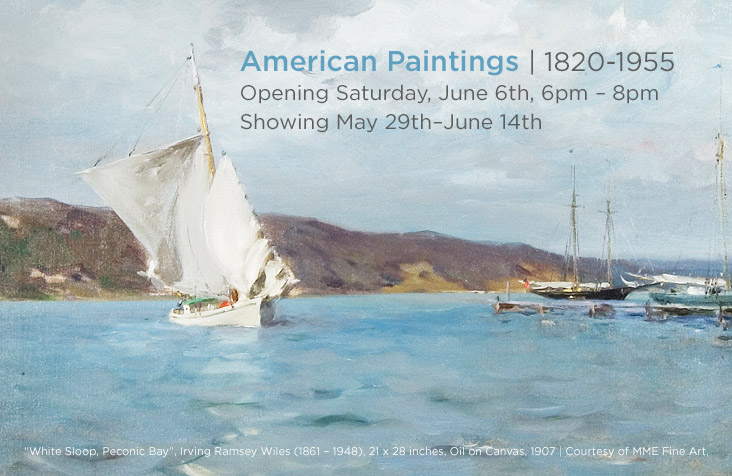 American Paintings
|
May 29th - June 14th
The Opening Reception will be Saturday June 6th, from 6 to 8 pm, and the show will hang until June 14th. Impeccable examples of fine American painting will be here for a special show for the next several weeks, featuring artists who were active from the mid 19th century to the mid 20th century. This exhibition is created in conjunction with MME Fine Art in NYC, which is a trusted resource for Grenning Art Consultancy. Laura Grenning has branched out into art consulting for clients that are looking to broaden their collection outside of the gallery's narrowly focused aesthetic.
Irving Ramsey Wiles (1861-1948) is perhaps the most famous East End painter after Childe Hassam and William Merritt Chase. Our deep appreciation for Wiles has been enriched with stories from a mutual friend. Grenning Gallery painter Nelson H. White, as a boy, visited Wiles at his studio with his father, who was one of Wiles' collectors. Wiles' career peeked just before the modernist movement, when he was garnering prices close to those of Sargent for portraits in New York. He built a home and studio on the North Fork in 1898, and thereafter painted many local scenes en plein air. He mostly worked on small panels out of doors. This 21 x 28 inch painting is considered one of his finest paintings ever of the East End of Long Island. It also happens to be one of his largest seascapes. Mindy Moak of MME says "White Sloop" exhibits Wiles' trademark fluid elegant brush work -- which earned him frequent comparisons to Sargent - and a finely tuned color sense."
Clarence Kerr Chatterton (1880 - 1973), studied with W. M. Chase and Robert Henri, and was a good friend of Edward Hopper and George Bellows. Here we exhibit a wonderful Chatterton painting called "Inlet at Ogunquit, Maine". He had a very straightforward approach to making paintings, and wanted to bring excellent training to a broader audience. He was able to do this as he instructed generations of women painters whilst teaching at Vassar College from 1915 until 1948. On a trip to visit his friend Edward Hopper he passed through Ogunquit, where he ended up spending the next 30 summers.
Guy C. Wiggins (1883 - 1962) is the painter that made all of those fabulous paintings of New York in the snow during the turn of the last century. His work can be found in most major American museums and collections of American paintings. After traveling around Europe as a boy, he ultimately moved to Lyme Connecticut where he settled down, painted and taught painting. "Morning Gloucester" is a fine example of American impressionism, with the high key color and reflected light bouncing off of the lavender buildings behind the sailing ships.
John Ferguson Weir (1841-1926) was born into a family of artists, and was surrounded by the most eminent painters of his day... Frederick Church, Albert Bierstadt and Winslow Homer to name a few. His brother, J. Alden Weir, went on to become went on to become a very famous American impressionist. J.F. Weir's iris paintings are his most sought after. "Japanese Iris - Six Varieties" is a very rich painting, and one of his most successful florals.
Charles Henry Ebert (1873 - 1959), like Chatterton, spent time on Mohegan Island, and given his excellent training at Academy Julien in France in the late 19th century, he ranks as one of the best regional impressionist. "Monhegan" is a very successful plein air beach scene, which was painted mid day - the most challenging light.
Jean Wechsler Knapp's (1927 - 1992) "Thomas Fish Market" captures a mid-century moment in a town not unlike Sag Harbor with scallops shells and fish, boats and a life saver hanging in a geometric pattern with red and white, and orange and pink cloth. Although this work is on the surface different from the others in execution, it evokes that seaside energy, within a more modern aesthetic.
Unknown painter, in 1820. We have a wonderful example of a sober early American portraiture in this show, from a private collection on Shelter Island. The painting was made by an unknown painter working in the Danbury area in the early 19th century, and it depicts Benjamin C. Deforest, who was a boy of perhaps four or five at the time. This painting is very much the type of painting that would have been created of a wealthy whaling captain's son, and we feel it would fit in perfectly in a Sag Harbor home.
---
= SOLD
---