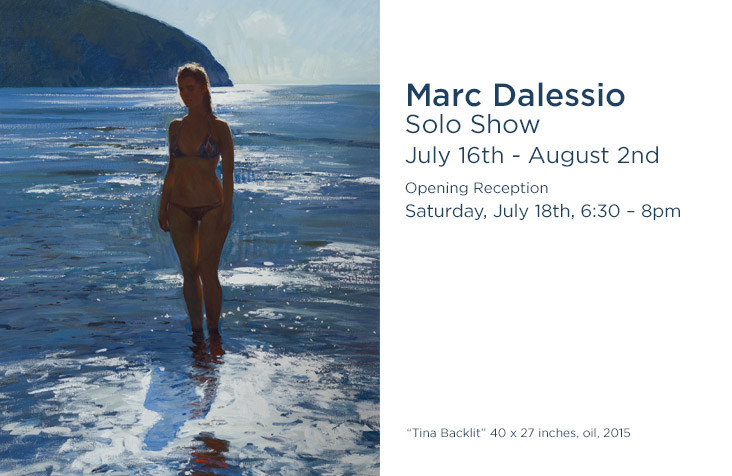 Marc Dalessio Solo Show
|
July 16th - August 2nd
Please join us for the Opening Reception for Marc Dalessio's Solo Show on Saturday July 18, 2015 from 6:30 to 8pm. This show will hang until Sunday, August 2nd. He will also be speaking on a panel discussion about plein air painting at the Art Market Art and Design Fair at Fairview Farm at Mecox, 19 Horsemill Lane, Bridgehampton on Saturday July 11th from 3pm to 5pm.
Marc Dalessio (b 1972), who painted most summers in the Hamptons since 1999, was born in California and currently lives in Croatia. He has been showing at the Grenning Gallery for 17 years. In the last few years, he has become one of the world's most respected bloggers on the traditional craft of painting. Dalessio's generosity with his deeply refined technical knowledge is well known to his online audience and fellow painters. Dalessio shares his insights, information, paintings, and sorrows with the public in real time. One can learn how to make oil paint, or watch a portrait being created in time lapsed video on his channel. (www.marcdalessio.com). One can also see his unending curiosity and an impressively sharp eye for great paintings, as he brings us along when he discovers a lesser known painter, usually from the early 20th century or late 19th century.
Dalessio 's recent choices of subjects and the settings demonstrate an interest in this century's truth, as his paintings are increasingly up to date. The technique and sometimes the timeless themes continue to be informed by his study of art and art history. "Backlit Tina", the anchor painting in this year's show, is a perfect example of this shift. Here, he creates a high contrast image with decidedly dramatic back lighting and a bold iconic figure in the center to revisit Botticelli's "Birth of Venus". This stark and abstract painting on the surface, viewed over time yields a deeper more sensitive portrait of a beautiful woman emerging from the sea, in her own late spring. His model and muse, just happens to be his new wife, a contemporary beauty by any measure, AND a highly educated lawyer. This painting was created on a private beach in the middle of the Tuscan coast, but it could be a beach in California or anywhere for that matter.
Dalessio's work stands apart from his peers in that he captures not only the light, the color, and architecture of a scene, but also somehow the feeling of a place. "Snowy Road" is a great example of this as it evokes not only the light but also the temperature and humidity of what it must have felt like to be standing under a tree on a snowy day looking down a service road towards the forest in Switzerland last winter. Dalessio is a passionate plein air painter, who has been working everyday, most of the day since I've known him. It is no wonder that this talented artist, who, after 25 years of working so hard toward capturing the truth in nature, is able to fill the gallery with beautiful work this month.
---
= SOLD
---