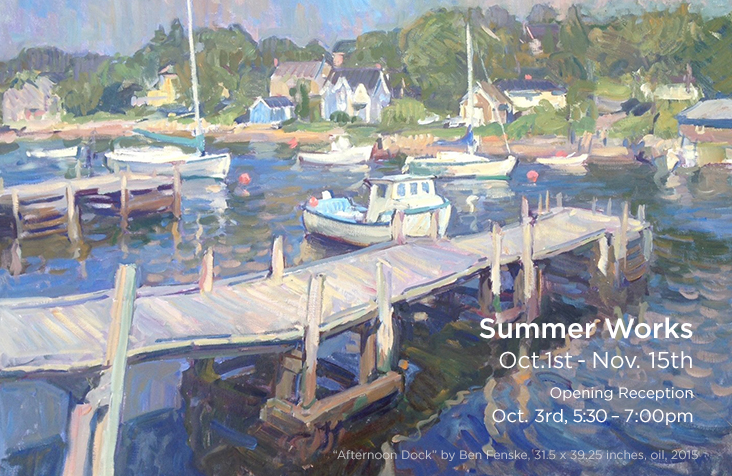 Summer Works
|
October 1st - November 15th
The public is invited to the Opening Reception for Summer Works on Saturday October 3rd, 2015 from 5:30 to 7pm. This show will hang until Sunday, November 15th.
Please join us and come see all new works from Marc Dalessio, Ben Fenske, Edwina Lucas, and Maryann Lucas, John Morfis, Ramiro, and Nelson White. This time of year we usually show the plein air summer landscapes of our established and up-and-coming artists, but this year many of our painters were finding inspiration in their studios. We are introducing a few smaller works from the estate of James Britton, who worked in Sag Harbor during the 1920s. We are also very excited to inaugurate our relationship with Stony Brook's well-known painter Christian White in this show.
Importantly, as illustrated on the invite with the entrancing "Afternoon Dock", Ben Fenske (b. 1978) travelled up to Maine and Nova Scotia and we see some fresh works from our mainstay painter.
In this show we introduce the work of a highly respected Long Island painter Christian White (b.1953), who we have had our eye on for many years. Hailing from a the vaunted artistic family, and great grandson of the famous architect Stanford White, Christian's more recent abstractions based on local landscapes has caught our eye.
We have long been looking for a classically trained painter who is in love with the local landscape, and is making some more abstract and colorful interpretations of nature. The influence of Richard Diebenkorn (b. 1922 – d.1993) can be felt, but White still retains his signature expressive brushwork and bold compositional sense. Finally we have found a painter to bridge our 21st sensibilities with some of the best innovations from the late 20the century!
We are also reintroducing James Britton (b.1878 – d. 1936) to the Sag Harbor community. Connecticut born Britton was a well known artists and writer from 1900 – 1930 and spent a year working in Sag Harbor in 1925/26. His work was shown with Maurice Prendergast, Jane Peterson, Philip Hale, and George Luks et al. as part of the artists group he formed, The Eclectics. Post mortem, Britton's work has been shown in galleries and museums across the United States, and interestingly, his work was shown at Nabi Gallery in Sag Harbor in 1999-2001. Although these are small cloud studies and a few architectural paintings, the works marks an interesting time in Sag Harbor's history, and it is very affordable, given its importance. He was also a wood cut printmaker, and the nude wood cut, named "Standing Nude" is one of our favorite works in this show.
Marc Dalessio (b. 1972) spent several weeks here painting the local landscapes and also New York City. " Sag Harbor No. 2" is one of our favorites because it shows Main Street in all its glory.
Maryann Lucas (b. 1959) continues to evolve into one of our most interesting new painters with her plain air landscapes of the local barns, notably in "Sagaponack Farm". We are also excited to see progression in her refined floral still lifes as seen in "Pink Peonies in Grey Pot".
Edwina Lucas' (b. 1991) studio works and major floral continue to impress us, as this young painter builds her oeuvre. In this show we surely see the influence of her maestro, Amagansett and New York painter, John Alexander. Most notably we see this influence in "Flower Tower".
Ramiro's (b. 1974) original local scene "Fields at Cooks Lane" is an evocative and familiar painting of the pastures we drive through all summer. His choice to emphasize the golden hues creates a heat that is rarely felt in this kind of painting.
John Morfis (b. 1976) has painted two more lures, alluding to one of our favorite summer pastimes here in Sag Harbor. We look forward to more work from him for our Gems show, opening the week before Thanksgiving.
Nelson White's (b. 1932) delivers another suite of lovely beachscapes. His saturated colors, deft and ample paint application continues to delight his followers.
---
= SOLD
---