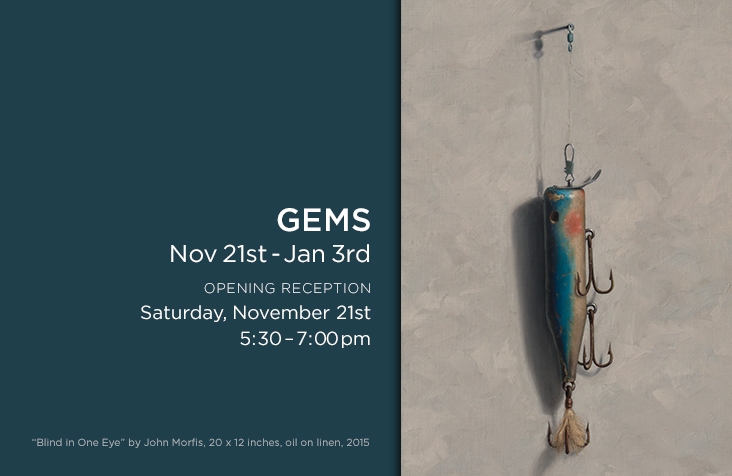 Gems
|
November 21st - January 24th
Please join us at the Opening Reception for the 18th annual Gems Show on Saturday November 21, 2015 from 5:30 to 7pm. This show will hang until Sunday, January 24th.
Every year, just before the holidays we scour our artists' studios for small great works, and hang a salon style show with wonderful gift offerings. Unlike the rest of the year this will be a cash and carry, which means you can stop in buy the painting, and wait while we gift wrap it for you. We are also introducing two recent discoveries Matthew Weigle (b. 1978) and Yin Yong Chun (b.1958). We are thrilled to be showing a new set of small local landscapes and still lifes by the well-respected Long Island painter Christian White (b 1953). The East Hampton Star recently described his work in an editorial last week as 'a satisfying glimpse into a world that seems to have left its moorings'.
We are also pleased to show three new works by sculptor, Chad Fisher (b.1983), whose busy schedule with public commissions has taken most of his time over the past two years.
Yin Yong Chun, (b.1958) in Liaoning Province in Northern China, has a long history of solo exhibits starting in China in 1983, and most recently in NYC as well as the Wendt Gallery, in California. He was also a regular at the Chrysalis Gallery in Southampton. His classical training is self-evident. Few may realize that the Chinese kept classical traditions alive during the Cold War, while the West deconstructed painting techniques. With impeccable technique, this New York based painter has melded his highly refined painting style with hints of his Asian influence, as seen in the "Red Apples" and "Peaches" paintings. His "White Roses" paintings are major works, which illustrate his elegant and very modern taste. These over sized wilting white roses ask the viewer to contemplate the transient quality of physical perfection. These paintings at once master and critique heir own genre intertwining the beautiful and the ironic
We have four small but wonderful Gems from Matthew Weigle (b. 1978) who recently completed training at Jacob Collins' Grand Central Academy in NYC, and prior to that studied at the Pennsylvania Academy of Fine Arts. Although we receive many submissions, his work stood out for its purity and clarity. We especially like "Red and White", a simple study of carnations. "Watermelon" and "Cherries" are two elegant still lifes, which clearly illustrate his fine training. We look forward to seeing what Weigle does next.
Christian White (b. 1953) spent much time painting Sag Harbor, and we have six new fine small landscapes. Of special interest from this reputed Long Island painter are his more abstract takes on the local scenes, such as the new "Dinghies, Long Beach".
Our dear friend and renowned collector of Long Island paintings Fred Baker, of Southampton has graciously loaned us some beautiful 19th and early 20th century works for our Gems show this year. Notable amongst these is the William Sylvester Eaton, "Near Sag Harbor", painted in 1926, as well as the Whitney Hubbard, "Sunset LI " from 1950.
Maryann Lucas' still life paintings charm us with her several studies of late October roses. We are especially impressed with the true gem "Lasting Beauty".
John Morfis continues to surprise us with his beautifully detailed trompe loeils. We are looking forward to our exhibition in Wellington, Florida this year. WE will be bring a fresh collection of his works!
Edwina Lucas, who is getting ready for her two person show here at the Grenning Gallery in April 2016, will be exhibiting a few small still lifes.
Sarah Lamb gives us a new delectable smaller piece, "Petite Homage to Thiebaud". The colorful berries and sweets on the three small cakes are warm, yet vibrant, in the foreground of a gray backdrop.
The show will also be displaying new works exciting works by Kristy Gordon and Carl Bretzke.
---
= SOLD
---