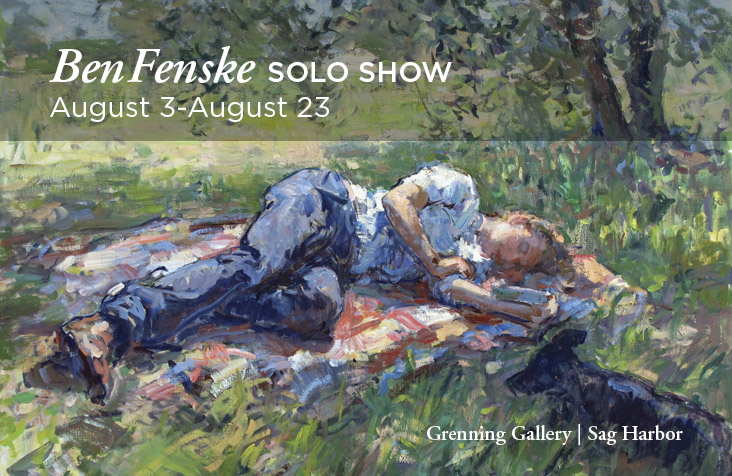 Ben Fenske | Solo Show
|
August 3 - August 23
Ben Fenske's new work is quietly powerful. With his intriguing interiors and the proliferation of figurative work....we follow his eyes...and we see a sharper focus on the figure, and a closer look at how that person is relating to her surroundings.
The most interesting painting is "Florence, Shade," as we feel the weight of the slumbering figure, yet through color and brushstrokes she seems almost merged with her shady spot. As a testament to the subtlety of this major work, only after looking at the painting several times, does one find the dog sleeping next to her. The shadows giving way to the field and a building in the distance, creates a profundity that only emerges when one steps back, as the abstract brush strokes mesmerize the viewer up close.
Fenske's interiors, whether they are empty rooms, or include a figure, now evoke a new psychological energy, on top of his already brilliant study of light effects. "Studio Table," with its Fellini-esque foreshortening and multiple light sources, shows us an artist's painting box on a table next to a bottle of wine. The single chair askew adds to the sense that something just happened here. "Bea Reading" has the looseness of a sketch, but a rock solid clarity of exactly which details need to be retained. Inside this whirlwind of painting strokes, sits a young girl reading a book, her profile perfectly outlined by the light streaming in from behind. As in reality, our eyes do not need any other lines to bring us to the same poignant observation that motivated Fenske to make this painting. "Jess, Berta" is an even more complex success as it captures light flowing through a furniture filled room, warming the two beings that inhabit the space and striking the mirrored table, leaving a perfect blue strip in its wake.
Also in this show, we see works from his painting forays to Wellington, Florida and Catalina Island in California. "Wellington, Late Afternoon" is a wonderful plein air landscape, portraying this very particular scene, complete with an equestrian walking her horse down a white shell path, along a canal.
---
= SOLD
---