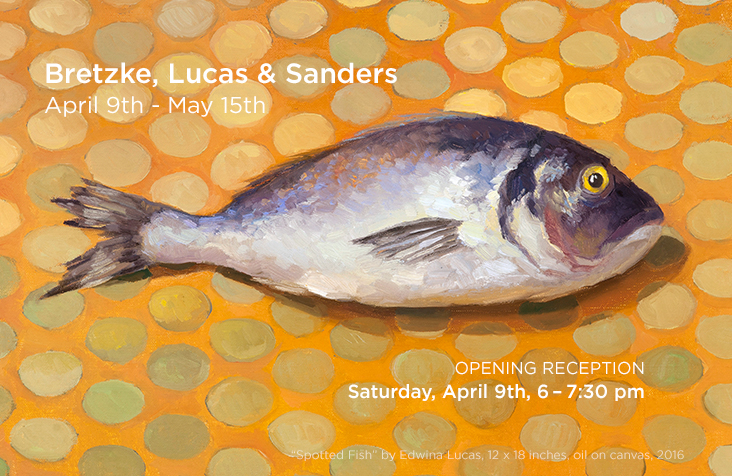 Bretzke, Lucas & Sanders
|
April 9th - May 15th | 2016
The Grenning Gallery is pleased to invite the public to an opening reception on Saturday, April 9th, 2016 from 6 pm to 7:30 pm.
Kevin Sanders (b. 1961) delights us with a new series of delicious Tonalist landscapes. Sticking to a narrow palette, these painters study the subtle shades of light found in nature at dawn and dusk. Although all these painting were all created this year, they touch on a tradition that dates back to the mid 19th century. American Transcendental writers of that period, Thoreau and Whitman for example, celebrated man as a wonderful and symbiotic part of nature. This idea is exemplified by the single warm light on in a house bathed in moonlight in one of Sanders finest paintings, "Shining Bright". This Tennessee native has been painting and living in Tuscany on and off for almost 20 years, and has been showing with the Grenning Gallery since our inception in 1997.
Local painter, Edwina Lucas (b. 1991) continues to gather strength in her third show at the Grenning Gallery. While we gratefully acknowledge the influence of John Alexander, from whose studio she is emerging, we are starting to see Lucas own language forming. Lucas steps it up this year with three major works, most notably the "Amagansett Ravens". This larger scale painting shows an interesting turn towards a more narrative composition, although still sourcing our local landscape for inspiration. "Amagansett Ravens" is a beautifully composed, expertly executed, modern gothic image. Like musical notes, the three crows create a triangular tension inside a hollow of honey-toned corn stalks, with a steel grey-blue sky above. The alternating cool and warm tones invite the viewer to ponder this painting. Lucas also took a standard local scene of mallard ducks and turned it into a festival of abstract colors and shapes. The ripples in the water merges with the birds and the birds, who in turn meld into one another for a large scale, color mash-up... and it works! We consider this the beginning of a line of experimentation and inquiry that could very well carry this young painter into a much broader and organic road of discovery. Finally, there is a series of still life paintings with a printed pattern behind them - providing an enticing graphic contrast to the three dimensional object on a flat plane. Here Lucas pokes a little fun at the obsession for flat planes in the modern art movement while bringing her painterly approach to the actual subject displayed on that vaulted flat surface. "Spotted Fish", as seen on the post card, is the most successful in yet another spirit of investigation we are looking forward to following. Watch this space!
Carl Bretzke (b. 1954) debuts in this group show with his award winning plein air landscapes. "Marine Park Drive" is a lovely painting of our local Harbor Master's office. "Off Street Parking" is a great example of his notable nocturnes. Bonnard's looseness, but exacting draftsmanship can be found in his "Beach Day" painting. We also see hints of a Tonalist influence in "First Snow on Garage". We welcome Bretzke, who specializes in urban scenes and plein-air landscapes. His work has been exhibited extensively in Minnesota and California, including the Minneapolis Institute of Art.
Bretzke holds an MD degree from the University of Minnesota Medical School. His undergraduate degree is from the University of Colorado, where he also received a minor in Fine Art. Bretzke has also trained extensively under Plein Air Painters of America signature artist Joseph Paquet, which also happens to be an important teacher of Ben Fenske (b. 1980),one of the most respected painters at the Grenning Gallery.
---
= SOLD
---