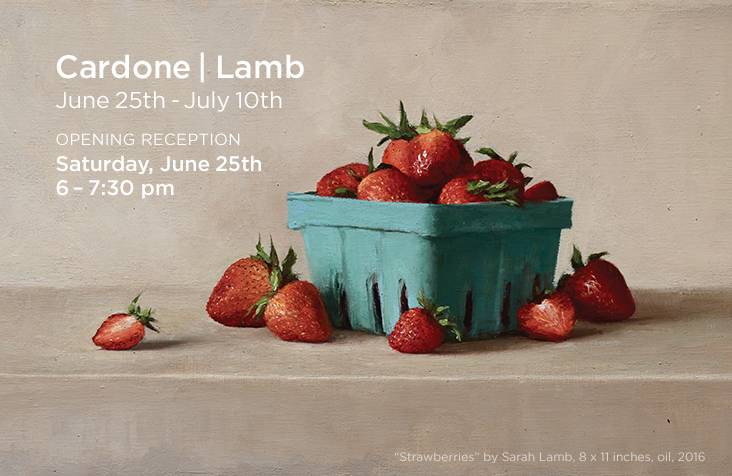 Cardone | Lamb
|
June 25th - July 10th | 2016
The Grenning Gallery is pleased to invite the public to an opening reception on Saturday, July 25th, 2016 from 6:00pm to 7:30pm. The show will hang until Sunday, July 10thst.
The paintings of Sarah Lamb and Thomas Cardone, while different in style and subject, share a compositional similarity that complement each other and pair quite well in a joint show. In Cardones plein air landscapes of nautical scenes from the East End of Long Island and Lamb's studio paintings featuring an array of ubiquitous and everyday items from various foods to, in this show, a model antique toy car, one sees dense and interesting things going on not only in the foreground but in the middleground and background as well. This is not always the case with landscapes and still lifes where one often encounters a more perfunctory approach with discrete separation between subject and background. However, with both Lamb and Cardone, the longer and deeper one looks into their paintings, the greater the reward both emotionally and intellectually because the whole canvas has been considered.
Ms. Lambs highly evolved and meticulous, whose antecedents are the Beaux Arts Academe training from 19th century France. Shes a star of the current poetic realism movement. She studied with renowned 20th century America and early 21st century classic painters Jacob Collins in New York City and Ted Seth Jacobs in France. Ms. Lamb consistently achieves a formidable accomplishment in her still life paintings: uncanny verisimilitude attaining palpable beauty and a deep sense of truth and nature--the result when master craft and technique combine with personal warmth and observation not of photographs but of the reality of life. With a distinctly American sensibility, one might even call Lamb a multi-regional' painter. Living in both Pennsylvanias Brandywine Valley and in Houston, Texas, Ms. Lamb's locale very much informs her work. She notes that the quality of light in her Texas studio is of a decidedly higher value and we can see this especially in the backgrounds of her new paintings in this exhibition.
In Pineapples, our eyes travel from the dramatically lit pineapples, which establish both vertical and horizontal lines, to a background dappled with light and shadow--and how it intricately accepts the patterns of the fronds, to the diagonal line of the knife, to the unusual placement of the cutting board, bisecting the visual field, subtly yet emphatically directing our eyes to the negative space beneath it.
In Lambs transcendent Eggs, we see the balance and harmony of the natural world come to life in the interplay of foreground and background--the horizontal arrangement of eggs assuming colors, texture, and luminosity with their shadings of brown, green, and ecru subtly restated in the background.
A relatively new participant on Facebook, Ms. Lamb notes somewhat wryly that Antique Alfa Romeo has garnered more likes and comments than any other image she has posted. A friend in the Hamptons sent her the model car to paint and with its quasi-theatrical lighting--a diagonal spotlight falling across the hood then tires (and wheel spokes) then onto the table and on the brown leather strap hanging down from the table to, finally, the lower right quadrant in the area between the table top and floor, Antique Alfa Romeo is a striking image.
A highly successful art director on animated feature films for Disney and Twentieth Century Fox, Thomas Cardone's nautical scenes clearly exhibit a cinematic quality not only in composition but also in that the images seem story-centered rather than static. In the anchor painting of this collection note how teeming with life is Wanderer, Sag Harbor New York. Set well back into the frame the boat, pier, pilings, and small building reflect bright sunlight onto the watery foreground. The jazz-like interplay of greens, blues, pinks, whites, and yellows between foreground and background recalling a shimmering, impressionistic quality.
---
= SOLD
---