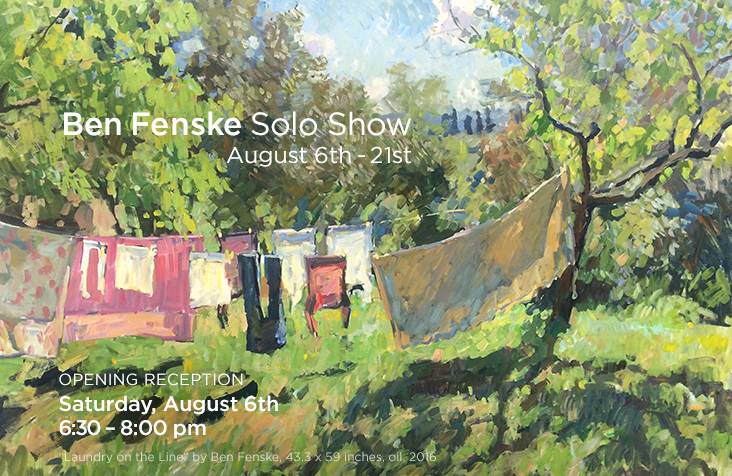 Ben Fenske Solo Show
|
August 6th - August 21st | 2016
Please join us for the Opening Reception of Ben Fenskes Solo Show on Saturday August 6th, from 6:30 to 8pm at the Grenning Gallery, 17 Washington Street, Sag Harbor. The exhibition hangs until August 21st.
Ben Fenske (b. 1978) is hitting another level in his work this year, with two distinct series of paintings. His muse and girlfriend, Beatrice Champ is featured in a spectacular series of nude and semi- nude paintings. One can follow this intense and talented artist from a smaller sketch inspired by interesting light, as seen in Blue Light Nude to the fully finished and large composition Drying Hair. Like a complete symphony, this series of ten paintings has bright movements, somber notes and exuberance. Overall, the Bea Nudes leave us thrilled to show his work, and delighted to help him with his dedicated research into beauty.
Clearly motivated by his new surroundings, there is also series of paintings created in and around his new home in Chianti. Following on from last years hugely successful luncheon painting, Fenske painted Summer Afternoon which depicts his friends in a flickering mid-summer Tuscan light. Its an effective multi figure composition AND a beautiful ebullient work of art. There are several paintings of the laundry on line, which edge towards abstraction as he revisits the subject a third and fourth time. Several florals from these at home paintings knock on Van Gogh and Cezannes door, but remain Fenskes through and through.
As Fenske approaches the end of his thirties, his career is continuing to catch the eye of important institutions, having been selected to show at the National Portrait Gallery in London this summer as part of the BP Portrait Award contest. Later this year, the Grenning Gallery, with Fenskes guidance and leadership, is hosting 4 of Russias most notable painters on a plein air painting foray to Maine and the Hamptons in October. He has also invited several important American painters to join the group. This trip will culminate in a big show on November 6th.
BRAVO Ben!!
---
= SOLD
---