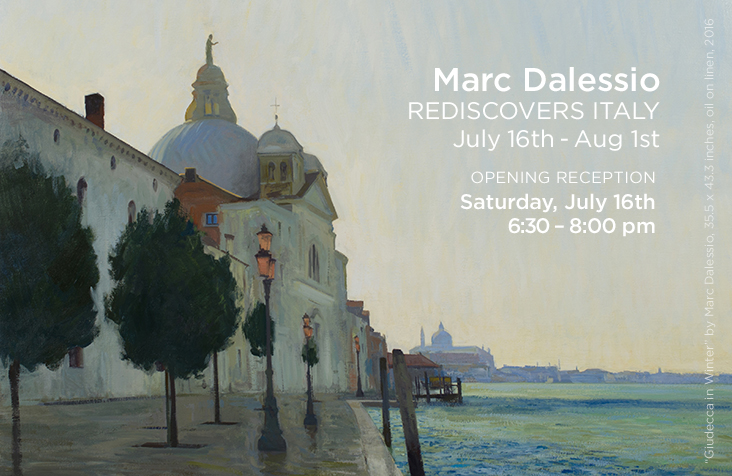 Marc Dalessio Rediscovers Italy
|
July 16th - August 1st | 2016
The Grenning Gallery is pleased to invite the public to an opening reception on Saturday, July 16th, 2016 from 6:30pm to 8:00pm. The show will hang until Monday, August 1st.
As plein air painting continues to resurge, the Grenning Gallery is pleased and honored to present Marc Dalessio's latest solo show, Marc Dalessio: Rediscovers Italy, on July 16, 2016. This exhibition features large-scale works created in celebration of Dalessios return to Italy. There, he studied and lived for twenty years, before embarking on world travels pursuing his passion for plein air painting and relocating to his present home in Croatia. Dalessios "rediscovery" is so named to acknowledge the "new eyes" from which he perceives his subject(s) and his technical ability to apply that to canvas. In addition to his formal training in painting, few know Marc was a biology major in college and thus an almost scientific inquiry into the nature and properties of light is always present in his work.
The fact that Dalessios website and blog devoted to plein air painting has become an invaluable resource to all might seem a touch ironic: a digital platform from which to revel in a centuries-old tradition, but not to Dalessio. Motivated by his own experiences as a college art student with an unquenchable desire for access to the images, painters, and history and knowledge of en plein air and frustrated by the limitations of availability, creating the digital resource is a natural evolution and organic expression of the artists generosity of spirit, talent, and emotion--readily on display in the epic works of this show.
The two anchor paintings in the show are evocative, in-depth studies of the same Tuscan landscape at different times of year, and in vastly different light. These works proclaim Dalessio's now mature, highly accomplished craft and technique.
Dalessio exquisitely renders the values of bright sun beaming down behind him in "Castelmuzio, Backlit." Note the dashes of nuanced high sunlight reflecting on the wintry grass in the foreground and as we push deeper into the scene, the more intense light, shadow, and color shimmering across four trees traversing the middle ground. And beyond, the pale villa almost crouching down low to keep warm beneath the white and blue of the sky co-mingling to a visceral, chilly effect: low hanging clouds infused with a bluish tint, the sky above filled with vertical wisps and spires so that neither cloud nor sky are discrete but rather compromised by the other. In the sister painting, "Castelmuzio", we revisit the same landscape but now at a more convivial time of year, the perspective as well as color palette decidedly warmer: the villa now perched on a hilltop, seeming to stand erect, face to the sun, it's sepulchral pallor transformed to a rich brown terra cotta; the Tuscan hills and foreground now lush and verdant; the blue and white of the sky no longer adversarial but complementary with the white illuminating the blue from behind.
The most original work in this show is "Tuscan Light", which features nine separate panels in one frame of the same landscape painted at the same time of day though in various atmospheric conditions. In this piece, Dalessio employs an almost clinical approach that seamlessly marries the dual impulses of the scientist and the artist to wonderful effect.
A work that fully expresses and articulates Marcs "rediscovery" of Italy is "Giudecca in Winter", where the artist eschews well-trod locales of Venice in favor of a small district, actually an island unto itself, separated by a canal. Furthermore, where paintings of Venice are usually organized in horizontal lines, here we see and feel the solitude and isolation of the square on this damp, overcast day with the vertical lines of a chimney, a few trees, lampposts, and pilings poking out of the water--if not exactly a revisionist perspective, a decidedly personal one.
---
= SOLD
---