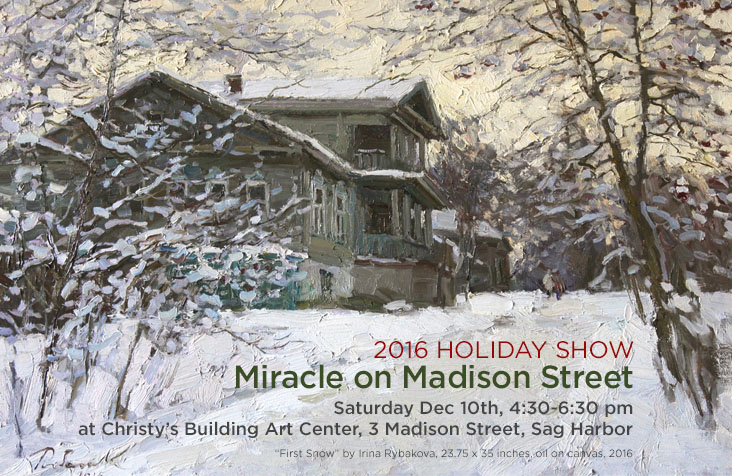 Miracle on Madison Street
|
December 10th | 2016
The Grenning Gallery is pleased to invite the public to its annual Holiday party and Opening Reception for the new show Miracle on Madison Street at Christys Building Art Center, 3 Madison Street (Sag Harbor), a Grenning Gallery Pop-up. Please join us on Saturday, December 10th, 2016 from 4:30 pm to 6:30 pm. The show hangs through to the New year. Excited about our new expanded space in the Christys Building Art Center, Miracle on Madison Street, will show the very best major works by Grenning Gallerys core artists. This exhibition will be spiced up with some brand-new paintings and even a few new artists!
Given the extensive gallery space, we are featuring major figurative works by Ben Fenske and Ramiro, and masterful landscapes by Marc Dalessio. Featured in this months American Art Collector section on figurative art, Ramiro has been with the gallery since it first opened its doors in December on Greene Street in SoHo, NYC. His sophisticated figurative paintings are a cornerstone to the Grenning Gallerys rich spectrum of work. The most recent works, Hymn, and Allegory to Chopin (Nocturne), offer two examples of Poetic Realism. Ben Fenskes current series, the Bea Nudes, are examples of what a great living painter can create within the figurative realm. We will also feature the commanding landscapes by one of the worlds leading plein air painters and bloggers, Marc Dalessio, who recently returned to Italy after several years of in Croatia.
A work that fully expresses and articulates Dalessios rediscovery of Italy is Giudecca in Winter, where the artist eschews well-trod locales of Venice in favor of a small district, an island unto itself, separated by a canal. Further, where paintings of Venice are usually organized in horizontal lines, here we see and feel the solitude and isolation of the square on this damp, overcast day with the vertical lines of a chimney, a few trees, lampposts, and pilings poking out of the water--if not exactly a revisionist perspective, a decidedly personal one.
Miracle on Madison Street will also exhibit selected plein-air works from the Russian - American Alliance artists, Oleg Zhuravlev, Viktor Butko, Olga Karpacheva, and Irina Rybakova, as well as Carl Bretzke.
The exhibition cover image, First Snow, is a lush example of Irina Rybakovas (b. 1962 in Vyshny Volochok) famously expressive plein-air landscape painting. This famous Russians painters work is found in museums and collections both in Russia and abroad.
Named by Fine Art Connoisseur Magazine as one artist of Three to Watch in the latest, Carl Bretzkes career as a professional painter is approaching exciting milestones. Bretzke has put in enough hours at the easel to get his work consistently noticed in the art world, and his recent achievements - including winning the grand prize in the 2016 Plein Air Magazine Salon Competition - are allowing him to conclude his career as an interventional radiologist and devote the rest of his life to art. After Bretzkes success in The Russian-American Painting Alliance exhibition, Grenning Gallery decided to represent him as a full-time painter.
We are also showing brand new works by Maryann Lucas, Edwina Lucas, and Nelson White. We are also introducing a promising young painter who also happens to be a graduate student of Russian literature at Columbia University. Benjamin Lussier has many smaller delightful local plein air paintings priced under $1000, which would make nice stocking stuffers!
---
= SOLD
---