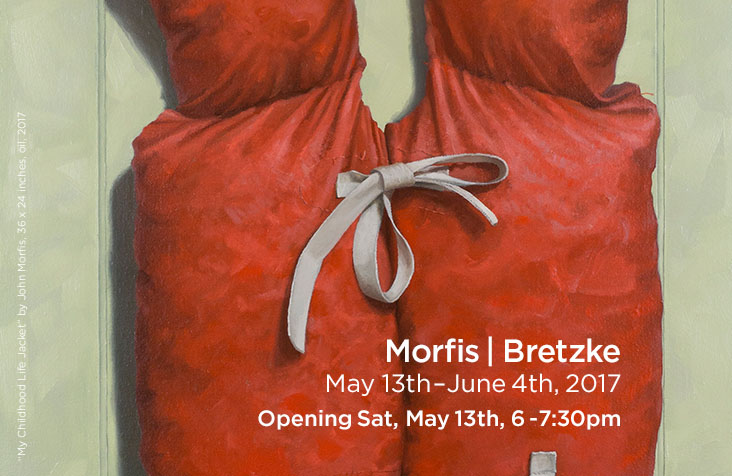 Morfis | Bretzke
|
May 13th - June 4th | 2017
The Grenning Gallery is pleased to invite the community to attend the Opening Reception of Morfis | Bretzke, a two-person show on Saturday, May 13th from 6 - 7:30 pm. This show will hang until June 4thth, 2017.
Carl Bretzke (b. 1954) In this, his first two-person show here at the Grenning Gallery, Bretzkes star is rising. He has been able to paint in Sag Harbor, and is best known for his recent series of the movie theatre facade, being the last artist to paint it from life this past November, a month before it burned down. We have prints available of this painting The Last Show. Bretzkes work is growing in quality and depth, which is evidenced by this interesting collection of familiar American life scenes. Most notably we love Exxon Ford, which is a Hopperesque take on Sag Harbors new gas station, portraying a 1970s pale blue car in the foreground and the bright night lights of the gas station island flooding down in the background. We also love the purple clouds in Boatyard Sunset as well as the very intimate understanding of a snowy road found in North.
Bretzke explains his work clearly when he says Mark Jenkins, of The Washington Post (Feb 20, 2015), once described my work as simultaneously intimate and detached...with a style that recalls Edward Hopper and the Ashcan School. This was an appropriate assessment in that Hopper and Bellows are two of my personal favorites from history. I am attracted to work like theirs that depicts familiar images of everyday life with a somewhat undefined narrative that involves the viewer on a slightly different level. Although I most recently have been known as a Plein Air painter, I don't think of myself as a single category artist. I spend equal time in the studio developing larger and somewhat more complex work. Many friends and teachers in the contemporary art world have been influential to my work including St. Paul artist Joe Paquet and Florence artist Ben Fenske.
Bretzke has garnered countless awards in plein air contests around the country is represented by Grenning Gallery and three others across the country, and has been covered extensively in the art press.
We are very pleased to be hosting the fourth show for John Morfis (b.1976), who is also one of our rising talents. His eye for subject and composition, combined with an excellent classically trained hand, leads us to a fascinating series of single object tromp Loeil paintings. Growing up on Long Island, in a family of talented tradespeople, his reverent focus on tools of trade make perfect sense. This collection of paintings has a nautical and fishing theme, with many single lures, some oar anchors and a fabulous painting of a life jacket.
Morfis attained a Bachelor of Fine Arts from Hartford University where he was able to study under the highly respected American realist, Stephen Brown. Since then he also achieved his Master of Science in Art Education from Connecticut State University. Morfis work has been shown in the New Britain Museum of American Art, has won several painting awards, and has been covered in Fine Art Connoisseur magazine and American Art Collector magazine.
---
= SOLD
---