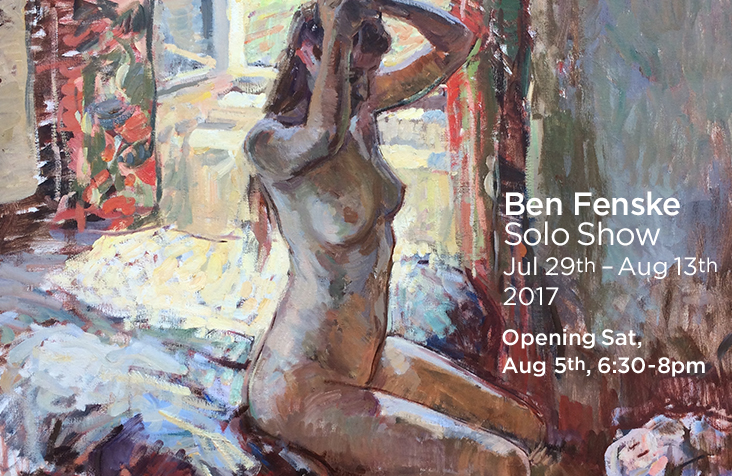 Ben Fenske Solo Show
|
June 29th - August | 2017
Please join us for the Opening Reception of Ben Fenske's Solo Show on Saturday August 5th, from 6:30 to 8pm at the Grenning Gallery, 17 Washington Street, Sag Harbor. This exhibition was hung on July 25th, and hangs until August 13th.
Ben Fenske (b. 1978) proves his mastery with paint again this year. Inspired by the natural world around him, using short, quick brushstrokes, Fenske gives us his original impression of nature. Up close, a motley mash up of painted lines and dashes, yet from afar, his work forms a poetic and unified image. Fenske's a rare painter that depicts something as predictable as the setting sun yet each time the image is different, alive with unexpected color. His most recent is Long Beach, Early Evening, painted weeks ago right her in Sag Harbor. Fenske has had an extended stay here this summer, painting locally for over a month in preparation for this show.
In his figurative work, Fenskes loose brushstrokes tighten up a bit. In Light Through the Window a woman sits at the edge of a bed, fixing up her hair. Prominently outlined, in a break from classical illusionistic tradition, her form is distinguished from the color-drenched room she sits in. The tone of her skin is not just depicted with a literal peach, or tan paint. Instead, shades of pale blue represent her illuminated torso. Dark greens and purples indicate where her body is concealed from light, expertly indicating the beautiful twist of her midsection, in a riot of color.
Few know that it was Ben Fenske who invited his fellow Russian painters to come paint in Sag Harbor last autumn. His efforts to organize a reciprocating invitation to the one he took to paint in Russia, actually spearheaded the foundation of the very successful Russian American Painting Alliance. There will be some selected works from that painting expedition in this show as well, most notably Corner of Sage and Madison and Main Street.
As Fenske approaches the end of his thirties, his career is continuing to catch the eye of important institutions, having been selected to show at the National Portrait Gallery in London last summer as part of the BP Portrait Award contest. He was also hand picked to paint in Russia by their government in the hometown of Levitan, one of Fenske's major influences. Fenske has also been the subject of many articles indicating that he is one of the most interesting painters to watch in this upcoming generation. (http://www.grenninggallery.com/artistdetail-110.php.)
---
= SOLD
---