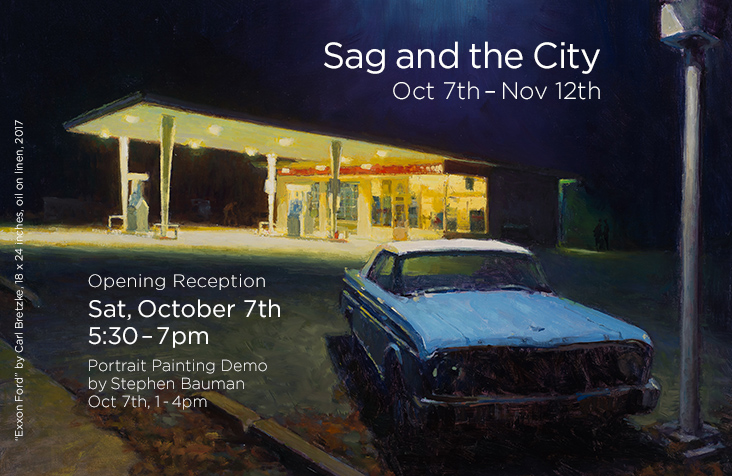 Sag and the City
|
October 7th - November 12th | 2017
Please join us for the Opening Reception of Grenning Gallerys latest exhibition, Sag and the City, Saturday, October 7th, from 5:30 to 7pm at the Grenning Gallery, 17 Washington Street, Sag Harbor. This exhibition will highlight scenes painted both locally, on the east end, and in New York city.
Its no secret that the East End is closely connected to New York City. The vibrant energy of the Big Apple resonates with the people of the Hamptons, especially during the summer months. Both places are known inspiration hubs for artists, from Jackson Pollock to Eric Fischl.
Stephen Bauman and Steven Forster, two skilled artists who also happen to be good friends, have collaborated on a series of cityscapes. Theyve chosen iconic New York structures to depict in their shared tonalist style. Queensboro is a luminous depiction of the Queensboro Bridge reaching across the East River onto a vista of sun-lit suburbia. We suspect Baumans fresh eyes due to his recent return to the US, after ten years of painting and studying in Europe, has helped to create the mysticism rarely seen when one paints a city a bridge. Cool tones complement both the industrial structures steel frame, as well as the natural body of water below. A roof-lined horizon sparkles with pinks and yellows. Neither artists hand excels more than the others; theyve humbled their egos in order to work in pure artistic altruism, an extremely contemporary notion - not witnessed during the 20th century's celebration of self.
As one of the worlds top plein air painters and well-known bloggers, Marc Dalessio is known for his quick impressions created on site. Dalessio has painted primarily in Europe but recently he has also made New York a painting destination. Amagansett Beach captures the serenity of a misty evening at the ocean. Pale sand, bright green dunes, figures walking along the shoreline towards a horizon that glows from a sun that has just set. In contrast, Dalessio captures mania in Time Square. Bright colors give the impression of billboards, lights, and advertisements that fill the facades of buildings where Broadway meets 42nd Street. Small dashes of dark paint make up the foreground, representing figures, crowded on sidewalks and in the streets.
Maryann Lucas, the painter of the Sag Harbor American Music Festival scenes of local architecture and musicians, will show several new works of local buildings. With A Little Slice of Heaven the local Sag Harbor painter is memorializing the last months of the popular Conca Dora, as we know it.
Ben Fenske and his Russian American Painting Alliance painted up a storm in and around Sag Harbor and selected paintings from this trip will be on view. Main Street, Sag Harbor is an important Fenske painting from this exhibition. With joyous, sweeping brushstrokes, and dabs of warm color, Fenske perfectly encapsulates a stroll through Sag Harbor on an Autumn day. The Sag Harbor Variety Store, a.k.a. the Five and Dime, stands tall, illuminated by the morning sun. A historical building which houses an honest, local family business, characterizes a quaint humility the Sag Harbor Community infinitely cherishes.
Carl Bretzke, one of our most exciting new artists, has traveled to Sag Harbor to paint local scenes for the last few years. Most notably we love Exxon Ford, which is a Hopper-esque take on Sag Harbor's new gas station, portraying a 1970s pale blue car in the foreground and the bright night lights of the gas station island flooding down in the background. Many will recognize Bretzke as the fine artist who made the last plein air painting of the old Sag Harbor Cinema that burned down last December. We have prints available of this sought after image.
Up-and-coming plein air painter, Benjamin Lussier demonstrates a painterly break from the classical paintings generally found in the Grenning Gallery. His wide, geometric brushstrokes create a plane of textural shapes, differentiating his work from the more traditional academic realism. Painted en plein air in Montauk, New York, Heading Out depicts a fishing boat. The water is a silvery blue, with hints of white, reflecting the overcast sky above. Lussier exaggerates the motion of the water with wide snake-like brushstrokes trailing behind the boat.
Laura Grenning, will have a few small paintings in this show, for the first time in ten years! Out with The Old is a sunset painting crafted late last winter down at Long Beach.
---
= SOLD
---