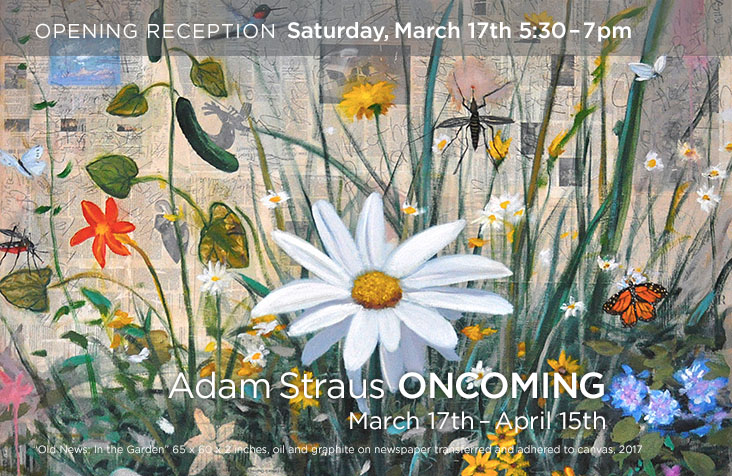 Adam Straus | Oncoming
|
March 17th - April 15 | 2018
Please join us for the Opening Reception Adam Straus: ONCOMING, Saturday, March 17th, from 5:30 to 7pm at the Grenning Gallery, 17 Washington Street, Sag Harbor.
The Grenning Gallery is pleased to introduce the work of Adam Straus in the exhibition ONCOMING from March 17th through April 15th, 2018. Straus is known for his majestic and luminous depictions of the sublime, which are often saturated with a concern about social and environmental issues. His penetrating dark humor can transport the viewer to post-apocalyptic worlds and often offers a wry observation on how humans have altered the natural landscape. He has been represented by Nohra Haime Gallery in New York City, since 1990.
True to Grenning Gallery aesthetics, Straus is dedicated to a highly refined craft in his contemporary realist paintings, yet he overlays a deeply personal social commentary. Straus also merges his high level of craft with modern experimentation inspiring a dialogue on political, environmental, and sociological issues. For instance, his recent Old News series, is painted with a skilled dexterity yet mounted on newspapers, which is then archivally affixed onto the canvas. Straus admits that this series was inspired by the 2016 presidential election.
I read the New York Times daily and have for years. The paintings were begun as an escape route out of this bad news and grew into an interest on contrasting the timeless with the day to day events of humanity Straus says.
In Old News; Oncoming Storm, 2017, Straus paints an arresting, realistic seascape upon an array of recent newspapers. Situated within oceanic open waters, a strong current of dark waves reflect the cheerless sky above. Headlines poke out along the paintings edge, bellowing the current state of our political situation. The image of the stormy sea becomes a metaphor for the feeling of impending tragedy that may come our way. Straus goes even further by stamping onto the canvas proclamations such as 2 plus 2 = 5 a commentary on the current questioning of facts and fake news.
Straus emanates a more whimsical philosophy with his second painting in this series. He notes Old News; In the Garden was meant to convey life and a crazy kind of growth coming out of this bad news. It is my belief that how we deal with our place in nature and our effect on the environment is the most important issue of our time. By overlaying a colorful, wild garden on the troubling headlines, Straus creates a sense of hope. In the darkest of days, the natural world will maintain its lively light. However, within that light lives natural evils. For instance, the focal point of the painting is a large, white daisy in full bloom. Yet just above the flower, a large mosquito pierces the canvas, in an attempt to devour the life from within.
Straus concern for the environment carries on throughout his oeuvre. For instance, in his recent Glitch series of paintings, Straus commentary is obvious and well-defined. He is noticeably interested in the boundless accessibility we currently have to otherwise remote areas like Antarctica, as a result of modern technology. Straus process includes taking a photograph of an Arctic landscape, and then running it through an iPhone app called Glitch. This allows technology to distort, and literally make its mark on the photo. Straus then paints these technological distortions onto his classical landscape, and he breaks the plane of the canvas by painting on the frame. This accentuates the power of the hand of man and mankind on nature.
In Fireflies, 2007, Straus socio-environmental commentary is less obvious. The picture depicts a grassy meadow at twilight, mystically spotted with fireflies, beneath an open, cream-colored sky. Straus has not distorted the image, or utilized unusual materials; he has simply painted a beautiful landscape and has omitted any sign of human intervention, recalling the tradition of the Hudson Valley painters. Even the romantic spectacle of sporadic spots of light exist because of the natural phenomenon that is bioluminescence. Straus contemporizes this classically painted landscape by encasing it in his own hand-crafted lead frame. This symbolizes mans intervention and containment of natures limitlessness. Even though this chemical element is highly toxic, lead is often used by humans, in order to facilitate industrial progress: a seemingly top priority for many.
---
= SOLD
---