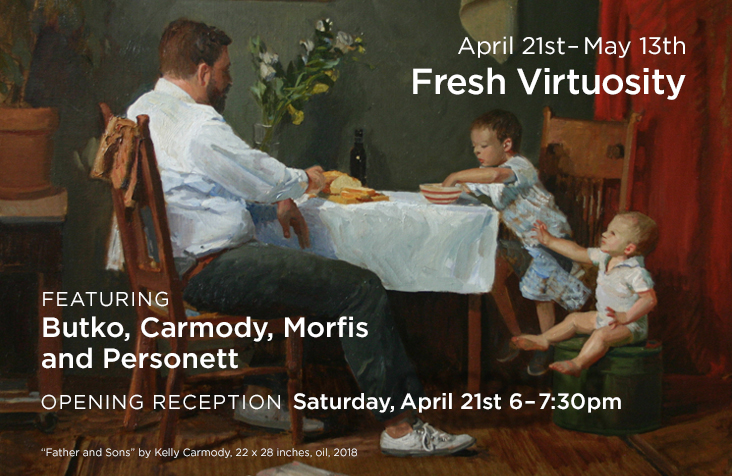 Fresh Virtuosity
|
April 21st - May 13th | 2018
Please join us for the Opening Reception of Fresh Virtuosity on Saturday, April 21st, from 6:00 to 7:30 pm. This exhibition highlights new works by Viktor Butko, Kelly Carmody, Rachel Personett and Long Islands own John Morfis.
Kelly Carmodys (b.1977) most recent work strikes us as a fresh look at domestic American life, paralleling Mary Cassatts poignant paintings, but 100 years later. Carmody, although new to the Grenning Gallery, is an internationally acclaimed figurative painter who was selected 2015 BP Portrait Award Show at the National Portrait Gallery in London, and the 2016 Outwin Boochever Award at the National Portrait Gallery in DC. She lives in Waltham Massachusetts, and paints there as well as Vermont and the East End of Long Island. Carmody also has several wonderful local landscapes for this exhibit
Viktor Butko, (b. 1978), this third-generation Russian impressionist painter can be seen around Sag Harbor this month, painting local scenes for this show. He is back for a third time from Russia, originally having come in the autumn of 2016 with the Grenning Gallery organized Russian-American painting Alliance.
We are thoroughly pleased to be showing the latest group of paintings from Long Island native John Morfis (b. 1976), who continues to deepen his nautical themed oeuvre of Tromp Loiel paintings.
We are pleased to introduce Rachel Personett (b. 1991), a recent graduate of the Florence Academy of Art, as well as a recent apprentice from Odd Nerdrums studio in Norway. In these four florals, we see a virtuosic hand, as well as deeply observant eye - and somehow, despite the subject matter - each of these paintings are poetic and original. We expect great things from Personett as she develops her body of work.
---
= SOLD
---