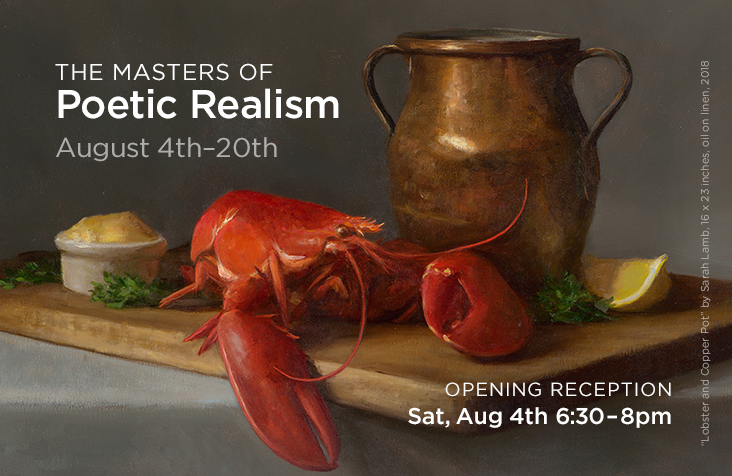 Masters of Poetic Realism
|
August 4th - August 20th | 2018
Poetic Realism, a 21stcentury movement harkening a return to aesthetic painting and a high level of craft, is what the Grenning Gallery celebrates, and this show highlights some of the most highly respected artists in that movement. Philosophically, these artists believe that the artist's job is to focus on technical skill so that they may best represent the beauty and peace they see in nature. The purpose of this is to recreate, on canvas or in clay, this truth and to share this with the viewer. This is harmonious with the 21stcentury's other cultural movements of environmentalism and holistic health, which respect nature as a self-correcting force if left alone. The artist sees his-self or herself as a small part of a bigger whole and believes it's their job to get their egos out of the way so that we can tune into the entire picture. The nihilism of the 20thcentury doesn't hold the attention of the Poetic Realists.
Sarah Lamb(B.1971), under the masterful guidance of Jacob Collins, arduously perfected her craft and regularly paints some of the most important and sought-after paintings in the academic realism community. Lamb is represented by a number of respected galleries across the nation, she was also recently featured in an exhibition of important still-life paintings at the Museum of Fine Arts Houston, in Houston, Texas (A Feast for the Eyes: 200 Years of American Still-life Painting from the Hevrdejs Collection).In this show she anchors the postcard with her "Lobster and Copper Pot". Her "Heirloom Tomatoes" also captures that summer sensibility in a crisp and somehow modern composition.
Ramiro(b.1974), with his deeply humanistic philosophy, is one of the Gallery's most important artists, having set the figurative tone for the Grenning Gallery in our early years. He has also trained many younger artists in his role as the chief painting instructor at the FAA. In this show he shares with us some fantastical figurative pieces, called "Orange Scarf", "Kriss", and "White", as well as a series of small figure studies. Most of Ramiro's time is being directed towards a massive commission to decorate a Catholic church in Williamsburg, Virginia.
Anthony Ackrill(b.1958) wows us with the first round of paintings from his new studio, notably "Stars Fell on Lane 7" is a super-sized bowling pin painted beautifully. Ackrill continues to take this highly refined painting technique and meld it with his ironic Magritte like sensibility. Ackrill's "Twenty-Four" a five and half foot tall diptych of foreshortened feet, which stand alone as fun and funny. However, the deeper meaning is that it refers back to a famous painting from Florence Italy during the Renaissance, Andrea Mantegna's "Dead Christ" which was a ground-breaking painting with gritty realism which humanized Christ's passing in a near blasphemous way.
Chad Fisher, (B. 1983) is a very talented sculptor and businessman, as a vertically integrated sculptor who also owns his own foundry. Since our first show together close to 5 years ago, Fisher has become one of the most renowned sculptor of sports figure commemorative statues and monuments. In this show he will display new figurative works from his studio.
Melissa Franklin Sanchez(b1984) continues to delve into her curiosity with painting the light effects of a burning candle. She also employs the old technique of painting these oil paintings on copper panels. Nelson H. White (b. 19322), who was part of two person show earlier this summer, will also be showing some new works.
---
= SOLD
---