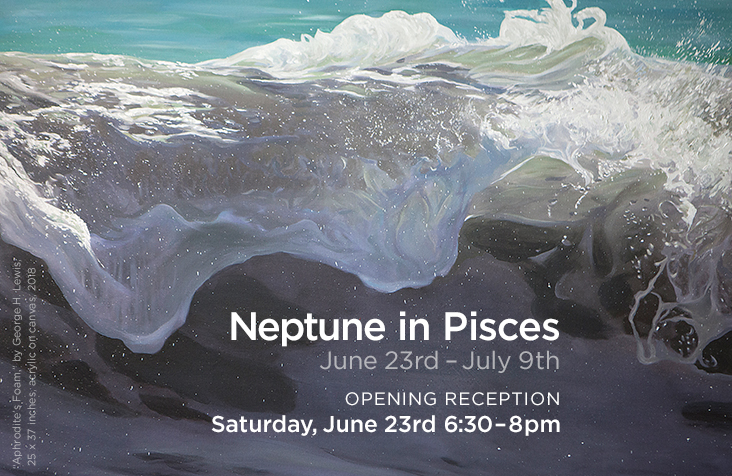 Neptune in Pisces
|
June 23rd - July 9th
Introducing George H. Lewis, Amy Florence, Tina Orsolic Dalessio, Jeremy Lipking, and Hilary McCarthy. And fresh works by Nelson H. White, Stephen Hannock, Maryann Lucas, and Ben Lussier. Opening Saturday June 23rd 6:30 - 8pm
Please join us for the Opening Reception of Grenning Gallery's latest exhibition, Neptune in Pisces, Saturday, June 23rd, from 6:30 to 8pm at the Grenning Gallery, 17 Washington Street, Sag Harbor. Also, don't miss the 5-6 pm Friday, June 22nd cocktail and inspirational talk by George H. Lewis, explaining the works in the gallery which celebrate the connection between water and consciousness. Lewis, a new painter for the Grenning Gallery, is also a Gross National Happiness Ambassador of the Kingdom of Bhutan, and has spoken at the United Nations, Harvard, Oxford and many other universities around the United States.
SAG HARBOR, NY - The Grenning Gallery is pleased to exhibit the latest work from Gallery artists Nelson H. White, Maryann Lucas and Ben Lussier AND introduce the fine paintings of renowned artists George H. Lewis and Jeremy Lipking. We are also introducing new artists Amy Florence, Tina Orsolic Dalessio, and Hilary McCarthy. Lastly, we are especially pleased to be showing several key paintings from Stephen Hannock's Flooded River series.
Neptune in Pisces is an exhibition of artists celebrating water as a symbol of consciousness and connectedness of all things in nature. Neptune, a symbol of the oneness of all being, moved into Pisces in the astrological charts in February of 2011, and will last for 14 years. Thus, last occurred back in the mid 19thcentury. The years 1849-1862 were notable as a time for the Transcendentalist writers and Romantic painters. Here at Grenning Gallery, we have long made the case that we are in the midst of another Renaissance - one of science and technology, of travel and connectedness. With the advent of the internet, the worlds knowledge is readily available to all, for the first time in humanity. Information is flowing around the world like water, finding its level. As demonstrated in George H. Lewis's work, water and knowledge can be a metaphor for healing or destruction. We choose to see it as a tremendous source of truth and healing.
One of the most sought after local plein air painters of Shelter Island and Italian beach scenes, Nelson H White (b. 1932)is following up last year's solo show with a group of fresh paintings of his familiar subjects. White has adjusted his focus to paint in several smaller scale watercolors which flow with our water theme in this show.
"Bagno La Salute" is a commanding 30 x 40 inch painting of his now famous orange umbrella scenes. There are also several paintings of the Swiss Alps, at different times of year, in which White truly captures the light and color of the season. Few realize that White comes from a long line of well-known impressionist painters and has a great deal of institutional support. He is already represented in the following museums and collections; Wadsworth Athenium, New Britain Museum of American Art, Florence Griswold Museum, Lyman Allyn Museum as well as Pfizer corporation, Fleet Bank and First American Title Company.
Grenning Gallery is delighted to introduce George H. Lewis (b.1974),one of the primary inspirations for this show's theme. Motivated by a shared deep belief in the healing power of art in all forms, we immediately connected and started planning this show. Using water and its ubiquitous nature as a symbol of connectedness made perfect sense. "Aphrodite's Foam", refers to the fact that she was born out of the sea foam, the daughter of Dion the goddess of Health and Zeus the God of all Gods. Anyone who has swam in the sea would agree that it is a merging of health and the all-powerful forces. The metaphysical painting "Birth of Aquarius", shows the powerful force of crashing water and the explosive effect the "new age" is having on old Piscean structures. In this mixed media image, Lewis employs both painting and photography to express his awe in the face of this bi-millennial shift that we have just gone through.
George H, Lewis, previously the court painter to the Sultan of Oman, and new painter to the East End of Long Island, is a world-renowned artist who is also regarded as a great philosopher and polymath of our modern era. He expresses himself in paintings, portraits, photography, sculpture, music, lectures and many forms of writing. His work has been collected by presidents, heads of State, CEOs, spiritual leaders, public figures, and celebrities world-wide. (http://georgehlewis.com/about/) He has also spoken to many leaders around the world including most recently at the United Nations.
Stephen Hannock (b.1951),a nationally known and respected painter of 21stcentury landscapes, will have several beautiful flooded river paintings on display. Most interesting, Hannock is mid-way through a series of Ophelia themed paintings, through which he is exploring the powerlessness of the female - a theme that dates back to the last time Neptune was in Pisces, as the Pre-Raphaelite-painters explored this subject in depth. Most interesting in this group of paintings is a beautiful smaller work called "Flooded River Luminous Dawn" which evokes the spirituality of the mid 19thcentury Romantic paintings, although it was created with his very modern technique of polishing the many layers of oil down with a mechanized sander.
We are elated to introduce Jeremy Lipking (b 1975)to our clients, after many years of admiring this painter's work from afar. A major artist in the Poetic Classical movement, we were pleased to hear that he was also turning his sharp eye towards the sea for inspiration. His loose and painterly methods ultimately translate into highly refined and emotive paintings, particularly in thee figurative realm. Inspired by the greats Singer Sargent, Zorn, and Sorolla, Lipking consistently measures up well to his heroes.
We are also happy to introduce the work of Hilary McCarthy (b.1975), who is our latest find from the New York Academy, although she is no newcomer to the art world, having shown extensively in New York, Italy and Germany. Her original circular canvases, combined with her stated motivation "the sense of awe is fleeting so I had to describe it with paint" and her philosophy of the importance of water.... "we clean our mistakes with the water and start anew, fresh - cleansed and hopeful for tomorrow" garnered her a spot in this Neptune in Pisces show.
Neptune in Pisces will also feature an appetizing local landscape by Sag Harbor resident and Grenning Gallery artist Maryann Lucas, whose major show will be September 22th.
Returning for his third group show at the Grenning Gallery, is the young plein-air painter, Ben Lussier (b. 1988), presenting several new water-related paintings from his travels around the northeast over the last few months.
Finally, we will introduce Amy Florence (b. 1989) and Tina Orsolic Dalessio (B. 1983) with their Piscean paintings of beautiful fish ponds.
---
= SOLD
---