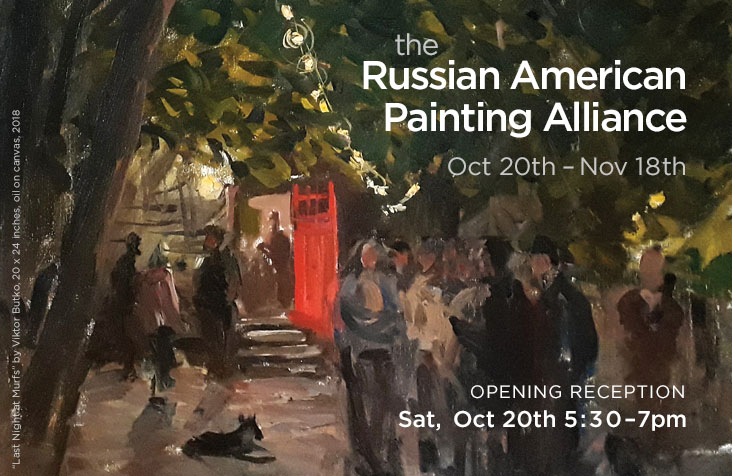 The Russian American Painting Alliance
|
October 20th - November 12th
The Grenning Gallery is pleased to invite the public to an opening reception on Saturday, October 20th, 2018 from 5:30 pm to 7:00 pm. The show will hang until November 18th.
The Grenning Gallery, with Ben Fenske's guidance and leadership, is hosting the second Russian – American Painting Alliance Exhibition, which is showcasing the works from a budding relationship between the two nations' painters. This loose group initially formed several years ago, on an invitational plein air painting trip to Russia. The inspiration comes from the understanding that this is a long tradition that continued to develop and evolve separately during the 20thcentury, when Russian and American artists were unlikely to mix due to politics. Fenske is fascinated by the fact that although there was little cross germination since the early 20thcentury, almost 100 years later, he finds himself in a very similar aesthetic place as some of his Russian counterparts. Fenske is dedicated to extracting the best practices from each of these generational lines, and share information between the painters so that they can create the finest paintings of this generation.
Fenske was inspired to share our amazing landscapes with his new Russian friends, so he organized a painting foray to Maine and Sag Harbor in 2016. Most of these painters had never been to the United States, and the results were amazing. They all met a few years ago, when Russia sponsored a group of painters living in Italy to paint in the hometown of Levitan, arguably the most famous 19thcentury Russian landscape painter. The Grenning Gallery is fortunate to be hosting again, two of Russia's most notable painters in Sag Harbor, Victor Butko and Irina Rybakova. Their trip culminates in this exhibition some of the finest local oil paintings done in nature, as well as select paintings from their studios. They join Ben Fenske and several other notable American plein air painters in the alliance, who each contribute fresh local scenes; Carl Bretzke, Kelly Carmody, Marc Dalessio, and Tim McGuire.
Victor Butko(b. 1978 in Moscow) was born into a long line of artists and has been mentored in painting since the age of 8. He is currently the youngest artist exhibiting at Thomas Kearns McCarthey Gallery, one of the foremost dealers in the United States for Russian Impressionist art. Older Russian impressionist artists, Alexei and Sergei Tkachev (they are brothers) claim Butko's work is the "….next generation of greatness." We are pleased to congratulate Butko on his recent marriage to Kelly Carmody, an American painter he met during the first US trip of the Russian American Painting Alliance two years ago.
Within the last year Butko, has really immersed himself in the grandeur of the East End. He's painted "Captains Row" homes on Main Street, Murfs Backstreet Tavern, and has even created a whole series of the East Hampton Airport.
Irina Rybakova(b. 1961 in Vyshny Volochok) is a famous Russian Master of Landscape. The image of the Russian village and the village worker are her dearest subjects. Her art is appreciated in museums and collections both in Russia and abroad. One of the original Russian's from the 2016 exhibition, Irina's textural plein-air paintings flew off the walls and into our client's homes.
Followers of the Grenning Gallery are familiar with the works of Ben Fenske, Marc Dalessio, and more recently Carl Bretzke, who had a sell-out show earlier this year.
Carl Bretzke(b. 1954) is one of the finest Contemporary American plein-air painters today. He is a frequent winner of awards from American Plein Air competitions, winning Best of Show in this year's Grand Marais Plein Air, and May Bold Brush Painting Competition. His work has been described in the Washington Post as "simultaneously intimate and detached…The artist's unadorned style recalls Edward Hopper and the Ashcan school."
Tim McGuire(b. 1971) Born in 1971, Tim McGuire grew up in Buffalo, NY. After teaching kindergarten in Los Angeles for 10 years, McGuire moved to Florence, Italy where he studied painting. ​​McGuire's work has been exhibited in The United States, The United Kingdom, Italy, Russia, and Canada. McGuire lives and paints in Florence, and returns to the Grenning Gallery after several years on hiatus. A close friend of Ben Fenske, McGuire will unveil his interpretation of interiors from Fenske's home in Chianti. His painting style is reminiscent of Fenske's yet, very much his own. McGuire occupies a certain degree of Fensketivity into his executions.
Kelly Carmody (b. 1977) As one of the more interesting contemporary figurative narrative artist, we are pleased to see her plein air paintings of local scenes. We are also happy to congratulate her on her recent marriage to Viktor Butko, whom she met on the first American hosted trip of the Russian American Painting Alliance, and have been travelling and painting together since. You will also see her work in the upcoming 2019 Columbia production of Little Women; directed by academy award nominee Greta Gerwig, starring academy award winners Meryl Streep and Laura Dern. Carmody was commissioned to make some of the paintings for the updated version of the classic novel, which will be release in Fall 2019.
---
= SOLD
---