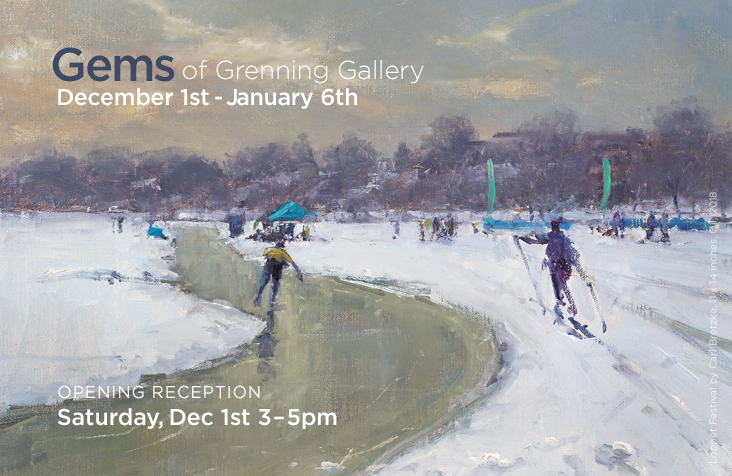 Grenning Gallery Gems
|
December 1 - January 6th
Please join us at the Holiday Party and Opening Reception for the Annual GEMS Show on Saturday, December 1st, 2018 from 3-5pm. This show will hang until Sunday, January 6th in our NEW LOCATION at 26 Main Street.
Every year, just before the holidays we scour our artists' studios for small and great works and hang a salon style show with wonderful gift ideas. Unlike the rest of the year, this will be a cash and carry, which means you can stop in buy the painting, and walk out with your present already gift wrapped!
Our Gems show will feature works from our established artists: Sarah Lamb, Ben Fenske, Marc Dalessio, Nelson H. White, Ramiro, Maryann Lucas, As well as some of our newer artists, Rachel Personett, John Morfis, Benjamin Lussier, Stephen Bauman, Amy Florence, and more!
Step into the gallery to a show hung unlike any other Grenning Gallery exhibition. The walls will be dripping with art. Hung not with symmetry or mathematics, but with design and a little bit of randomness.
Ranging from stocking stuffers to major paintings, there will be gifts for everyone! We offer free gift wrapping to everyone, and free shipping for paintings that are purchased by December 10th.
You can preview our exhibition in our digital catalogue! Link below:
For the person who has everything, we are suggesting a serious look at the stunning "Big Sur" by Marc Dalessio. One of his most entrancing major Californian landscapes ever made, this painting will be prominently displayed in our new space. Original as ever, Ackrill' "Stars Fell on Lane 7" will also grace the walls. Celebrating the earthly delights gleaned from a life in Chianti, the recent "Olive Oil" by Fenske will be exhibited, as well as his magnificent example of a major contemporary multi-figure painting "Summer Afternoon". Ramiro's most recent major figurative work "Orange" will also grace the walls of our new space.
In a new twist for the Grenning Gallery, we are highlighting some select mid-century works on paper, including a pair of rare watercolors by John Whorf (1940), and a highly prized excellent condition NYC lithograph by Stow Wengenroth (1945). We are also showing a highly sought after Warhol print "Turtle" (1985) inspired by his Endangered Species series (1983), and created to coincide with Harold Pinter's film Turtle Diaries. We are also showing a contemporary Cuban artist Alexandro Alfonso, who is a cutting edge printmaker.
For that romantic we headline with two excellent works by our nationally known classical realist Sarah Lamb. With her we also will show a series of florals - expressionist, impressionist and seriously realist by artist Rachel Personett, Kelly Carmody, and Maryann Lucas.
In the Locals Only section we will also be adding a very important local Sag Harbor Painter: Cappy Amudsen - with two major local scenes. We are also showing the major local work of the season "Cedar Point" by Ben Fenske, and Ramiro's Long Beach. Almost sold out, Bretzke's local scenes are hot and we will be showing the fine image "Harbor Landing". The Russian American Painting Alliance artist Irina Rybakova's painting of Madison Street rivals a Childe Hassam of East Hampton.
This show will hang until Sunday, January 6th in our NEW LOCATION at 26 Main Street.
---
= SOLD
---