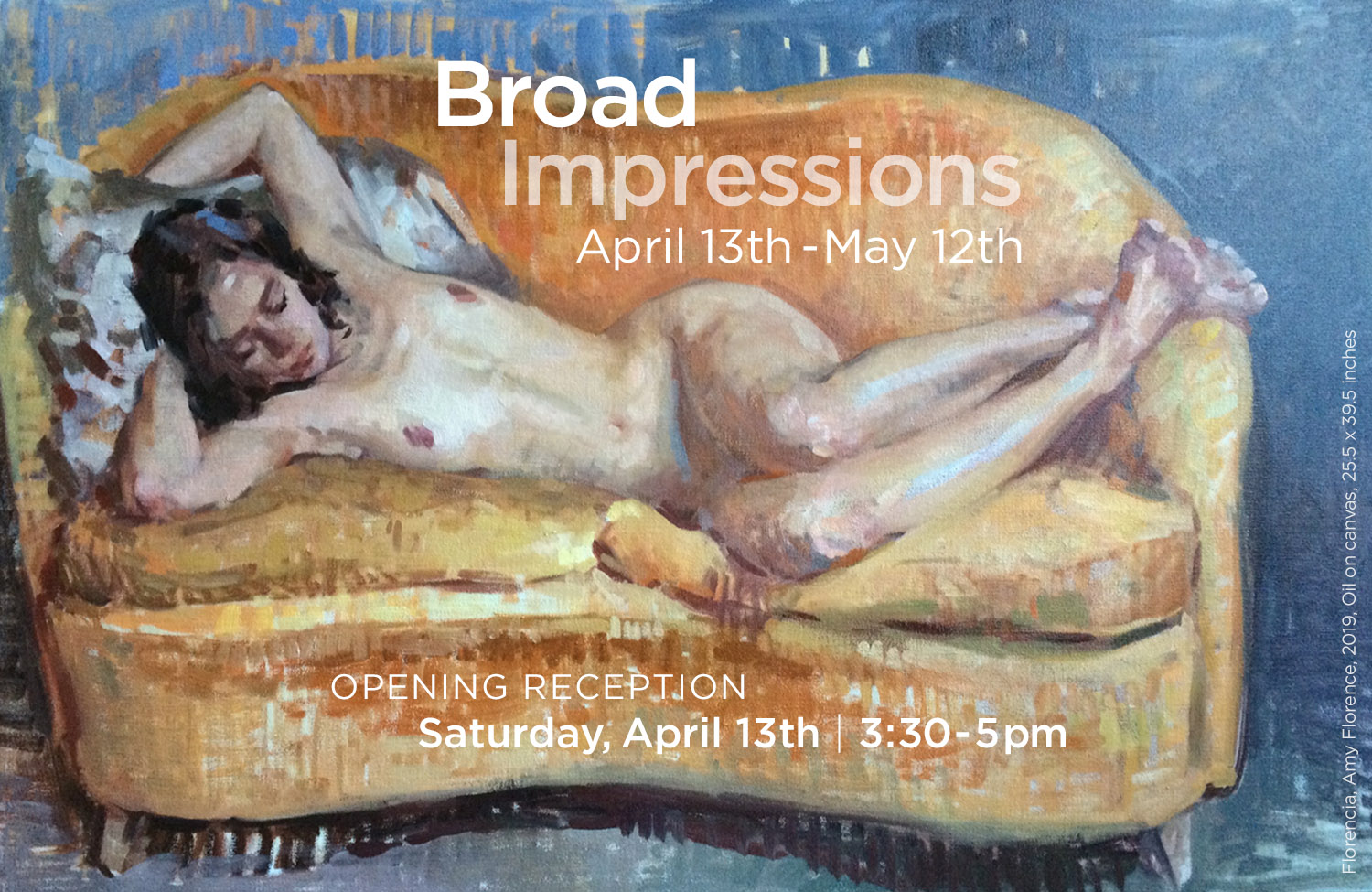 Broad Impressions
|
April 13th - May 12th
Saturday April 13th

Opening Reception for the public: 3:30 - 5:00pm
Portrait Demonstration w Amy Florence 2pm -4pm
Private Event 5pm -8pm
The word broad has several definitions. Dictionary.com lists the definitions follows; firstly, as an adjective: of great breadth. Then as an adverb, meaning: fully, completely, whole. Finally, as a noun: a usually offensiveterm used to refer to a woman. The Random House Historical Dictionary of American Slangreferred to broadas a ticket of admissionin 1912. Around the same time, the term started showing up in reference to prostitutes. How did this random correlation come to be? A Vocabulary of Criminal Slang published in 1914 speculates: "Broad is derived from the far-fetched metaphor of 'meal-ticket,' signifying a female provider for a pimp." Over time, the most popular expression to include the word, is "tough old broad", which began to be used in the late 1960's, mainly by men to refer to women negatively. However, as time went on, women began to use the term to proudly refer to their own power or resilience, a sly reclamation of an old-fashioned term.
This is a group show for the Grenning Gallery's women painters. It's broadin the first sense, with the show demonstrating a great breadth in subject matter and technique. Resilient and amid a sense of power, however, applies to each of the 'broads' in this show!
Also, as somewhat indicative of the power found in the post-feminist feminism movement, each of these artists find the beauty and balance in nature and humanity as worthy of their attention. This exhibit shows that this generation of painters are recasting some of the traditionally feminine realms as a source of power and inspiration, rather than seeing them as some sort of a politically dogmatically social trap.
The public is invited to join us at our new location at 26 Main Street for some refreshments and a brief talk by Laura Grenning and a reception from 3:30 - 5pm on Saturday April 13th. Also, we are pleased to present a speedy portrait demonstration by Amy Florence from 1-3pm. The gallery will close at 5pm for a private client-only event with Black Swan Antiques that evening.
Amy Florence(b. 1989, London) is a classically trained artist working out of Florence, Italy that is new to the Grenning Gallery in the last year. In her work we see a refreshing impressionist approach. In "Out of the Woods" we see her hopeful outlook as she paints a sun dappled road in the countryside exuding a sense of 'opportunities on the road ahead'. In "Florencia" we see a shift to a much more private side of the feminine realm - not on the road, but a woman in complete repose. And here, in Florence's portrait head, that of the man in her life, "Ben Fenske" yet another side of a contemporary woman's life - the part that contains love and relationships.
Kelly Carmody(b. 1977, Topsfield, Massachusetts) is well versed in her craft - that of figurative painting. She has exhibited at the BP Portrait Award show in London held in the National Portrait Gallery, as well as at venues across the US including the Portrait Society of America and the Arts Students League. Her meticulous narrative scenes celebrate contemporary family life...yet another realm of these post-feminist era feminists have reclaimed. These scenes are carefully designed to evoke the advantages to the more traditional life of a modern family. She borrows from Mary Cassatt but pushes through to the 21stcentury with her inclusions of men, fathers and grandfathers as active participants.
Carmody's "Boathouse at Central Park" painting, reminds us of the advantages of the feminine virtues of maintaining a perspective and demonstrating poise - which is what the viewers will experience. This is a far cry from the Thomas Eakins paintings of the men rowing, which was mostly the action, rather than the framed sense of us as the observer in this painting.
Tina Orsolic Dalessio(b. 1983, Zagreb) just graduated from the Florence Academy of Art in June of 2018, having left a ten-year career as a lawyer and law professor. Orsolic Dalessio's work is promising, considering that she is at the beginning of her second career. That fact in itself is truly post-feminist feminism in that many women in our generation started out with clear career goals, only to discover they were externally motivated and failed to scratch the itch of our true passions. An especially wonderful thing that seems to happen with these post-feminist feminists is that we are able to pivot when we needed to - and that is exactly what Tina Orsolic Dalessio is in the middle of; pulling this transition off with flying colors. She has almost sold out of her first group of local paintings, and we are now showing her second batch of increasingly interesting works.
Another feminine virtue: Beauty, while not exclusively feminine, is one of the most powerful assets of women worldwide. This self-portrait demonstrates a good look into the eyes of a beautiful woman.
Melissa Franklin Sanchez(b. 1984, Warwickshire, England) grew up studying the humanistic arts; Music, Literature, Performing Arts and Ballet. A seasoned painter, wife and mother, and highly sought-after painting-instructor, Sanchez has a deliberate and sensitive technique that evokes mystery and romance. Her landscapes and candle lit still lives are unforgettable.
Maryann Lucas(b.1959 Long Island) is a self-taught artist, inspired by the natural beauty and bounty of the East End, where she now lives, having grown up coming here on the weekends. Her work is buoyant, but not without a hint of the struggle it has been to clear out her life and schedule to allow her true artist to emerge. Painting professionally for five years now, she is able to zero-in on the delicacy found in nature, even in the hard spring cold, as seen in "Joyous Perseverance".
Another traditionally-feminine realm of gathering food and preparing it, she paints a beautifully original still life "Farm to Table" where we feel a sense of abstract delight in the colors and shapes of the veggies as well as the idea that a food equals work. These feel like her tools of the day.
Laura Grenning, the gallery owner, promises to step away from her gallery and parenting life long enough to paint a few new small works to show, as well as featuring a few still life's by the highly respected artist Sarah Lamb. And we will also show several works by one of our newest painters, who is busy and selling well here, and at other galleries around the country, Rachel Personett. Finally, we are pleased to exhibit for the first time, the work of Barbara Thomas, whose abstract compostitions reflect her connection to nature.
---
= SOLD
---