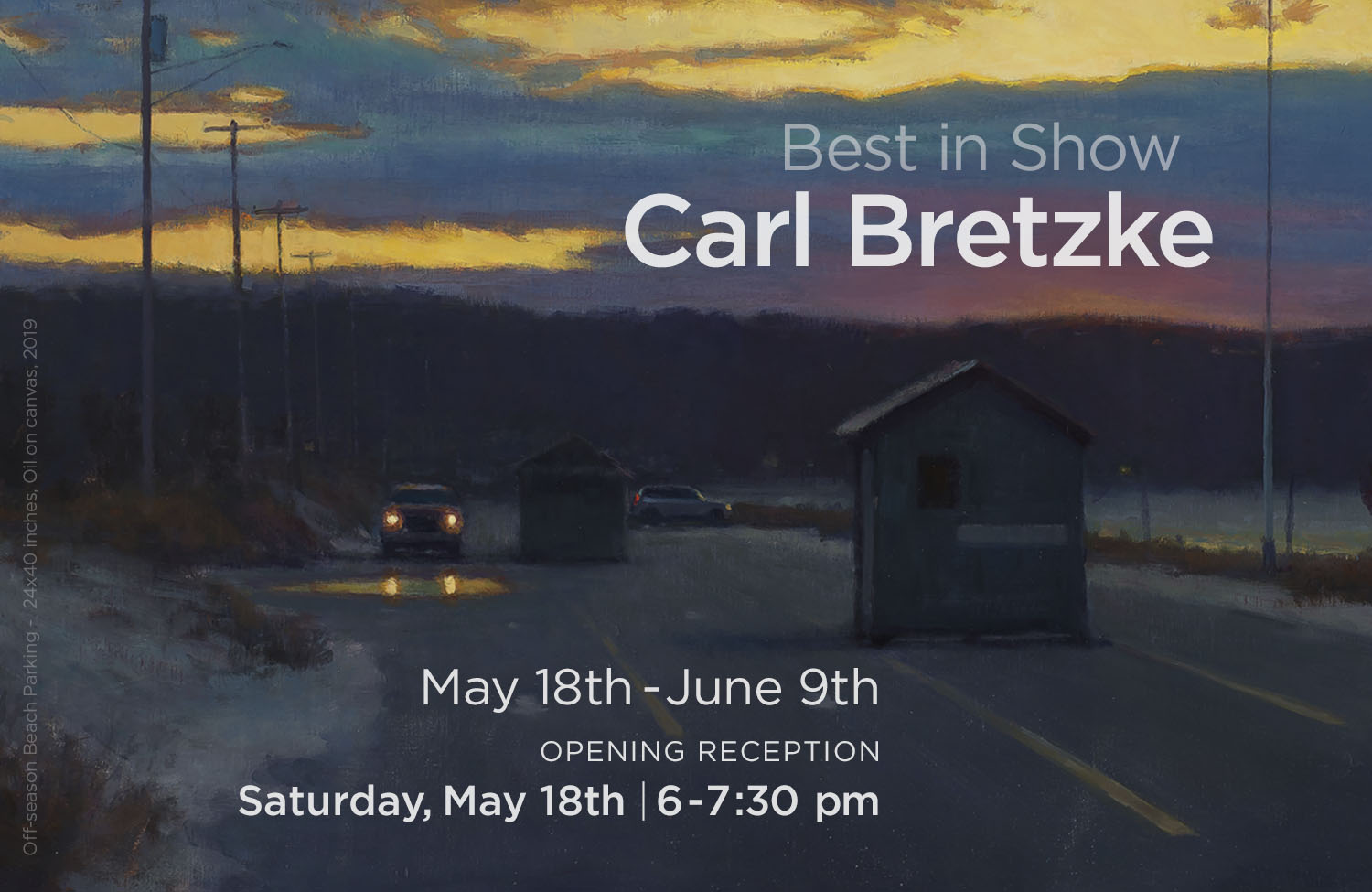 Best in Show: Carl Bretzke
|
May 18 - June 9
Carl Bretzke (b. 1960, Minnesota) earned his spot in the Grenning Gallery roster with his original, yet refined interpretation of real American life. Classically trained, and driven to paint directly from nature, Bretzke's images capture the subtle emotions roiling within each scene. Cinematic yet gritty, some have likened his work to that of Edward Hopper for putting his finger on that somewhat melancholic feeling found in celebrated American realism. Although Bretzke has a long history as a highly decorated plein-air painter, this is his first solo show, firmly lodging him in our stable of core Grenning Gallery artists.
Bretzke's paintings successfully capture iconic American subjects, as seen in the mystifying "Exxon, Ford", depicting the glowing lights of Sag Harbor's old Main Street gas station at night. Not unlike Grant Wood, Bretzke has a way of capturing the lonely street light on a quiet evening....as seen in "Street light at Dusk" which was painted on Church Street in Sag Harbor. This painting captures what few know is very storied corner of Sag Harbor, as the site of major conflict during the revolutionary war.
This year's cover painting, "Off-Season Beach Parking" deftly captures the recognizable twilight of the East End, set within the parking lot at Long Beach, which shows Bretzke's originality. Most every other painter would turn their eyes towards the show stopping sunset. He, however, is drawn to paint the headlights of a single car heading towards him, reflecting off of the puddle in the parking lot. Bretzke's images are unforgettable due to their sincere and unexpected response to what is actually happening, while capturing the wonders of light, both natural and man-made.
Technically, Bretzke rises to the challenge he sets out for himself by painting plein air scenes during the evening hours. Whether he is in the Hamptons, Miami, or the edges of Minneapolis, we follow Bretzke's keen eye as he explores the range of colors found in an urban nocturne. In "Metro Supper Club", Bretzke unabashedly paints neon lights into his plein air paintings, challenging himself as a painter as well as the cannons of classical painting - which doesn't usually look to neon to express oneself.
Although Bretzke paints mostly from across the road, the field, or the valley, on occasion his work is punctuated by intimate interiors with his friends and fellow painters. In "Painter Friend and Friends" he captures the Grenning Gallery artist Ben Fenske at home with his then girlfriend and dog. In "Bob's Hot Turkey Sandwich", we come face to face with the diner version of a Thanksgiving meal. Bretzke escalates this level of intimacy by placing the viewer at the table, seated across from the subject, Bob, ready to eat, fork and knife in hand.
Finally, it's important to note that Bretzke has been an award winning plein-air painter for years but practicing medicine full time. Only 3 years ago, he decided to turn to painting full time, and we have seen his body of work get richer, deeper in emotional content, and now larger in scale. We are not the only ones who have noticed. Mark Jenkins, of The Washington Post (Feb 20,2015), once described Bretzke's work as "simultaneously intimate and detached...with a style that recalls Edward Hopper and the Ashcan School."
---
= SOLD
---