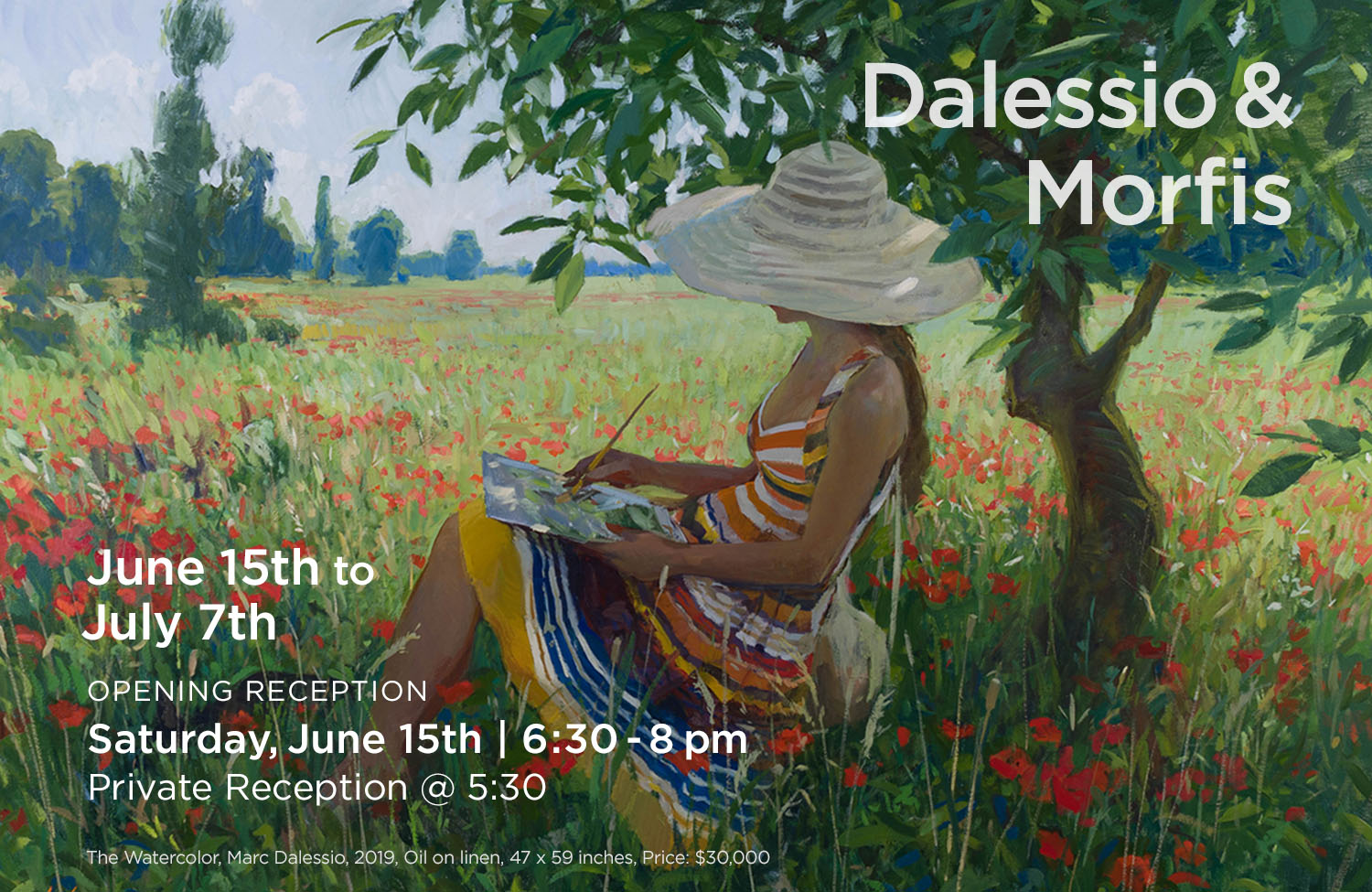 Dalessio & Morfis
|
June 15 - July 7
The Grenning Gallery is pleased to present the latest work from two masterful painters in each of their aesthetics: Marc Dalessio, a world-renowned plein-air painter, and John Morfis, a disciplined tromp loeil painter of antique objects. On Saturday June 15th, 2019 an invitation-only, champagne reception will take place from 5:30 - 6:30 pm. A public opening reception will follow, from 6:30 - 8:00 pm.
Marc Dalessio (b 1972),according to Eric Rhodes, the pre-eminent publisher of Fine Art Connoisseur Magazine and Plein Air Magazine, recently introduced Dalessio to the National Plein Air conference in California as "perhaps the finest Plein Air painter in the world today". This is no surprise to us. The Grenning Gallery has been showing and following Dalessio's work since he was in his early 20s as he became one of the finest realists in the then-nascent classical atelier movement. In the mid 1990s, painters from around the world started flowing into Florence, Italy, to get the long-missed, and painstakingly sought-out technical training that artists like Marc Dalessio were putting forth. Grenning Gallery artists Marc Dalessio and Ramiro were setting the prevailing marks in portraiture and figurative painting respectively, before either of them had hit 25 years old. Despite his prowess as a portrait painter, Dalessio long ago shifted his focus out of doors - where he is known to regularly paint up to three paintings a day. His larger, beautifully-composed studio works, based on his plein-air oil sketches, are rare and wonderful to behold. "The Watercolor" may be his finest large-scale figure in the landscape, and his most beautiful as of yet.
Over the last few weeks, Dalessio and his wife Tina Orsolic Dalessio, the subject of this major work, took some time out of their world-wide tour to paint locally. Scenes of Stony Brook, Amagansett, East Hampton, Indian Wells Beach, and Sag Harbor have now been preserved within the couples' oil paintings. Tina even painted the new Sag Harbor Cinema while under construction. This exhibition will highlight these local scenes as well as a selection of paintings from Dalessio's trips around the globe.
John Morfis (b.1976) is a Long Island native, renowned for his single-object still life paintings. Each object has a personal history and sentimental value to the artist. Morfis suspends each object from a single nail before an unadorned backdrop. This year, Morfis embraces a larger-scaled canvas, and bolder colors.
"Red and White Buoy" is one of the largest canvases Morfis has ever painted. On a plain grey background, an old buoy hangs from a looped rope, caught on a nail. The larger the scale, the more closely we get to inspect Morfis' painterly details in these relatively hyper-real paintings. One could only imagine the difficulty involved in capturing the effect of wood splitting via oil paint. Red and white paint flakes away revealing the natural woodgrain underneath on this antique sailing marker. This close look at imperfection recalls the Japanese method of Kintsugi: a celebration of faults or imperfections in pottery by filling cracks with precious metals like gold or silver.This philosophy treats breakage and repair as part of the history of an object, rather than something to disguise.
Bold colors, are the big news in this year's body of work from John Morfis. By placing these storied objects against vibrantly colored backdrops, he modernizes them. It's as if he is bringing these old objects into fashion. A loud pop-of-red can be felt in "Horseshoe Crab on Red". In "Lauren's Watering Can" a bright yellow backdrop revamps a timeworn watering-can to encompass an attitude that is cheerful, spring-fresh, and fashion-forward.
---
= SOLD
---