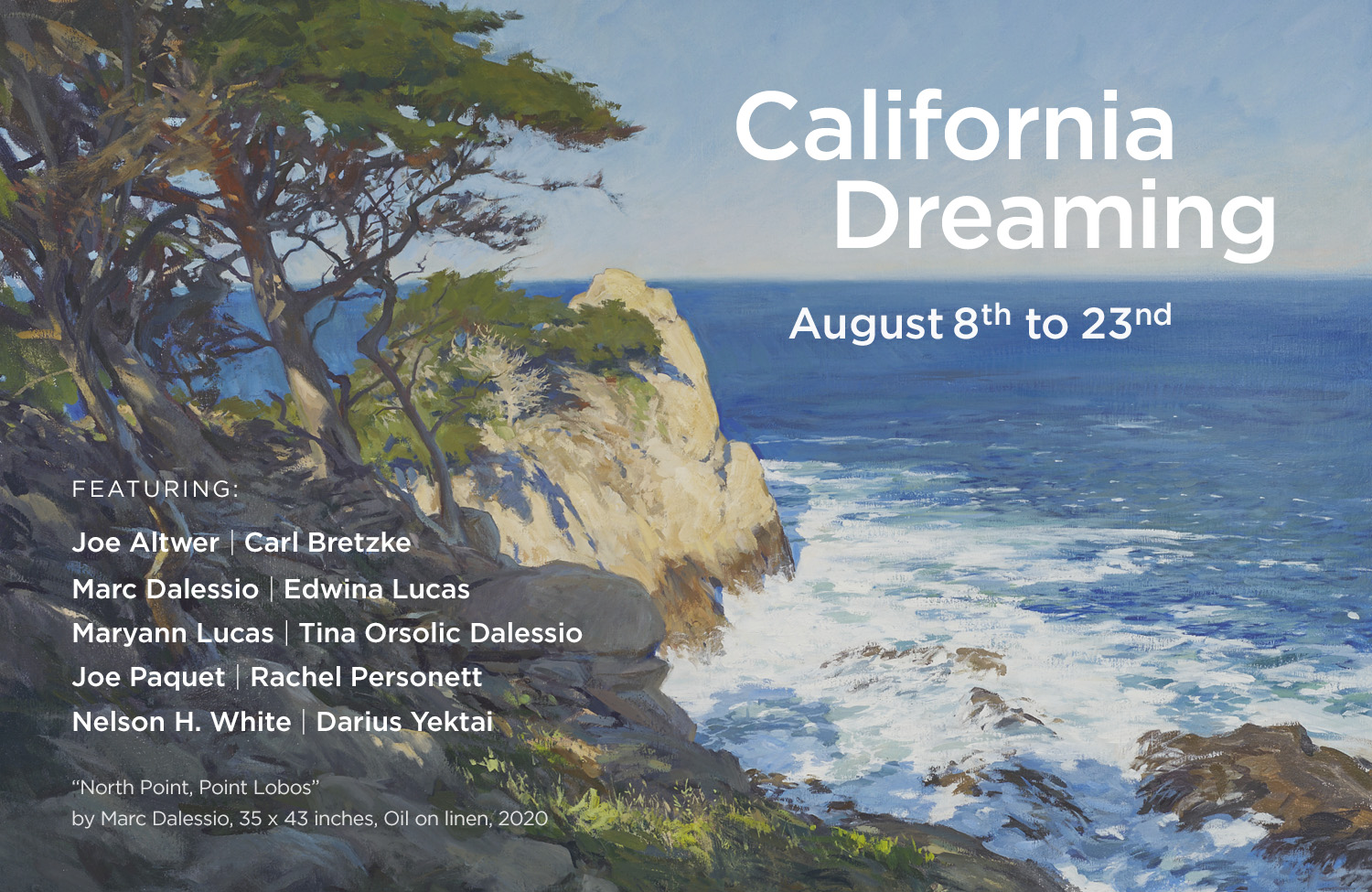 California Dreaming: A Group Show
|
August 8 - August 23
The Grenning Gallery is pleased to announce our latest exhibition California Dreaming. Due to social distant guidelines, we will not be having a typical opening reception. The gallery is now open 7 days a week, 11am - 6pm. We invite you to come into the gallery, or if you'd like a private appointment, simply call 631 725-8469 or email us at info@grenninggallery.com.
Just before the pandemic hit, I was lucky enough to run into Marc Dalessio (b.1972, California) and his wife Tina Orsolic Dalessio (b.1983, Croatia) on their way back from his home state of California. Inspired by their still wet sketches of the misty coastline, the dry countryside and the palm tree lined city streets - I decided to have a show called California Dreaming during August our high season. Actual plein air paintings made in California will hang with images of our idea of West coast lifestyle by our top artists this month. Marc Dalessio, one of the world's leading plein air painters according to Eric Rhoades, publisher of the Fine Art Connoisseur Magazine among others, delivers large scale California Coastal scenes. There's nothing like a world traveling painter returning home with fresh eyes, painting a subject he knows and loves, which is what we see in "North Point, Point Lobos". We are also transfixed by "Rye Grass" a romantic yet not saccharine depiction of his then bride, and now painter Tina Orsolic Dalessio. We are also charmed by the "Norton Street" which captures the calm heat of the LA suburbs.
Our highly praised plein air painters, Joe Paquet (b 1962, Patterson, NJ) and Carl Bretzke (b.1954, Minnesota) offer up some of their finest California plain air paintings. Paquet's recent lecture series, which is soon to be published, on "Authenticty, Creativity and the Quest for a Singular" intrigues us. "Breathe Deep II" demonstrates his superior understanding of the use of the prismatic palette.
Bretzke's Hopper influenced style juxtaposing the bright beach days and coastal highways of California is particularly interesting. In "Boys on the Rocks" we see casual meandering amid gorgeous late day light in what is essentially a tonal exploration, not unlike Bretzke's signature nocturnes.
The newly launched artist, Tina Orsolic Dalessio, fresh from her career boosting People's Choice Award at the London based BP Portrait Awards Exhibition, is starting to scale up her lovely landscapes. In this "Lupines" we see Orsolic Dalessio meditating on the vibration of colors with her dashing brushwork. Although her April 2020 Exhibition at the Supreme Court of the EEC in Brussels was delayed due to the Pandemic, we expect her international career to take off once we are through this period.
Rachel Personett (b.1991, Hawaii) is on location painting in California as I write this press release. We are very excited to include her latest, large format plein air paintings in this show. They will be jet fresh, as she is shipping them out from her outpost. Her painting inside of nature shot of "Battery Point Lighthouse. Crescent City, California" gives the viewer a sense of the magic of highly refined plein air painting, as we can see nature AND the painting which is reaching to achieve a poetic approximation.
Although Nelson H. White (B. 1932, Connecticut) signature Red Umbrella paintings bring California beach life to our mind, so we have included this and a delightful small figurative piece to tantalize his followers. We have a whole body of work getting ready for an upcoming solo show.
"Waxer" by Darius Yektai (b.1973, Southampton, NY)'s is our East Coast nod to the Californian surfing culture. Yektai, recently featured in the New York Times (put link here) and Hamptons Magazine (put link here ), is the Grenning Gallery's new break out artist, as we sold through most of his first Solo show this past June, despite the Pandemic.
Joe Altwer (b.1984, California), our only other Californian, returns to the Grenning Gallery after several years of world travel and painting, and he has shared several delightful landscapes, of quiet yet quintessential Californian scenes.
California, leading the conservationist movement, is a state where nature is held in high regard. Maryann Lucas (b 1959, Long Island, NY) and her daughter Edwina Lucas (b. 1991), demonstrate their love of nature with florals in this exhibit. Their story of fortitude and resilience is featured in Hamptons Magazine this week (link here). Young Sag Harbor painter Edwina Lucas (b.1991, Long Island, NY) returns to the Grenning Gallery with her meditative studies of nature. Most compelling is her recent stylized "Green Garden". Maryann Lucas's "Hydrangeas" is high key, white flower on white background that recalls the light and bright gardens of California.
---
= SOLD
---