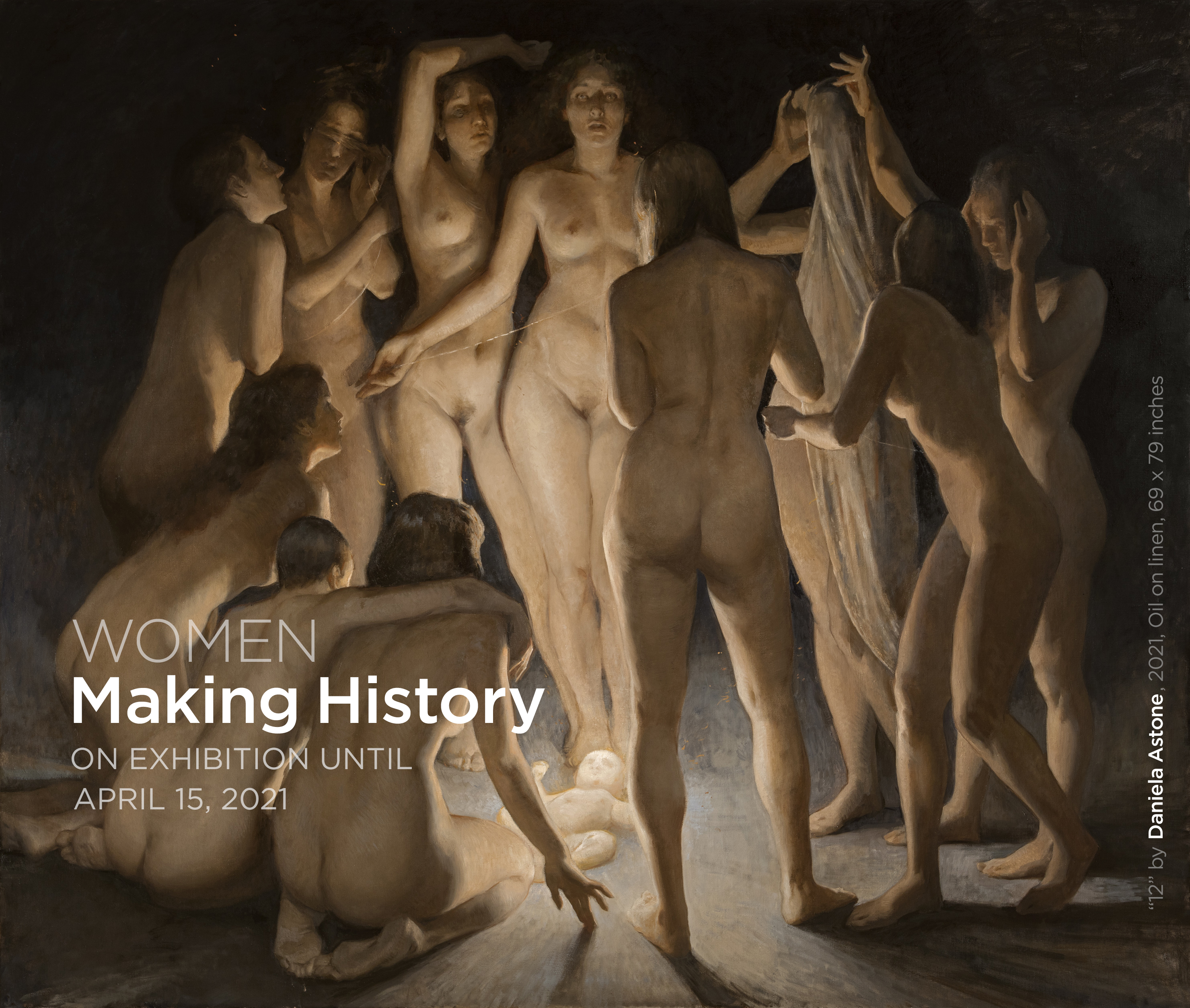 WOMEN Making History
|
March 15 - April 15
In honor of Women's Month, Grenning Gallery is pleased to present a formidable new painting from the gifted Italian artist Daniela Astone (b. 1980), virtually on exhibit through April 15, 2021.
It's been over thirty years since Congress declared the month of March be devoted to the countless female luminaries who have impressed a significant impact on history, culture, and society. Paying homage to these often-forgotten women, Grenning Gallery, backed by its own trio of intrepid women, presents a detailed examination of Astone's cutting-edge multi-figure painting, "12", which by the scrupulous stroke of a brush, tells a powerful story of the feminine experience.
In this picture, Astone, a former student and current director at the Florence Academy of Art, depicts a circle of 12 women (some bathed in light, others shadowed by darkness) gazing upon a new -born baby. It is a dreamlike vision of what appears to be a sacred ritual: the individual women, veiled and un-veiled, unified by a delicate but unwavering thread.
A sturdy seed was planted for the eventual emergence of this painting when Astone visited Villa Le Corti, the home of the Corsini Family. She was struck by an alcove in a Baroque bedroom which boasted a fresco by artist Alessandro Gherardini, allegorically depicting the planets. Astone remarks: "I was happy to see the hours and planets represented allegorically. I loved the illusion the fresco created of space yet also brought into the interior a connection with the outside world."
The 12 figures in "12" are a deliberate choice. Since antiquity, the number 12 has been considered divine. It is critical to our time keeping (12 hours in a day, 12 months in a year), religious references (12 apostles), scientific theories (12 constellations), even to our games (12 dice). It is indeed ubiquitous: a dozen eggs, 12 ribs inside the torso of a human being. For Astone, the number 12 also marked the age in which one enters puberty: a radical, transformative passage with the inherent obstacles necessary for genuine human growth.
The depiction of the women joined in a circle is completely deliberate. In a cheeky way, Astone plays with the stereotype of "women as witches". For to some, a gathering of powerful, healthy women must mean there is some steaming caldron nearby, whipping up the recipe meant to cast a sinister spell on a poor, unsuspecting man.
In fact, the circle for Astone represents something special, sacred. She considers "I often need my sisters, my girlfriends to get into a circle and talk about what it means to be a woman freely without judgement. Working our thoughts like virgin wool until it becomes a thread. It is then I feel have created a pure connection and individuals disappear and become something greater, a force which may challenge all the contradictions in this world."
Another symbol to examine would be the "hand of benediction", A hand gesture of two fingers coming forth; long known as a symbol of a blessing, or divine approval. It is most commonly found on images of Christ. In Astone's "12" , a similar gesture presses gently onto the ground, backlit from the angelic glow of the newborn child. In this instance, a nondescript woman commands the blessing upon the new life, with subtlety and grace. No needs or wants of praise.
There is an undeniable message of feminine strength in this work. Women as story tellers (makers of history), women as life-givers, women as survivors, women in solidarity. Astone is acutely aware of the importance of this communication.
During the pandemic, 90% of Italian women lost their jobs. In her words: "The fact is in the past, we were not educated. We could still use our voices and we did. There are very visible and invisible blocks which still exist for women. In some countries, women's rights have gone backwards. It is time for an awakening."
---
= SOLD
---