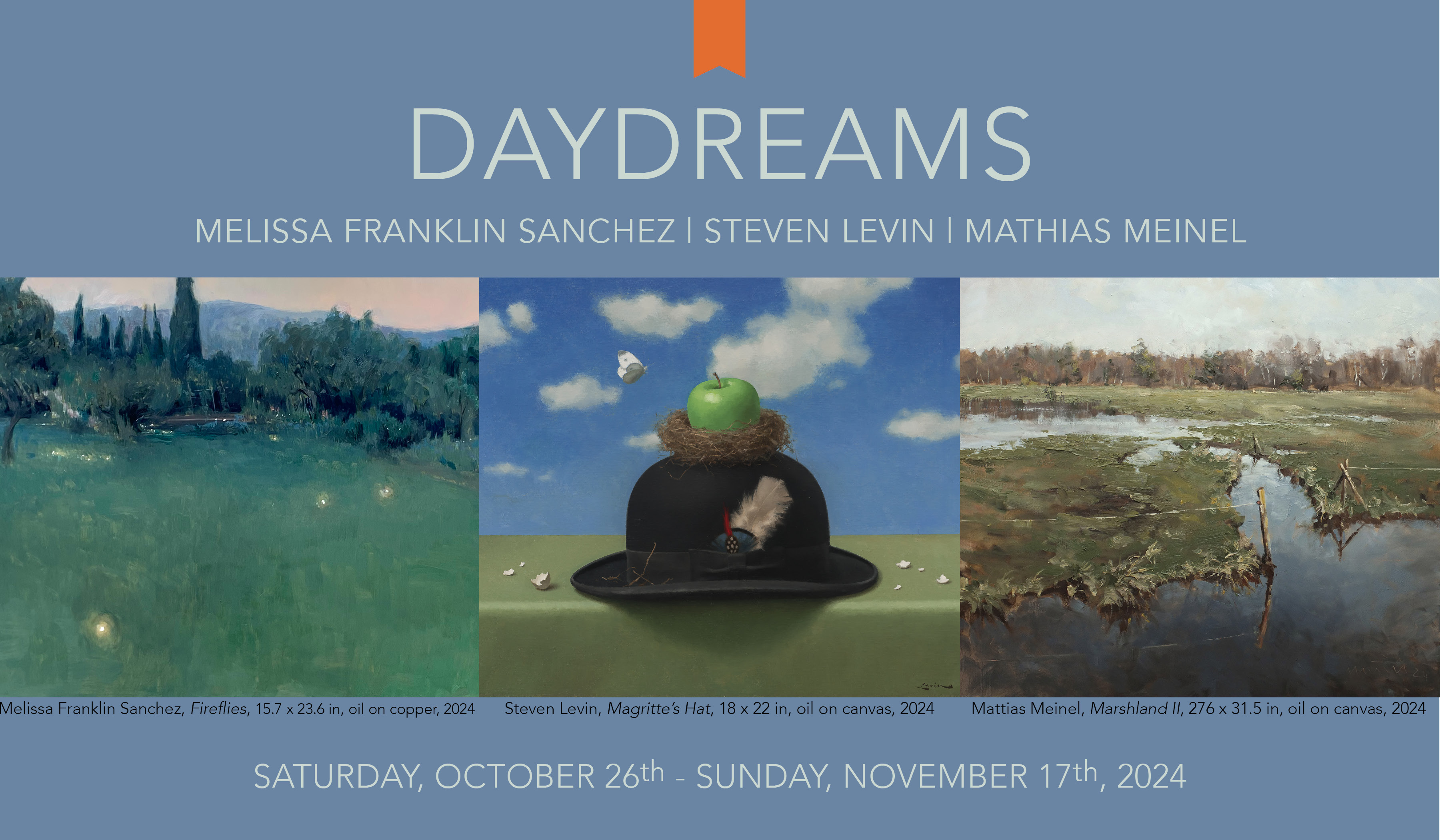 FEATURED ARTISTS
---
FEATURED EXHIBITIONS
SEE ALL EXHIBITIONS

---
Night & Day: Carl Bretzke & Viktor Butko
October 14th - November 10th, 2023
The Grenning Gallery is pleased to announce our latest exhibition: Night & Day: Carl Bretzke | Viktor Butko, a two-man exhibition of masterful plein-air paintings.. This exhibit will be on view through Sunday November 12th, 2023. Please join us for an Opening Reception on Saturday, October 14th from 5:30-7:00 pm.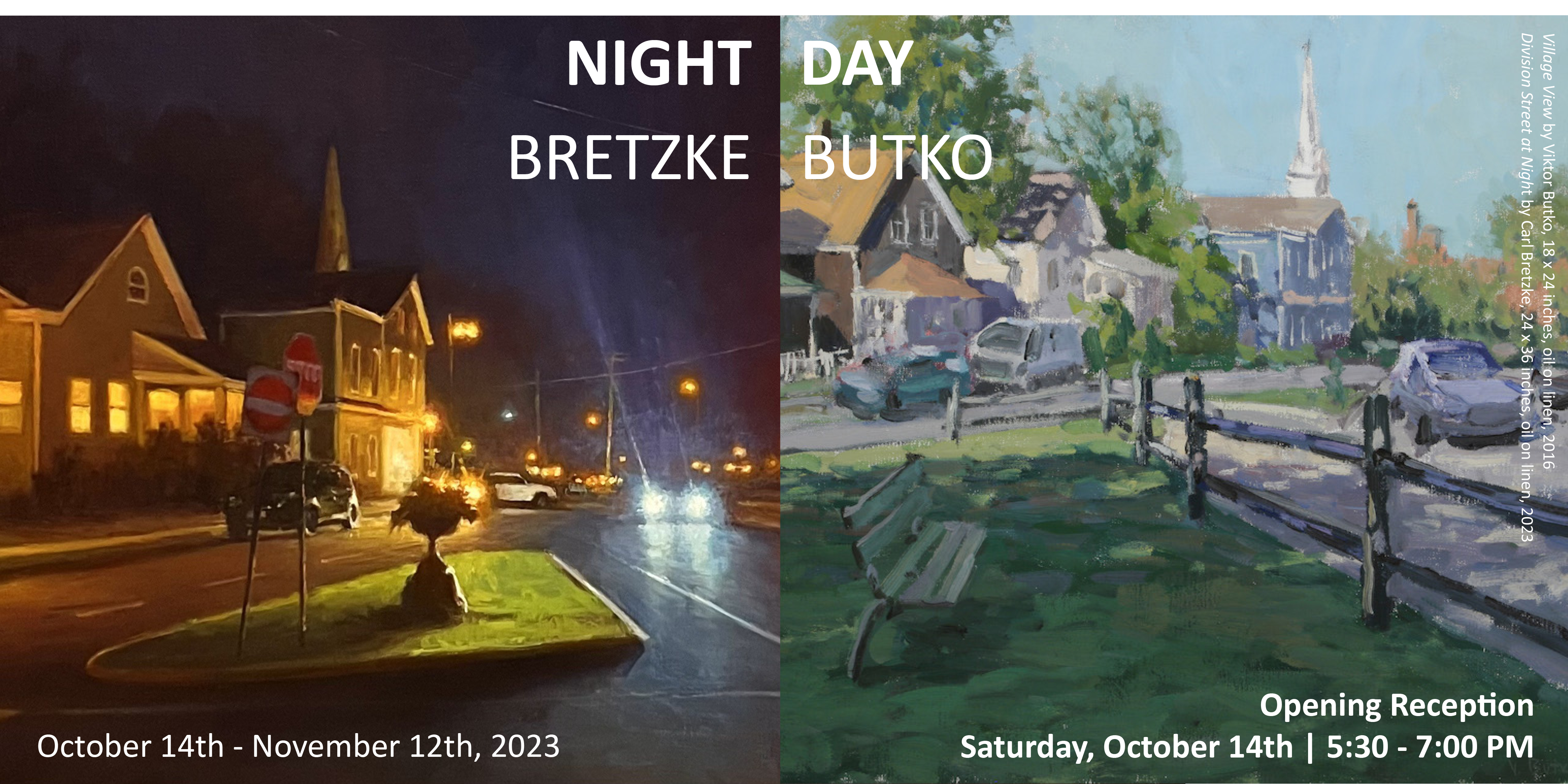 ---
Ben Fenske Solo Exhibition
August 11th - September 10th, 2023
The Grenning Gallery is pleased to announce Ben Fenske's Annual Solo Show, on view from Friday, August 11th through Sunday, September 10th. We invite the public to our Opening Reception from 6:30pm - 8pm on Friday, August 11th.
With more depth and ease than ever before, this year Fenske paints his muse Amy Florence, and others in and around his home in Chianti. Fenske's latest figurative work shows the people closest to him in their daily life—seemingly oblivious to him painting them—rather than posing like academic models. Amy, Buddy is the perfect example of this. After sunbathing, Amy reaches down to pet a happy Buddy, as he rolls on the grass in delight. The magnificent Tuscan landscape, chock-full of tall cypress trees and a typical stone farmhouse, proudly sits atop the upper third of the canvas, crowning the composition.
Simple moments are heightened and romanticized in Fenske's work, which recalls an important tenant of 19th century impressionist movement. They often sought to elevate the everyday person in their work-a-day life, to offset the prior centuries when artists eyes were mostly focused on wealthy and powerful clients in their finery. In the compelling life-sized canvas, Amy, Buddy, Fenske creates an image that celebrates inter-species affection—a moment almost every human can relate to. Fenske's commitment to the universality of the human experience, regardless of temporal rank is just one of the many ways his work is profound and timeless.
As another example, in Kitchen, he presents a largescale painting of a cucina interior, where a meal is being prepared. A connected and loving exchange is preserved in the foreground, where a young girl gives a begging dog a little reassuring scratch under the chin. She is neatly dressed in a white and green button-up frock, yet she has clearly found comfort, her bare feet standing on the cool terracotta floor. The composition is masterful, with the incandescent light suspended over the table allowing the top 1/3 of the scene to recede into mystery. This forces our eye into the action in the middle foreground. The bold color combination of the red floors, the green walls and the yellow table and ceiling create a richly pigmented environment rarely found in the works of classically trained artists. Both scenes are reminiscent of 17th century genre paintings' simple and fleeting moments, but with the ease of Fenske's loose strokes. They are familiar scenes that can feel like nostalgic memories or dreams of our own lives, as they are or as we wish they would be.
In Lilacs, Coffee, Wine, the flowers appear to bloom in front of us, taking over the table. The composition is plentiful yet balanced. One healthy green bean hangs over the precipice of the wooden table. A knife on the cutting board performs the same balancing act. Fenske's foregrounded objects are moving closer to the viewer than his previous kitchen table paintings. The narrow drawer is pulled open, inviting the viewer to take a playful reach into the painting. At the same time, he adds more visual intrigue to the background, including a towel draped over one of the chairs. He has deepened the picture plane without compromising the casual nature of how each object has been placed. Even without any figures, Fenske composes a humanistic painting, revealing traces of the artists who live around this table.
In Winter Table, Fenske captures another bountiful moment in time. A golden hue soaks the entire canvas, signifying that late-day early-evening wintertime light. The artichokes and oranges signify Spring is close. One of the chairs appears to be slightly pulled out, suggesting someone has just left their espresso… maybe to paint… or prepare the meat—no doubt Bistecca Fiorentina—on the cutting board. Familiar objects reappear in this composition, as in many Fenske paintings; the yellow teapot, the olive oil beaker, the tumbler with a finger of red wine left to drink, and of course, the silver Mokka pot. Vivacity permeates even the quietest of Fenske's still life's.
The 'woman in front of a window' as subject has captivated Fenske's imagination and his gaze for years. The juxtaposition of a backlit woman, daintily posed, beautiful and smartly dressed, placed before the glory of the framed, illuminated landscape out yonder is an image one can behold endlessly. In Window, the woman (Amy Florence yet again) is seated at a table with her hand placed upon an open book. Yet, her eyes are not held by the book. Instead, they are turned outward to the window behind her. As she looks out, we feel her sense of wonder, a yearning for all possibilities that may exist out beyond the hills.
Finally, Fenske delivers another set of lovely floral still lifes. Sunflowers face us with yellow lashes spread wide against a blue and white backdrop. Poppies, Chamomile are painted so delicately, they seem to float away from their stems. Although both bouquets are weighted down by their vessels, Fenske's loose, buoyant brushstrokes breathe air into the atmosphere, allowing vibrations into a subject which is meant, literally, to be still.
Please join us for the Opening Reception on Friday August 11th to meet the painter and rejoice in his new work! Fenske will be here in the Hamptons for the first time since 2021 and will have the use of a studio space out here for the first time ever; so, we are excited to see what he will create over the coming months! Please check in with us regularly between now and mid-October, as the new sought after paintings will be surfacing as he finishes them.
Laura Grenning, Megan Toy and Katie Pepi
August 2023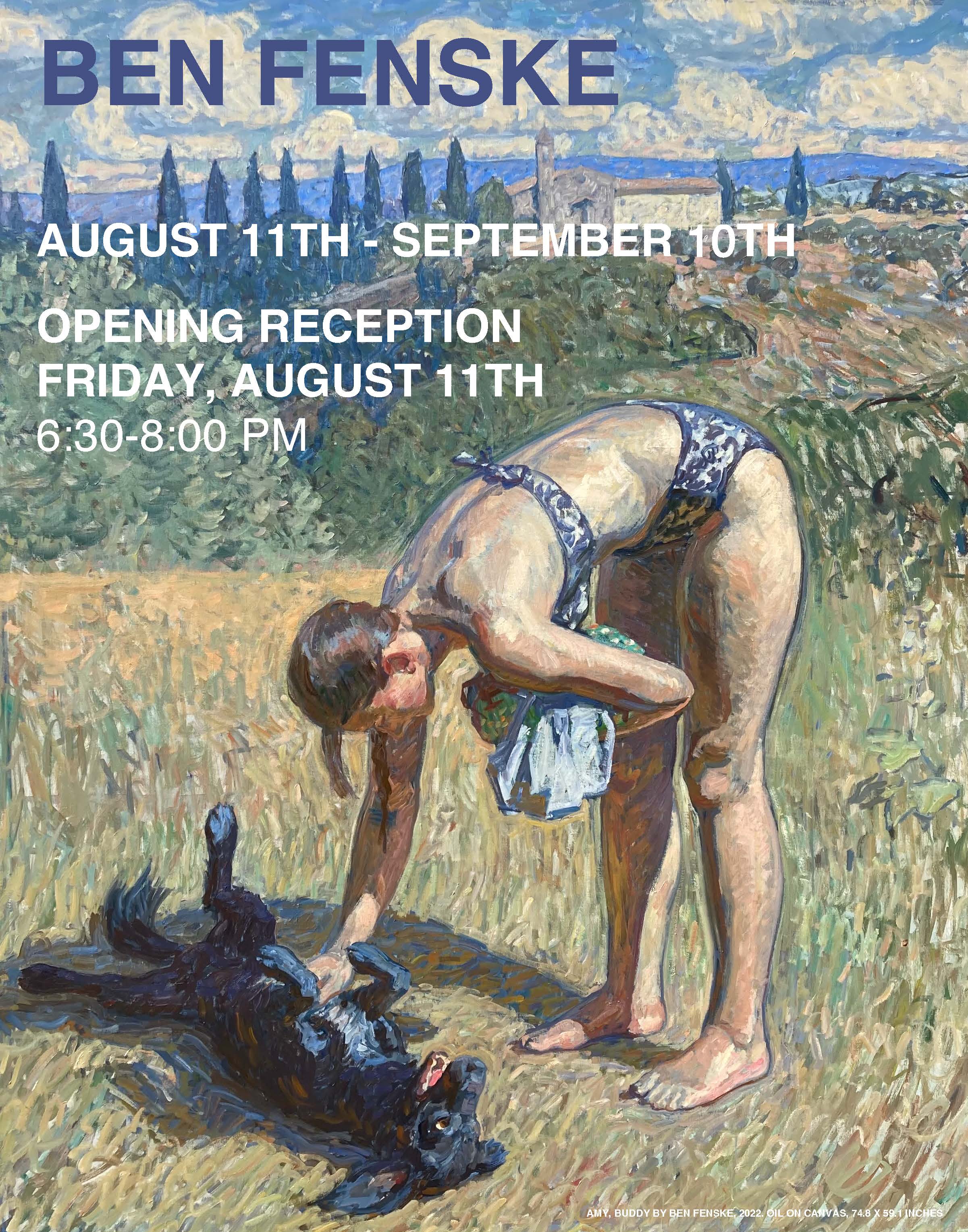 ---
Prophets
July 15th - August 5th, 2023
The Grenning Gallery is piously pleased to unveil Prophets, a group show featuring Hunt Slonem, Kristy Gordon, and Daniela Astone. Like prophets, the three artists of this exhibition deliver insightful messages about our world, as well as other realms from reality to the mystical. In each of their authentic voices, Slonem, Gordon, and Astone reveal to us what we sometimes cannot see by ourselves. This exhibit will be on view through Sunday, August 6th, 2023. Please join us for an Opening Reception on Saturday, July 15th from 6:00-7:30 pm.
Few Realize that Hunt Slonem (b. 1951, Maine, USA), the anchor artist for this exhibition, is tapping into his own spiritual life when he is creating his iconic paintings of bunnies, birds, butterflies, and flowers. Although some viewers quickly write off Slonem as a fashion-forward, pop artist, most are unaware that he meditates and prays for hours before he starts painting every day. When he is working, he considers the paintings to be like mantras. Each painting carries its own inflection when it's created.
His subjects are not simply likenesses of creatures; however, they are chosen with reverence and intent. For instance, Slonem was born in 1951, Year of the Rabbit in the Chinese Zodiac. Not only does it have personal significance, but the rabbit is an icon with multiple cultural interpretations. In Christianity, the rabbit represents rebirth, fertility, and resurrection. Yet, in Buddhism, the rabbit symbolizes humility, kindness, and compassion. Slonem identifies with an all-encompassing spirituality, that would invite boundless elucidations. The meaning of his work, like any artwork, can be determined by the viewer. The artist leaves the door open for whatever conclusion one wants to make. And he's smart, because this candor has built a massive following and an incredibly in-demand market. Not to mention, Slonem has created a global reputation; having had his works placed in over 250 museum collections world-wide.
In this show we have several classic signature Bunny paintings, but we also feature some of his newest major creations, involving Irises and Hummingbirds. Slonem's Irises, or to be more specific, "Catelayas" are executed in lush royal purples above a grand gold backdrop, and of course, set within an elaborate gilded frame. The Catelaya is a very rare genus of orchid, native to Costa Rica and South America, an area the artist knows well from his childhood. Although, like the entire Orchid Species, these flowers are incredibly fragile in temperament, needing only a minimal amount of water and a fair amount of light, Slonem has shown them in full-blossomed glory. These violet, buttery florae are singing in celebration. It's unquestionably fitting, that the Catelaya are a symbol of beauty, and elegance.
Another new series we're excited to present from Hunt Slonem are his "Colibri & Trumpets", a fete of joyful hues of pink, fluttering birds, and stretching flora. Colibri is Spanish for Hummingbird, the widely-loved bird who's tiny form weighs less than a dime! Known for their ultra-fast heartrate, and wing speed, these charming little birdies are welcomed as messengers of joy, love, and good luck. This mighty little bird is also a symbol of beauty, playfulness, and resilience. The "Colibri Hummingbird" is a sacred symbol for the Taino Indians, because as a pollinator, the bird is therefore a disseminator of new life. Slonem's painting showcases this important ecological method. Tiny green birds attracted to vibrant trumpet flowers, which are known to be copious producers of nectar. This rejoice of pollination is so crucial in today's society, where the environment is at risk from the grave effects of climate change; rising temperatures, infrequent rains, invasive species overtaking native species, and of course, the desolate recurrence of deforestation.
Kristy Gordon (b.1980, British Colombia, Canada) articulates perplexing, yet ultimately critical messages about the world we live in today using techniques and configurations of the past--both grounding her assertions in an artistic tradition and reminding us that history repeats itself.
Gordon continues to develop the current series of mystical paintings which reflect her deep dives into her philosophic dreamscapes. Inspired by 15th Century to 18th Century compositions, this series is both prescient and reminiscent. Her latest work The Crossing, recently won second prize in the Belsky Museum's "Hope Out of the Darkness" exhibition. It is clearly based on famous triptychs of the past; from Robert Campin's The Merode Altarpiece to Hieronymus Bosch's Garden of Earthly Delights. Historically, triptychs tell a story, where each panel holds an essential moment in the narrative. In Gordon's The Crossing, although at first it is unclear what exactly the narrative is, it's evident that the mood of this chronicle evolves from despair and darkness on the left, to climactic revelation in the center, and finally to buoyancy and light, on the right. This theme is easy to decipher, yet the viewer must inspect each feature up close to discern what other wisdoms Gordon may be disclosing.
Further metaphysical theories continue in Gordon's smaller scale works. Death and rebirth, the emotional response to motherhood, our constant fixation with the meaning of life, redefined spirituality, and the stories we tell ourselves to understand the mysteries of life and consciousness. Few classical realists are able to use compositional choices from bygone eras yet pack them with so many layers of contemporary life. Gordon's dreamlike paintings are not only fascinating, but they are also an aesthetic visual feast.
Finally, we are thrilled to include several new works by Daniela Astone (b. 1980, Pisa, Italy), a notable figurative artist who has primarily sold her works in Europe until recently. Although emanating from one of the finest classical ateliers in the world, the Florence Academy of Art, wherein she learned to master austere bravura of academic realism, Astone's work is evocative and carries an other-worldly quality that is uniquely astute and unforgettable. Astone conjures a spiritual universe that forces one to pause and ruminate in front of her canvases.
In Milky Way her figures seem to be traveling in outer space along a channel of light. We see the influence of contemporaries like Odd Nerdrum in her glowing figures, yet these seraphs floating high within an opulent blue galactic setting brings to mind frescoes from 14th Century masters like Giotto. Are they traveling through one of Einstein's worm holes? Are they drifting from one life, into the next? Is this an enquiry of science or spirituality?
A common subject one might find within Classical Painting Ateliers is of a woman holding a red thread. Daniela's "Red Thread" is an exceptional depiction of this classic subject. In Greek Mythology, the story of Ariadne helping Theseus slay the minotaur and escape the Labyrinth by giving him a ball of red yarn to unroll which led him out to freedom. In Eastern philosophy, red thread symbolizes, good luck, protection, and Yue Lao, the lunar, matchmaker God, charged red thread with destiny for love between soulmates.
Here, Astone shows a seated nude woman entwined within a thick wool thread. There's a possibility that she is tangled, or trapped, within this knot-prone strand. Red is a widely known symbol of danger, so our instincts drive us to that concerned conclusion. However, there may not be any need for distress. If we look at her through another lens, she is determined, and very much in control of the yarn she weaves. There is order to each action, and rationality in her thoughts. Red is also known as a sign of love, or passion; a close connection to the beat of our hearts, and the blood in our thread-like veins. Each supposition is up to interpretation, similar to the way that the impulses of heart are so often in contrast to the requirements of our thoughts.
In Astone's smaller-scale works, consisting of landscapes and tranquil still lives, we see her deft facility lending spiritual weight to everyday items and settings. This is like the Amish tradition of seeing and finding spirituality by taking great care in one's everyday tasks, holding reverence for the environment surrounding us as well as the structures we as men, have erected, and live within.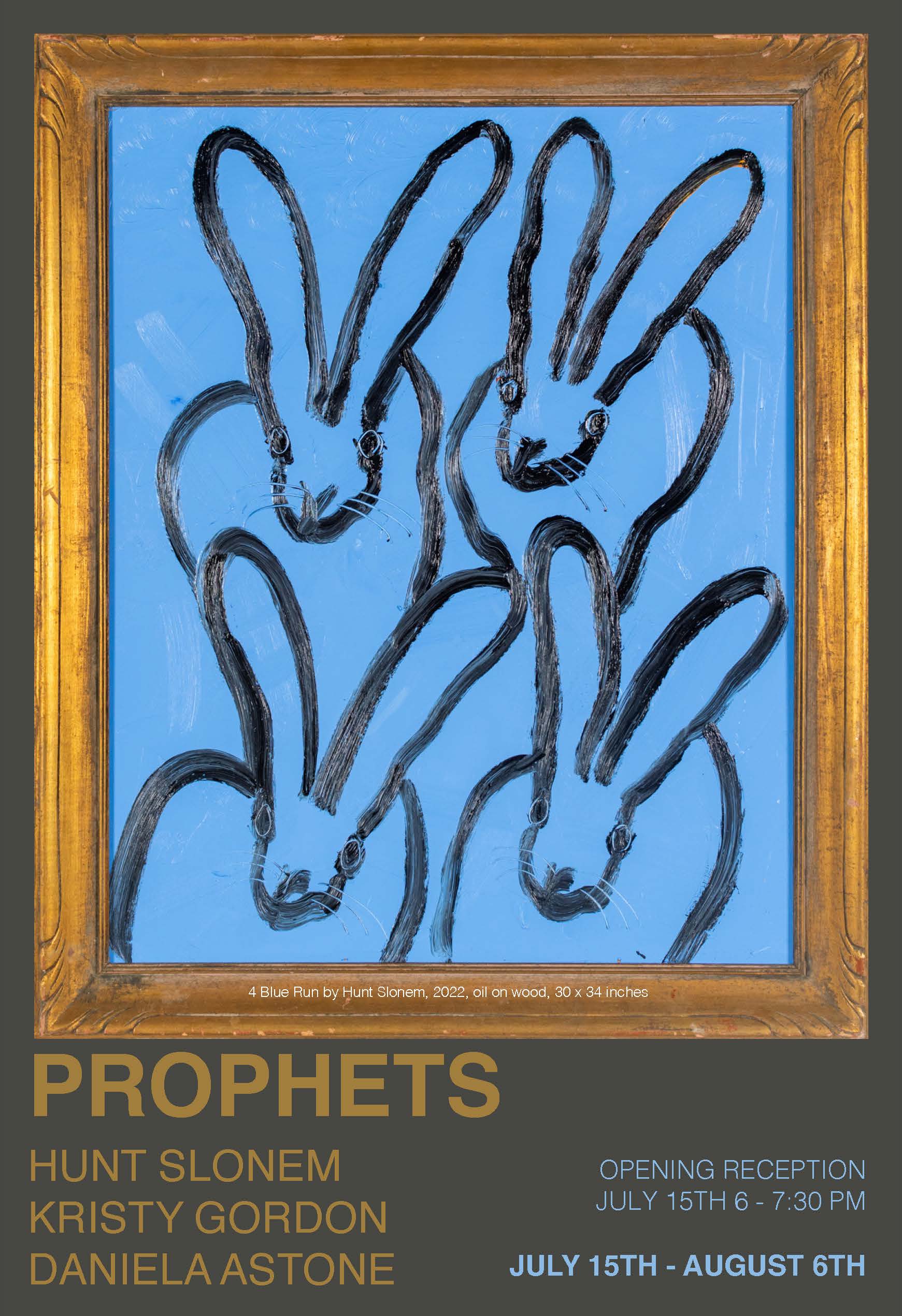 ---
Darius Yektai | Soliloquy
June 16th 2023 - July 9th, 2023
The Grenning Gallery is pleased to unveil Darius Yektai's third annual solo exhibition, "Soliloquy." This year, Yektai has turned up the volume on his palette, using bold, saturated colors as well as unconventional materials to convey his powerfully inquisitive perspective. This exhibit will hang from Friday, June 16th, through Sunday, July 9th , 2023. Please join us for an Opening Reception on Friday, June 16th from 6-7:30 pm.
A soliloquy is "the act of speaking one's thoughts aloud when by oneself regardless of any hearers" according to the Oxford Dictionary. Yektai continues to bring us on his fearless journey, investigating his inner response to a beautiful and sometimes chaotic life in the 21st Century. As the son of the last living Abstract Expressionist in our storied Hamptons art scene, Darius Yektai could easily be compared to Hamlet. Yektai answers Hamlet's question "To be... or not to be?" with a resounding "I choose TO BE!" Bursting with saturated colors and found objects, Yektai's works are like archeological digs into his soul.
In a natural progression of his now-famous Waterlily Series, Yektai created Cobalt Lilies, which straddles the present and some otherworldly dimension. Like the deep-blue matte plaster ceilings of the Florentine chapels, this rich cobalt background is a perfect symbol of spiritual depth while also connoting endless expansion. Standing back and looking at this whole painting, we see hints of a waterlily scene--like etched glass over a portal into the cosmos.
In Broken Vessels, Yektai continues to blur the edges of painting and sculpture. Recently he discovered that his father's, Manoucher Yektai's now empty studio was broken into, and the only remaining items, two vases were smashed by the vandals. Yektai keeps unexpectedly introducing broken pottery into his work, and this created an opportunity to bring something from his father's studio directly into his work. The scattered fragments affixed to the surface of this painting could be seen as a literal and symbolic nod to the immigrants' "melting pot" experience. They also symbolize the fragility of material plane, where our keepsakes are usually found. Yektai also drops a skull into the mix, reminding us of the fleeting nature of any life, surreptitiously bringing us into a contemporary version of the age-old Vanitas tradition. This heavy message is juxtaposed by the effervescent yellow background and reflective resin, exuding positivity. Carpe Diem!
Yektai continues the theme of Vanitas in this stunning triptych. Reading from left to right, two consecutive lean flower still lifes lead to a skull, placed in the same way--on an abstracted table. The classically beautiful and the macabre are synonyms here. Momentary delight and morbidity live in tandem; Yektai embraces both ideas when he paints.
Falling Stargazer is the latest in a long series of Falling Flower paintings. Here the Yektai signature swipe of blended color is mixed with stems and flowers falling akimbo to each other. Together, the pure white canvas and the top resin layer highlight that stylistic fingerprint we see from both Darius AND Manoucher Yektai.
There is also a series of florals like no other. Yektai abstracts every element of this 'traditional' composition to bring these paintings to a place well outside of what one would expect. Especially notable are two vibrant florals.
Delphiniums in Glass Vase Double Still Life is part of a new series debuting in this show, where Yektai has inculcated nature--employing the late 20th century effect of including 'found objects" into his paintings. Here we see actual delphinium stems bursting out of the vase in the foreground. Just to remind us of who is king of the canvas, he rakes the whole composition with wide dashes of paint to emphasize each section's role. We see black dabs to push back the deep green background, wide white marks to bring the table forward and bright red swashes of oil paint on the right to balance out the composition, creating a flag effect out of the whole painting.
In Spring Orchid on Sag Pond with Geese Yektai utilizes found objects again, adding the invasive phragmite into this composition to wonderful effect. Here the resin pins down the feathery caps of these reeds while the front protrudes. The cerulean blue pond is dotted with a flock of active black and white Canadian geese, which all serve as a perfect foil to the robust jabs of color rich paint on top. These seemingly random strokes somehow capture the delicate pale yellow and white spring orchids.
Dots and dashes, scumbled foregrounds and untouched canvas backgrounds, layers and layers of uncontained color mash ups--the remaining florals are rich in tradition but utterly new in the genre. We are rapt, lucky to be overhearing Yektai's soliloquy.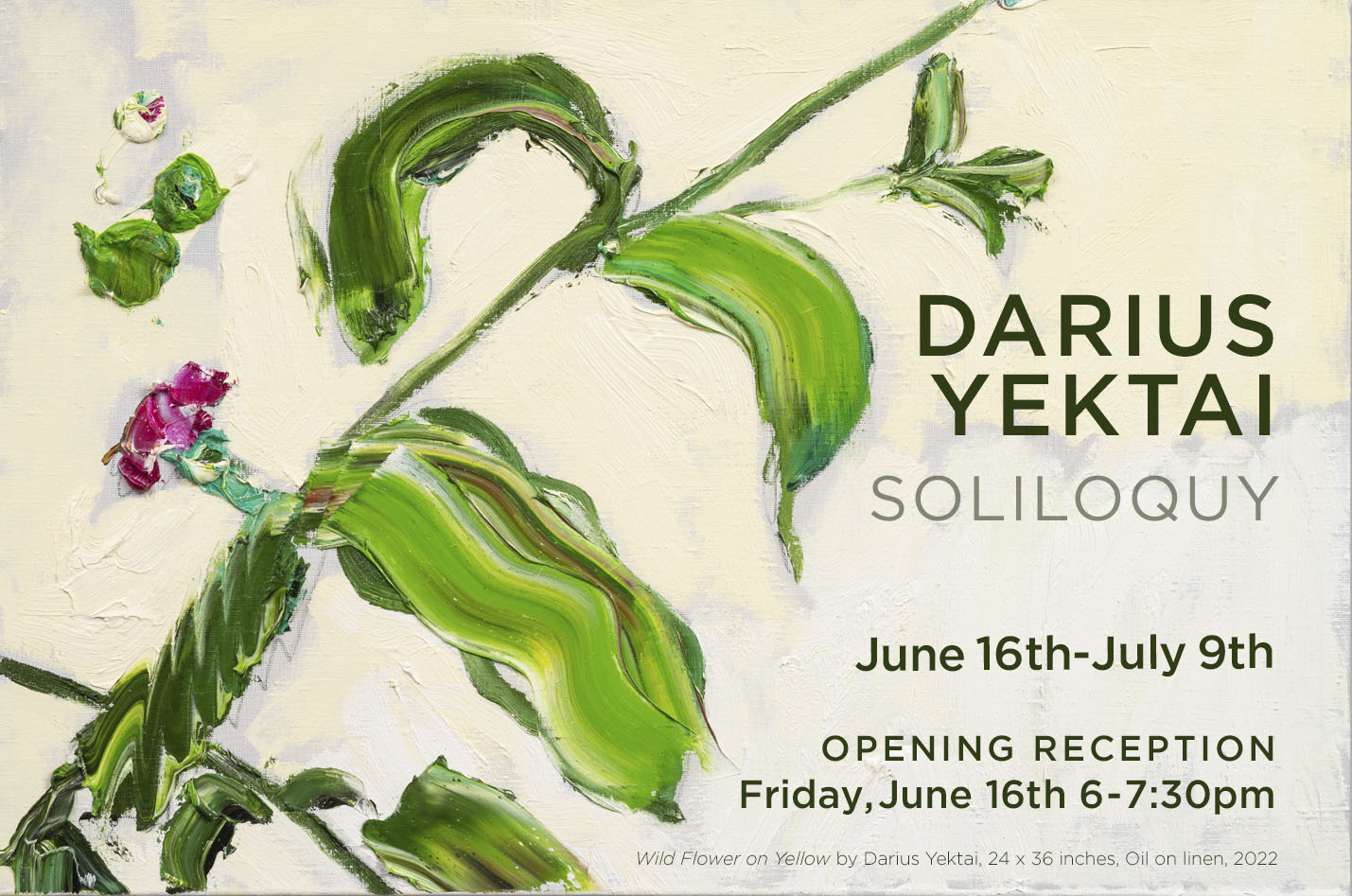 ---
SEE ALL PRESS

RECENT PRESS
---
Fine Art Connoisseuer | September 2023
Five to Watch
There is a contingent of contemporary landscape painters whose works could easily be mistaken for those of 19th-century Russia's renowned "Itinerants," but Viktor Butko (b. 1978)'s educational lineage can literally be traced back to one of that movement's leaders, Isaac Levitan.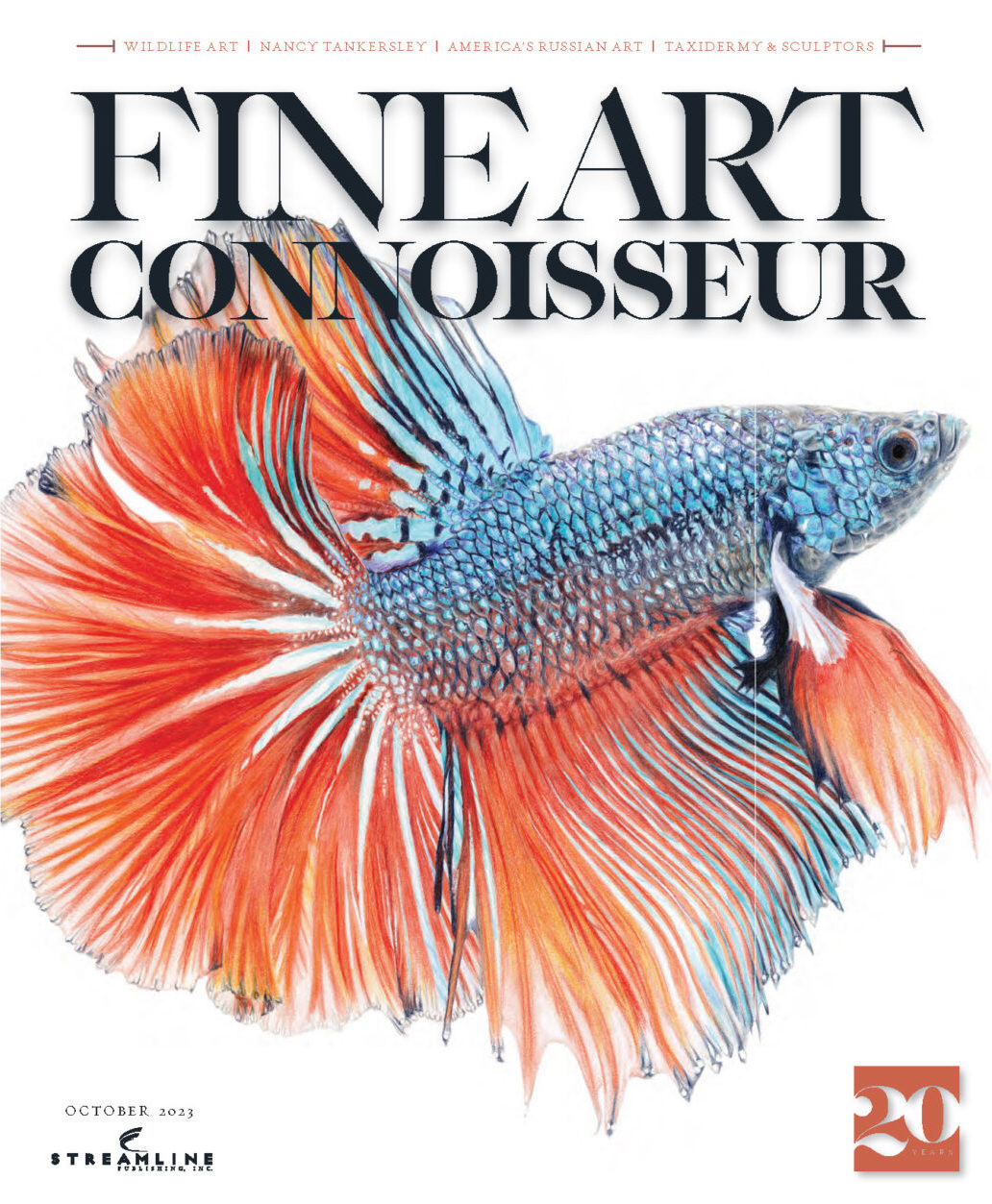 ---
HC&G | September 2023
Hampton Designer Showhouse
Darius Yektai's "Falling Stargazers" painting graces the cover of HC&G's Fall 2023 issue.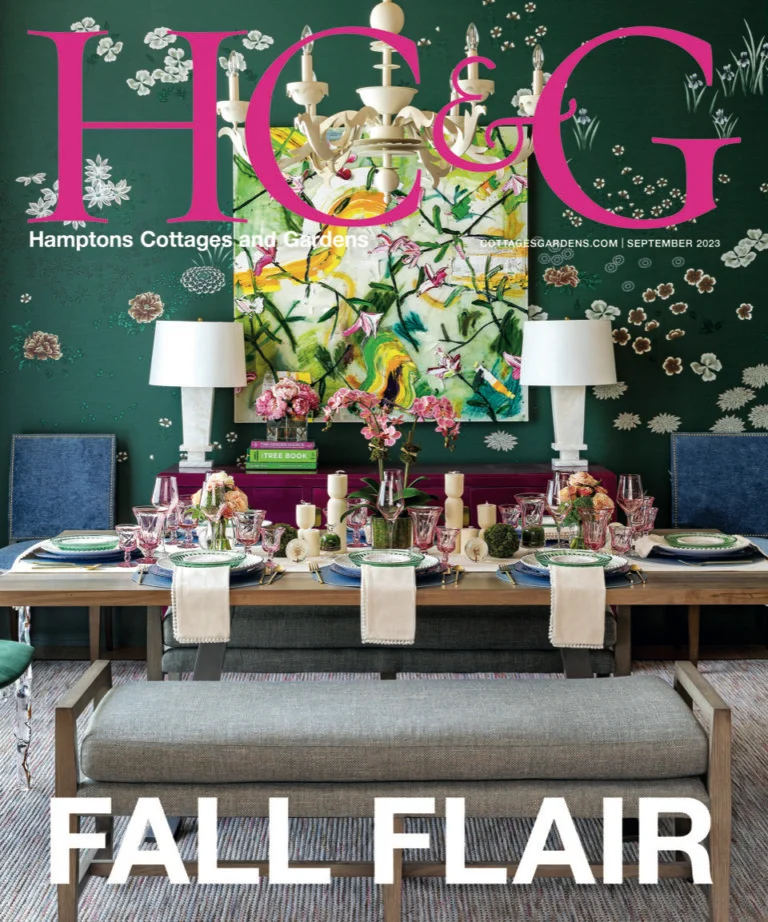 ---
Dans Papers - January 2023
Laura Grenning Shares the Magic of Dan's Cover Artist Ben Fenske
On this week's cover of Dan's Papers, we have the 2020 oil painting "Girl, Morning" by Ben Fenske. Born in 1978 to a working-class Minnesotan family, Fenske dreamed of becoming an artist and was greatly inspired by the works of major Russian painters that he was introduced to in his teens. He sought classical art training at the Bougie Studio in Minneapolis, founded by former students of renowned artist Richard Lack, and continued his studies at the Studio of Joseph Paquet and the prestigious Florence Academy of Art.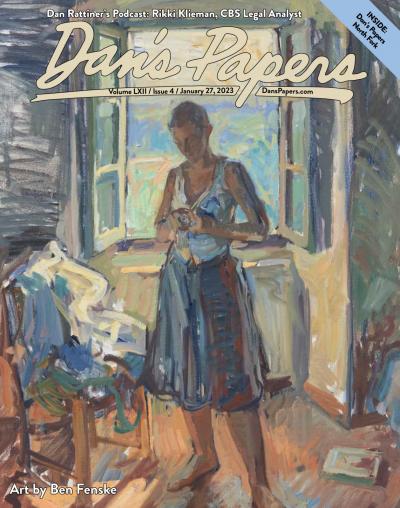 ---