Grenning Gallery Sculptor Chad Fisher Unveils Heroic Sculpture of Walter Peyton and Bears founder George Halas in front of Bears Stadium!
We are excited to announce that Chad Fisher will unveil his largest, and most-important, major public commission outside of Gate 0 at Soldier Field on Tuesday, September 3rd, 2019 A pair of 12-foot-tall heroic bronze sculptures of the famous former Bears running-back, Walter Payton, and the Bears founder, George Halas, will mark yet another high point in this fine art sculptor's career.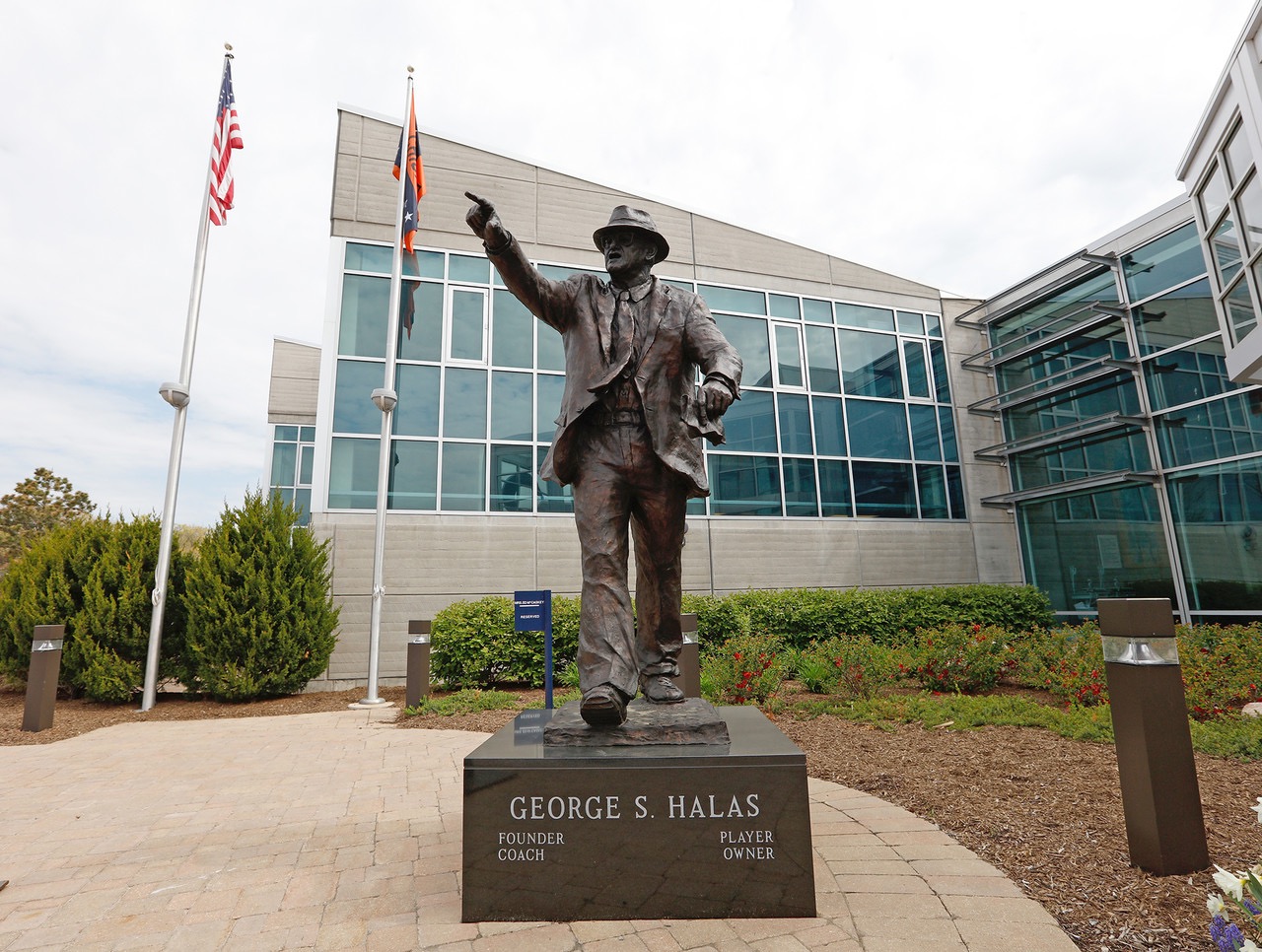 Life- sized George Halas sculpture on granite base, this is a 9 foot version of what will be unveiled in front of Soldier Stadium on September 2nd, 2019.
Fisher's talent is undeniable, but what distinguishes him from many of the other sculptors of our time, is that he committed himself to 12 years of rigorous classical training before he started sculpting for any galleries or commission clients. With rarely seen, unfettered family support, and the foresight to understand that the fine art of bronze sculpture was slipping away at the end of the 20th century, Fisher dove deep. He sought out and acquired information about the best practices dating back to the Ancient Greeks. These are skills that were further developed during the Renaissance, and then revisited in the late 19th century. This rare education combined with an intense work-ethic makes Chad Fisher one of the most interesting sculptors of this generation. Fisher not only conceives of the statue through the lens of a Renaissance mathematician, he creates the original work in clay, then he makes his own molds and finally, as the owner of his own foundry, he pours his own bronze.
In the conception phase, Fisher is constructing the pose by applying the Golden Ratio, which dates back to the Ancients. Application of this mathematical technique ensures a balanced and lyrical experience for the viewer from all angles. Interestingly, the Golden Ratio is mentioned by Euclid in his "Elements" and the Renaissance painters actively discussed the application of it in their works. The actual ratio is (A+B)/A = A/B = 1.618. The reason the human eye prefers this proportion is that this ratio is found everywhere in nature – starting with the rise over run in the growth of a conch's spiraling shell, to the twist of DNA strands, and many phenomena measured throughout the universe. Michelangelo used this ratio throughout the Sistine Chapel, which is one of the reason's that this work of art has pleased every generation of eyes that have looked up for over 500 years, despite shifting aesthetic tastes!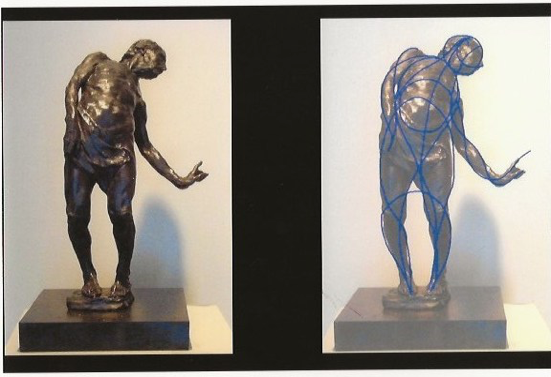 "Avarice", by Chad Fisher from his Seven Deadly Sins series, with lines to demonstrate his use of the Golden Ratio.
Fisher is actually only 9 years into his professional career, and at the age 36, he is taking the public-commission world by storm. He has been successfully completing major public commissions since 2013. In his first project, he was tasked with sculpting the Hall of Fame Coach of the Philadelphia Flyers, Fred Shero. After unveiling Shero's likeness with praise and applause, Fisher was then commissioned to create and install the recently deceased Flyers' Founder Ed Snider, which is installed outside of the Wells Fargo Center. Then, Fisher was commissioned to create 10 bronze sculptures (including Wilt Chamberlain) at the Legend's Walk for the Philadelphia 76ers, in front of their practice facility in Camden, NJ. Famed player Charles Barclay's sculpture is the latest to have been cast and it's due to be installed in September 2019.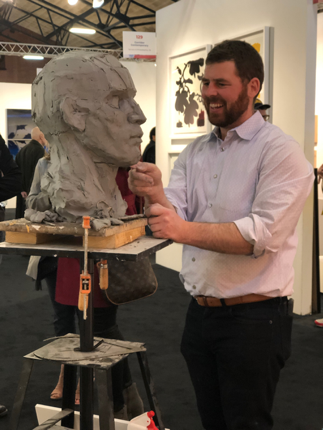 Chad Fisher during his live demonstration at the Philly Fine Art Fair, April 2019.
Fisher is fast becoming the sculptor of choice for these major sports franchises, not only because of his skill, but also his personal character. Dedication to excellence, clarity of purpose and thought, hard work, and a very high level of training are the qualities that Chad Fisher brings to the process, not unlike the athletic and military heroes that he is depicting in his sculptures.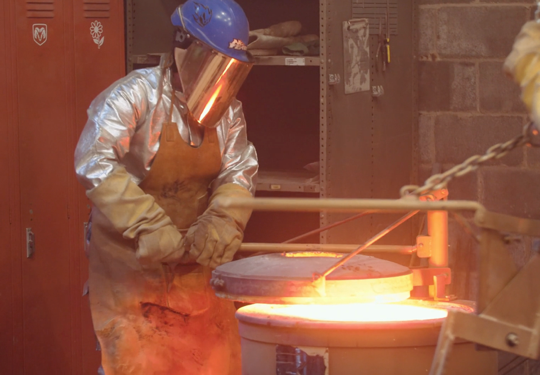 Chad Fisher working in his studio – pouring bronze.
Finally, Fisher's long-term goal is to create a studio/atelier system, where he can share his process with other sculptors in training, generously passing on the tools that he spent 13 years acquiring. Fisher is very busy, but available for commissions deliverable after mid 2020. Also, there are several smaller sculptures remaining from his Seven Deadly Sins series. Please contact Laura Grenning at the Grenning Gallery for more information about Chad Fisher, and his upcoming schedule. Gallery phone 631-725-8469, Laura Grenning's Cell 631 767 5302, info@grenninggallery.com, www.grenninggallery.com.
ARTIST BIOGRAPHY
Chad Fisher (b.1983 Woodbury, NJ) is a fine art sculptor who has vertically integrated his process in order to control the quality of the final creation. Fisher is working in clay, and then creating his own molds, and casting in bronze inside his own wholly owned Pennsylvania based foundry. Fisher's undergraduate studies include Syracuse University, University of Pennsylvania, and the Pennsylvania Academy of Fine Art. He has an MFA from the Maryland Institute of Fine Art. He also studied at multiple academies including the New York Academy, the Florence Academy of Art, the Janus Collaborative, the Schuylkill Academy of Fine Arts, and the Barnstone Studios. Fisher has also apprenticed with several notable sculptors including Stephen Perkins, Stuart Mark Feldman, and most importantly Gary Weisman. Chad Fisher has mastered his craft utilizing classical sculptural methods through his meticulous canvassing of the current educational opportunities within traditional universities, ateliers, and apprenticing with active professional sculptors.
In September of 2019, Fisher is installing two heroic-scaled (12-foot, 3,000 pound each) sculptures of Chicago Bears' Athlete Walter Payton and Founder George Halas in front of the Bears Stadium at Soldier Field in Chicago.
In 2017, Fisher was awarded the honor to sculpt the "Spirit of the Champion" Series, or the "Legends Walk" of the Philadelphia 76ers, in Camden, NJ. So far, he's sculpted NBA hero's including: Wilt Chamberlain, Julius "Dr. J" Irving, Bobby Jones, Maurice "Mo" Cheeks, Billy Cunningham, and Hal Greer. Chad Fisher is available for commissions, deliverable after mid 2020.
Public Commissions
September 2019 Chicago Bears: Two 12-foot bronze sculptures of former Bears' running back Walter Payton and founder George Halas, installed in front of the Bears Soldier Field, Chicago, Illinois. (3,000 pounds each)
September 2019 City of Philadelphia: World War Two Memorial in Philadelphia: 9-foot bronze monument to WWII hero Harry "Rocky" Rockefeller, (1700 pounds)
2017 Philadelphia Flyers: Bronze life-sized sculpture of Founder Ed Snider, Philadelphia Flyers, Wells Fargo Center, Philadelphia PA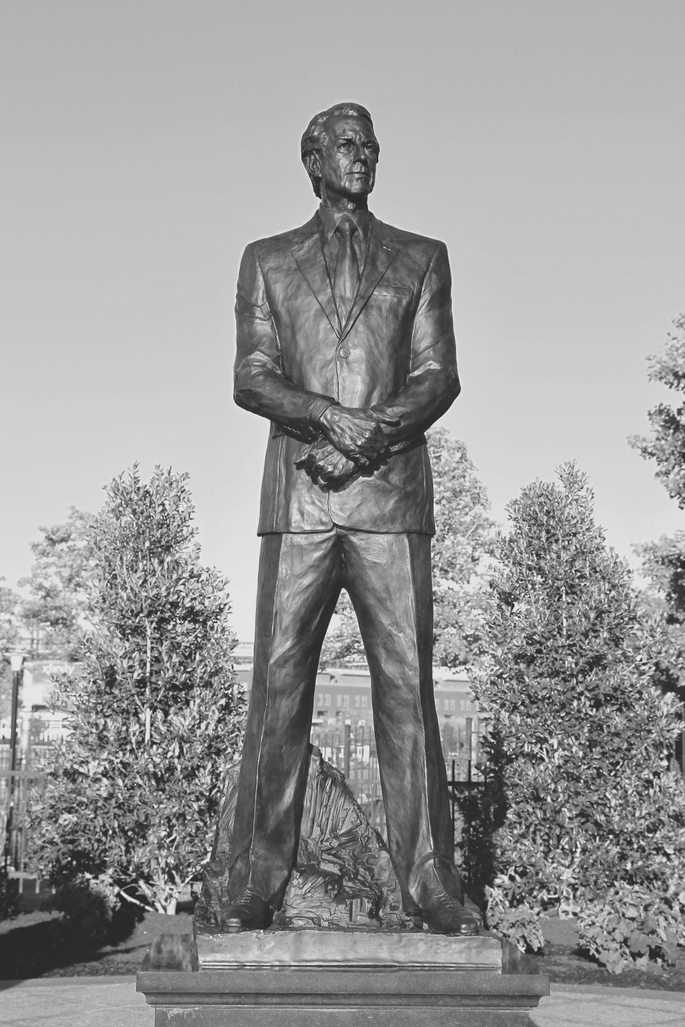 Ed Snider, 9 ft tall on a 3-foot solid granite base, 1300-pound bronze sculpture
2015-2017 Philadelphia 76ers: Installed 8 of the ten bronze sculptures (including Wilt Chamberlain) at the Hall of Heroes for Philadelphia 76ers, in front of the practice facility in Camden, NJ.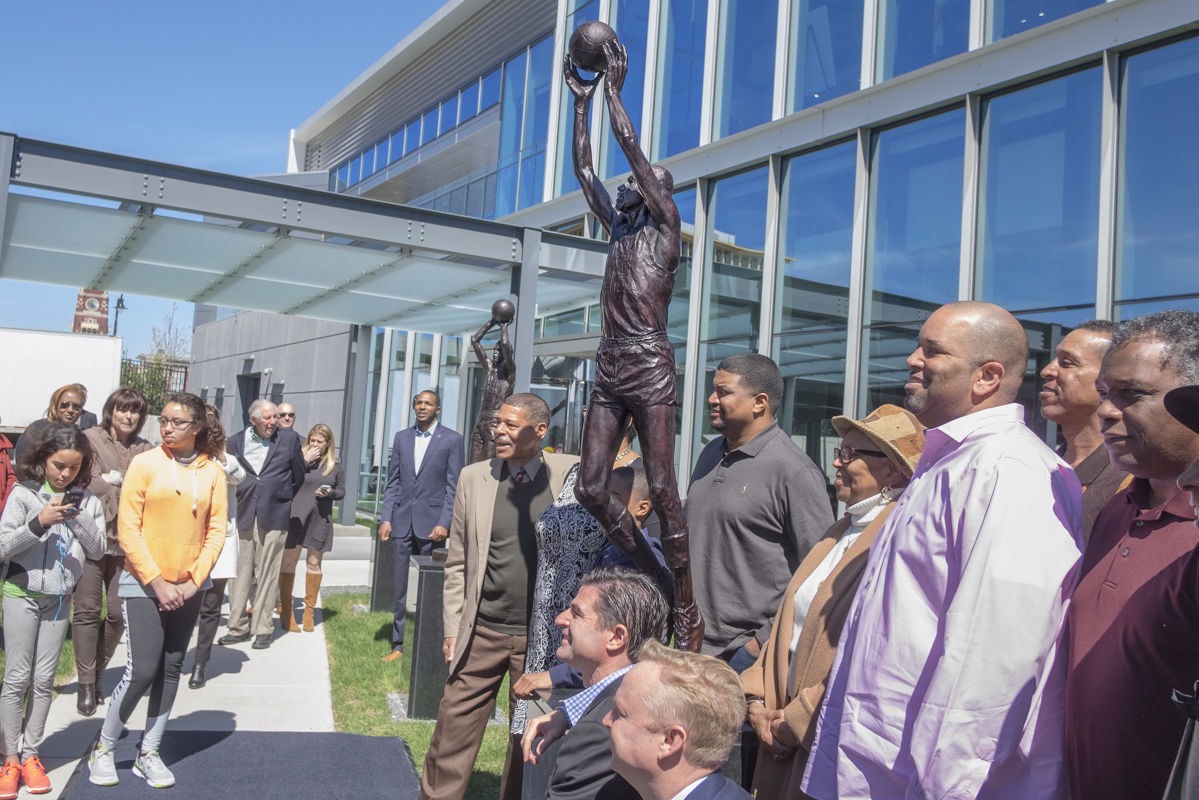 Wilt Chamberlain with friends and fans at the Philadelphia's 76ers Legend Walk at the unveiling.
2016 La Salle University: Life sized bronze sculpture of Corporal Michael J. Crescenz, MOH at the Philadelphia Vietnam War Memorial, La Salle University.
2015 Union League: Life sized bronze portrait of George Boker, Founder of the Union League, Philadelphia PA.
2015 Delaware County: State of Delaware: Bill Guarnere Monument, Life sized bronze of "Wild Bill", WWII Hero honored at the Delaware County Veterans Memorial, and immortalized by the HBO show "Band of Brothers".
2014 National Football League: Life sized bronze statue of Steve Sobol, NFL Films, Mount Laurel, New Jersey.
2013 Philadelphia 76ers: Bronze life-sized sculpture of 76ers Hall of Fame Coach Fred Shero, Practice Facility, Camden NJ.