The Grenning Gallery is pleased to announce our latest group show, Compte Rendu which will hang from Saturday, October 10th, through November 8th. Due to social distancing guidelines, we will not be having a typical opening reception. The gallery is now open 5 days a week, Thursday – Monday (By appointment only, on Tuesday and Wednesday). We invite you to come into the gallery, or if you'd like a private appointment, simply call 631 725-8469, Text Laura at
631-767-5302 or email us at info@grenninggallery.com.
Compte Rendu is 18th century French for "Report to the King". This was supposed to be an honest and clear report of what was actually happening in the Kingdom and it was delivered directly to the King. So, in this show – during the month before the next presidential election, we've curated a socially conscious exhibition of international artists, inspired by their individual responses to the current world crises.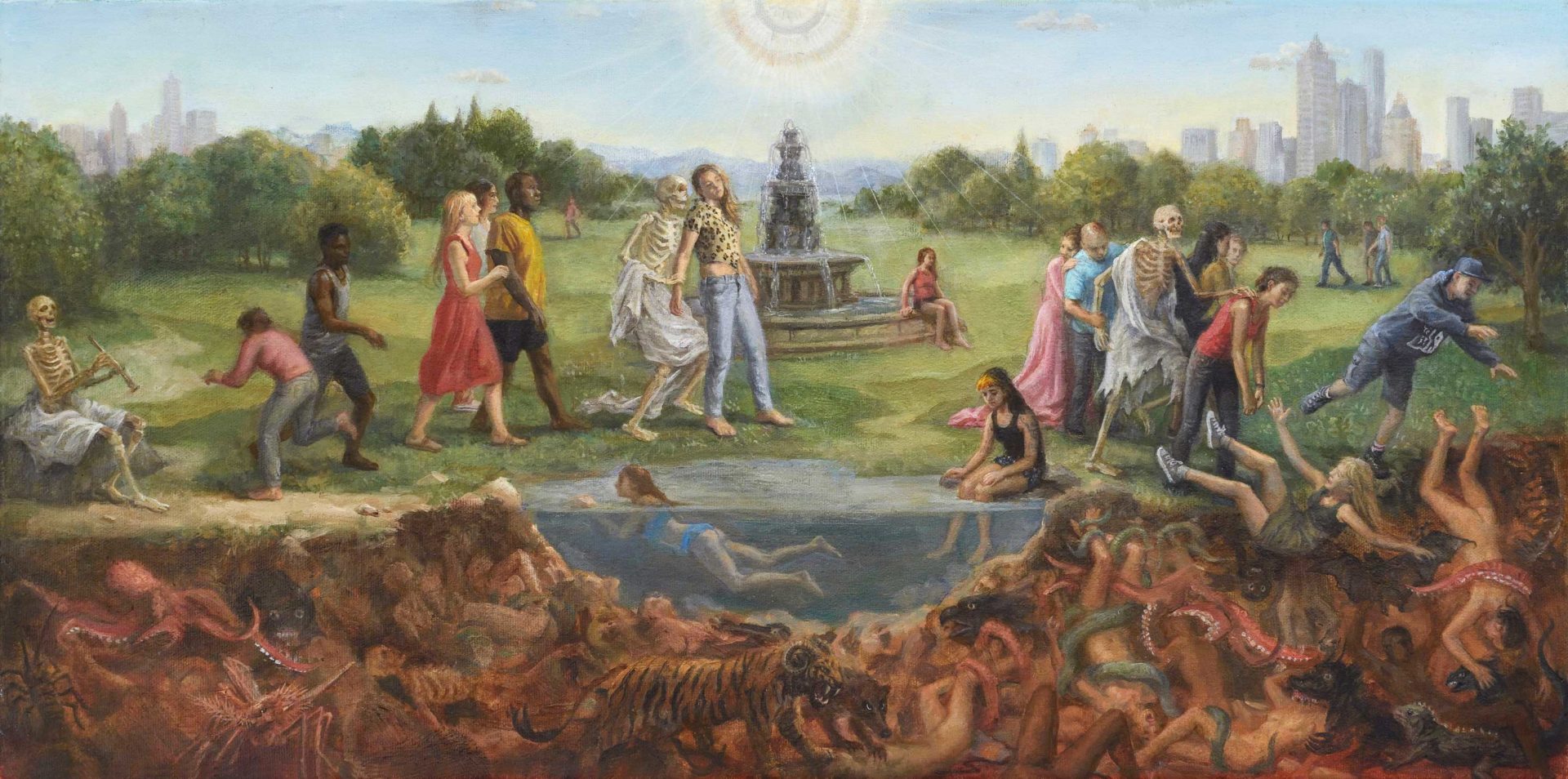 "A Daily Reprieve" by Kristy Gordon, 12 x 24 inches, Oil on canvas, 2019

"Candyland" by Kristy Gordon, 12 x 24 inches, Oil on canvas, 2019
Notably prescient, Kristy Gordon (b.1980, British Colombia) presented us with a series of dystopic painting LAST SEPTEMBER?! In response to the 2016 presidential election, Gordon felt inspired to address what she imagined were pressing social issues through her art. Little did she know that her paintings would come to life. Gordon spent a long while absorbing famed works from pre-renaissance masters Pieter Bruegel the Elder, Hieronymus Bosch, and Jan Van Eyck at the Metropolitan Museum of Art. Jan Van Eyck's "The Last Judgement" was a major inspiration. In "Daily Reprieve" Gordon depicts a walk through sunny Central Park, with a view of reality on several levels. This painting highlights the unseen (and unforeseen) but deadly risks that are everywhere, literally haunting the mostly unaware citizens. The skeletons, which are a symbol of deadly risks are walking with and guiding what seem to be unsuspecting folks, amid unseen dangers which are lurking below the water and ground.
At the time of creating these paintings, well before the pandemic hit, Gordon explains that she was thinking of the bipolarity of destiny: where hope and conflict co-exist. She explained that multi figure compositions are technically challenging – using artifice to create theatricality. Weird unexplainable elements play along with 'normal life' in this series of works from Gordon.

"Persephone" by Kristy Gordon, 30 x 24 inches, Oil on canvas, 2019
Gordon's "Persephone" is yet again, bizarrely predictive of the world we find ourselves in today. When we first saw these dystopic paintings with monsters, and rioting and wildfires, we were intrigued, yet had no idea Gordon was painting our immediate future! The myth of "Persephone" has inspired artists throughout history. The story is that Zeus's daughter, Persephone, was abducted by Hades – king of the underworld, and has to spend half of the year underground. She is symbolic of perennial vegetation, which shoots forth in spring and withdraws into the earth after harvest. Here Gordon paints a sad Persephone, as her season in the sun, her six months above ground, is ruined by the smoke from the wildfires in the background. Also, in the middle ground just above her head, we see an aggressive figure beating someone laying on their back and a rioting crowd surrounding a figure holding up the world. At the top a red stairwell, we see a figure beckoning to the crowd – is this hierarchical figure coming to help or worse?
Gordon has created her own species with an imaginary flower which reaches up, front and center. This composition is also a nod to Martin Johnson Heade's 19th century exacting paintings celebrating exotic plants, which were being discovered regularly back then, as naturalists were scouring the planet. Should we be worried about this new organism or is it simply a natural evolution of flora? The figure lays just past this flower, seemingly uninterested in the magical strangeness before her, and even more so to the flaming destruction behind her. Should we be hopeful since Nature, symbolized by Persephone, is unphased by the human upheaval around her? Gordon has also utilized a pre – Renaissance compositional tradition to connote depth by putting the items closest to the viewer in the lower part of the painting, the next nearest items in the center connoting the middle ground and the items on the distant horizon are placed high on the canvas.
Adam Straus (b. 1956, Miami, FL) has been portraying his concerns about the stresses on our environment in his paintings for many years now. This desire to address the issues came naturally, being the child of two Civil Rights activists and having grown up in Florida, spending most of his time outdoors. Living on the beach, Straus quickly became enamored with the natural world. Today, Straus is known for his majestic and luminous depictions of the sublime, which are often saturated with a concern about social and environmental issues. His penetrating dark humor can transport the viewer to post-apocalyptic worlds and often offers a wry observation on how humans have altered the natural landscape.

(Left) Air and Water: Long Island Grays by Adam Straus, 72.5 x 49.5 inches, Oil on canvas framed in lead, 2009
(Right) Fire and Earth by Adam Straus, 48 x 33 inches, Oil on canvas, 2008
In "Air and Water: Long Island Grays" Straus has affixed two panels together. The bottom panel portrays the open sea, ripples of minor waves sift along the water's surface. The top panel shows a pale sky, where not much seems to be happening. The overall result leaves the viewer initially calm, and quickly apprehensive. The power of the water could change at any moment, what lies beneath the surface? What mysteries lie above the clouded overcast sky above? One can choose to bask in the calm, or to give in to anxiety for what could-be lurking nearby. In Fire and Earth, we see the same configuration, of two panels affixed to each other. This time, the setting is not one to be confused with serenity. The bottom panel shows a parched, cracking earth, which meets the top panel a horizon engulfed in flames. The earth is on fire, it may be in the distance, but it's close enough; and the air we breathe is filling up with thick, black, smoke.
Both of these diptychs are confined in thick lead frames, hand-welded by the artist. A toxic material, warped by man, encasing images of nature, is a proclamation on its own. No matter how dangerous, or unnatural a task may be, man will always refuse to surrender his will to possess whatever resource he desires. Fire and Earth will be on view in Compte Rendu at the Grenning Gallery, while Air and Water: Long Island Grays is bound for the Permanent Collection at The Parrish Art Museum.
An avid consumer of the printed word in what is now an old fashioned medium - the newspaper – Straus has used the headlines from 2015 and 2016 as the background to his idyllic picture of a valley in Yosemite National Park in his brilliant "Old News: Yosemite". This juxtaposition of humankind's imbalances with nature's equanimity, enthused a rare realist's subtle political commentary of Nature, literally overshadowing man's smallness. Straus incorporates headlines from The United States' current administration, stridently rolling back long-standing environmental protections in pursuit of economic gains. It is an erroneous and ghastly attitude to hold; one that doesn't consider the health of the environment in coinciding with the health of the human race.

Old News: Yosemite by Adam Straus, 48 x 86 inches, Oil on newspaper on canvas, 2017
We are thrilled to re-introduce Steven J. Levin (b. 1964 | Minneapolis, MN) to our clients. We are particularly struck by "6 am News" which reminds us very much of the early days the pandemic shut down. All of us sequestered in our homes, and sometimes bedrooms, here depicted seeking out information, hourly, on our smart phones. We also include Levin's peaceful interiors of viewers perusing the grand rooms of our treasured public museums. Although most museums have been shut down, these images restore hope for us in the middle of this pandemic.
Though trained in the Boston School tradition, Levin has undertaken a somewhat different direction and brought a unique point of view to his work. He cites Jan Vermeer and Edward Hopper as among two of his strongest influences. His rich use of tone and compositional skill sets him apart from his contemporaries.
Levin exhibited here during the early days of the Grenning Gallery and has since exhibited widely and taken part in significant group and solo shows in San Francisco, New York, London, Beijing, and Barcelona. He has been featured on the cover of American Artist Magazine and also has been the recipient of numerous awards and prizes in national competitions including the American Society of Portrait Artists, the Allied Artists of America, the Portrait Institute, American Artist Magazine, the Artist's Magazine, the Oil Painters of America and the American Artists Professional League. Levin lives and works in Minneapolis, Minnesota.

National Gallery, London by Steven J. Levin, 34 x 46 inches, Oil on canvas, 2018
Melissa Franklin Sanchez (b.1984, England) is normally busy teaching aspiring artists at The Florence Academy of Art, but this past spring, schooling came to a screeching halt. In fact, Italy was one of the first major hot-spots for Covid-19, and residents were therefore sequestered to their own homes for months. The restrictions lightened-up at the end of May, but many citizens remained in their homes out of fear. Melissa Franklin Sanchez, was quarantined with her family, including two small children, a dog in a teeny tiny apartment in Fiesole. Her paintings capture this time spent inside with her children.
Comments from Melissa Franklin Sanchez on her paintings during the Covid shutdown: When looking at 'If you look closer' we see a room, the studio, sunlight hitting a door, and my children quietly absorbed in a game, in a reality beyond our sight. Fireflies, stars or just specks of dust catching light, dashes of light are a magic key to those that believe. The painting resting on the table is one that I made last summer, and it casts a reflection that takes me back to my favorite place on Earth. It reminds me more of the sea air than the place in the image. My son's drawing on his easel was made during the lockdown. It tells the story of a boat that dreamt of flying to the moon and one day a storm came and made its dream come true. Etched into the copper on this painting is a secret message, written in reverse that can be read with a mirror. It reads 'What do you see....Is it magic?'

I wonder about the way we see things and perceive reality. What is real? Is it what you see, what you feel, what you remember or what you believe? Is it magical or just a deep understanding or connection with something, some place or someone?
Rarely has a painter written so clearly about the ideas and questions we all have about the way we perceive reality. We applaud Franklin Sanchez also for her ability to paint the relevant elements in "When the World Stood Still" and leave the rest to our imagination. In this interior, we see elements of her life and a backlit outline of her self-portrait in the upper half of the copper panel, and then she simply dissolves the composition into iridescent bubbles that float towards the viewer. As with other painters, the pandemic lockdown has somehow inspired the artists to experiment and in this case, to a great mystical end.
Patricia Watwood (b. 1971 | St. Louis, MO) returns to the Grenning Gallery with reverent and irreverent images of women. In "Femen Flora" we see the depiction of a single participant in an actual annual march for women's freedom held in France. In this work, Watwood has resisted any opportunity to hedge the power of her subject, by depicting her bare breasted, facing the viewer straight on, claiming her freedom literally and figurately – unapologetically feminine with flowers and ribbons in her hair. The goddess Flora lives! And in the two, more contemplative nudes, we see quiet figures, in and of nature…the power of the beautiful curves of woman's nude figure offer the most elemental form of feminine power.
"Femen Flora" by Patricia Watwood, 28 x 26 inches, Oil on linen, 2014
(Left) Jamaal in profile, 2016, 23"x16", oil on panel
(Right) Keshia in Profile 2015, 24 x 24 inches, Oil on panel
We were struck by Patrick Byrnes (b. 1984 | South Korea) portraits "Jamaal in Profile" and "Keshia in Profile", for their dignity and emotional strength. In any other time, the description would stop here. However, after witnessing the horrific death of George Floyd and this year's worldwide marches, we hear a clarion call for equality in the application of justice. As a result– we see these paintings are political in their very existence. The desire for African Americans to be seen as a fully-fledged human being is at the root of the peaceful protests. Here, Byrnes explains how through his creative process of paying close attention to his subject, he not only "sees" the human, but that the very act of recording their image is a humble act of love.
Byrnes was hunkered down alone in a small studio apartment in France for most of the COVID shutdown, and at first frustrated that he wasn't able to paint. He is an avid devotee to painting from life, so after a short period of frustration he shifted his focus to collaging, sketching, journaling and planning paintings that he may want to make in the future. In creating his pre-pandemic portraits of Jamaal and Keisha, he explains and that he was in "pure flow, a dissolving of my sense of self as a separate entity from the image being created and the living person in front of me. He continues "this is the sweetness borne of my deep focus – a teeny tiny peek as the non-duality of consciousness." He went on the explain "what continues to be clear to me is how special it feels to pay very close attention to someone, and in that moment lose oneself completely. When I think now of Jamaal and Keshia and the hours I spent with each of them…only the word love can describe what I feel. " Then he said "…. abstract love demonstrated through careful attention. The portrait as narrative just never occurs to me. Not that I don't admire those who work in this realm. But I only ever want the person to be just as they are in that moment – existing not as an emblem but simply a person, vulnerable and honest, and strong because they are vulnerable….how could I possibly imagine anything more beautiful than that?!"
We are pleased to introduce Patrick Byrnes. Raised in La Grange, Illinois, he earned his undergraduate degree in Art History and English from the University of St Andrews in 2006. Byrnes moved to New York in 2010 to train under Jacob Collins, Edward Minoff, Joshua LaRock, Scott Waddell, and Colleen Barry at Grand Central Atelier. Following the completion of his studies in 2014, he worked as an instructor until he moved to Paris in 2017 where he now lives and works. Byrnes' immersion in the methodology, philosophy, and traditions of the classical atelier continues to inform his studio practice, while a determination to evince the beauty and vulnerability of his subjects provides the inspiration for his work.
"Mars" by George Morton; Limited Edition Print - 16 x 20 inches
Along the same lines, we are very pleased to reintroduce the fine art prints of the mesmerizing drawing of "Mars" by George Morton (b 19 XX). Since we first exhibited Morton's "Mars" and other work in 2016, he has become the subject of a feature film about his fascinating life. Click here to read about Morton in the New York Times article https://www.nytimes.com/2017/05/21/nyregion/off-to-italy-to-study-painting-a-former-inmates-journey.html . The original drawing of "Mars" can be seen at MOMA PS1's exhibit 'Marking Time, Art in the Age of Mass Incarceration' https://www.moma.org/calendar/exhibitions/5208. For more on the film project please click here https://www.onestoryupproductions.com/master-of-light.
Emily Persson (b.1991 | Melbourne, AU) has been enduring the year at home, in her Australian studio, in one of the worlds strictest government lockdowns. Earlier this year, Australia was devastated by pervasive bush-fires, due to record breaking temperatures and months of severe drought. Dozens of people were killed, thousands lost their homes, and animals have been displaced from their natural ecosystems. Persson says that "the land is fragile, and there are huge consequences for the delicate Australian landscape." She also wants to bring attention to the aboriginal Koori population, who have controlled fires in Australia for over 60,000 years, with methods that are simple, and can actually help the land flourish better than before. Persson paints her favorite spots around Victoria; spots that are coveted for their lush natural splendor. Her technique plays with thick applications of oil paint, thoughtfully textured, and blended, resulting in affable naturalistic pictures. Persson's love and respect for the natural landscape of her home country is clear.
"Save Western Port" by Emily Persson, 20 x 20 in, Oil on canvas, 2020
Scott Bluedorn, (b 1986, Southampton, NY) one of the only East End local artists in this exhibition, has brought in a new media to the Grenning Gallery. A play on scrimshaw, Bluedorn's intricate drawings onto fiberglass fragments uncovered from his daily walks on the beach, breathes new life to what others may see as trash. This repurposing of materials is an important theme today, where many people, and corporations even, are starting to see the dangerous of materials like single-use-plastics, and the necessity for sustainability.
Gosnold Point by Scott Bluedorn 8 x 17 inches, Ballpoint pen and acrylic on found fiberglass fragment, 2018
Lea Mancini-Hresko (1981 | Boston, MA) has delivered his 2013 oil painting of Mar a Lago, painted from direct observation, inside the Palm Beach Mansion, which is owned by our current President.
"Mar a Lago" by Leo Mancini-Hresko, 2013, Oil, 20 x 25 inches