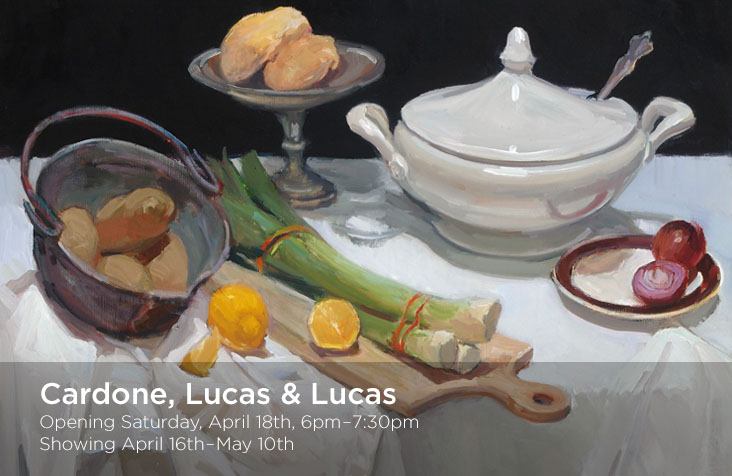 Cardone, Lucas and Lucas
|
April 16th - May 10th
To open our 17th season at the Grenning Gallery, we are pleased to show the work of three East End painters in Lucas, Lucas, and Cardone. True to our original roots as an incubator gallery, we are showing three artists that are just coming up as professional painters. Unlike other shows however, these are local artists who work almost exclusively here on the East End of Long Island. One painter even has her studio a few doors down from the gallery right on Main Street!
Our Opening Reception will be Saturday April 18th from 6 - 7:30pm at the Grenning Gallery, and the exhibit hangs until May 10th. The gallery is open every day at 11, except for Tuesday and Wednesday by Appointment Only. We close at 5p.m. unless it's Friday or Saturday, when we are open to at least 6pm.
Like investing in emerging markets, it's always thrilling to invest in emerging artists. One usually finds excellent value, and there is a deep sense of satisfaction, knowing that every single dollar that you spend is a vote for that painter to continue on the unlikely path of painting classically, or en plein air. In anytime, the desire to capture nature in oil paint may have seemed to be folly, but in this day and age of instant images, streaming by all day long, its almost unthinkable that anyone would spend weeks working on and refining a simple still life in a naturally lit studio. On the contrary, however, we see that these Poetic Realism paintings stand out even more now than they did when back in 1997, when we first opened our doors. The depth of observation and care used in the execution by these painters, have grown even more rare as the 21st century has gotten underway.
Maryann Lucas (b. 1959), of Sag Harbor, comes back for her second show with a group of richer and more complex still life paintings. "Potato and Leek Soup" is a wonderful take on the classical composition inspired by the Dutch masters. Her accurate drawing, restrained palette, coupled with brushstrokes that reveal her delight in the paint make this well composed piece a feat for this color loving painter. In "Set for Spring", we see Lucas's love of color dashed onto the neutral palette of a white linen tablecloth. We also see her late 20th century New York School painting roots with the slight distortion as the table bends forward towards us, giving us the fish eye view of a Sargent-like breakfast table. This hugely successful painting intrigues us, and now we wait for more from this emerging artist.
Thomas Cardone (b. 1964) is a hugely talented plein air painter, who works from New York City to the East End of Long Island. He captures the reflected lights in these bayside scenes with poetry and delight, as seen in "Alexa, Sag Harbor". This year he also has as few wonderful sketches of the Brooklyn Bridge.
Edwina Lucas (b. 1991) is having her first show with us. This is a special moment, because Edwina was an excellent manager of the Grenning Gallery and left just last year to pursue her career as full time painter. As a recent graduate from Skidmore College, and currently working in the studio of Amagansett painter John Alexander she is showing great promise. The development over the last year has been amazing, as she is learning a great deal from Alexander, who is a nationally renowned and hugely successful realist artist. We see a great maturity in Edwina Lucas's use of color, and sophistication to her brushwork that eclipses her years. "Two Fishes with the Oyster" refers directly to early 20th century natural realist paintings, and somehow rings so true to Sag Harbor in its simplicity. A close look at the oyster shows us John Alexander's influence and hints at a great painter who happens to be at the beginning of her journey. And yes, the two Lucas's are related...Maryann is the mother and Edwina, the daughter!
---
= SOLD
---