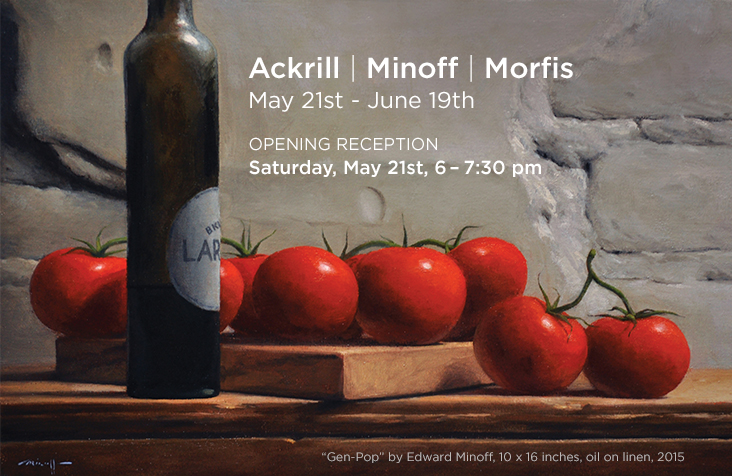 Ackrill | Minoff | Morfis
|
May 21st - June 19th | 2016
The Opening Reception will be Saturday May 21st, from 6 to 7:30pm, and the show will hang until June 19th. Ackrills original images and paintings on found objects, Minoffs extraordinary still lifes, and Morfis tromp loeil paintings create an exhibition that is diverse, yet highly focused. Singleness of purpose unifies these three very individual classical realists.
Classically trained painter Anthony Ackill (b. 1956), one of the Grenning Gallerys original painters, returns to us with his ironic and original compositions, all executed with the refinement of an old master. "Tool" which is a super sized monkey wrench, with a two-foot tomato in its grip is mesmerizing and hilarious at the same time. Also, "Enlightened", which on first pass looks like a pear still life, forces the viewer to do a double take - one of the perfectly painted pears is actually levitating a few inches above the others! All of this is painted on a small wooden tray, with the surrounding ridges acting as the frame. There is also a painting of a vintage bright blue, patent leather shoe on a used silver (ish) tray, which is filled with mirth. Ackrill succeeds in merging the influence of pop art, which must have been huge in his formative years, into his thoughtful, meticulous and funny classical creations.
John Morfis (b. 1976), originally from Long Island but currently living in Connecticut exhibits a fascinating series of single object tromp loeil paintings. His breakthrough painting "The Torn Saddlebag", which graces the cover of his debut Grenning Gallery catalogue is a much larger scale than his previous work at 36 x 26 inches. It also introduces a new palette for Morfis, with the pale green and warm toned leather. We are very interested to see what will come next from his studio. His spartan sense of composition is repeated in his new paintings, which hanging together, is chic. Each Morfis painting has a story, and stands up to close inspection. Morfis deft hand and clear eye has rendered these black and grey beauties into the three dimensions. Check his frequently visited instructional website www.helloartsy.com for the stories behind the key paintings and of course our website www.grenninggallery.com for a preview of the whole show.
Edward Minoffs (b. 1972), who teaches at Columbia University and paints full time in New York, exhibits a concise collection of new works from his studio this spring. His "Gen-Pop" which is on the cover of postcard, was sold before it even got to the gallery! This rich still life of tomatoes and olive oil, with the unlikely background of plaster and white brick wall, make this somehow a very up to date image - despite its "classico, classico" subject. Minoff continues to observe nature very closely, and with a fresh eye!
---
= SOLD
---