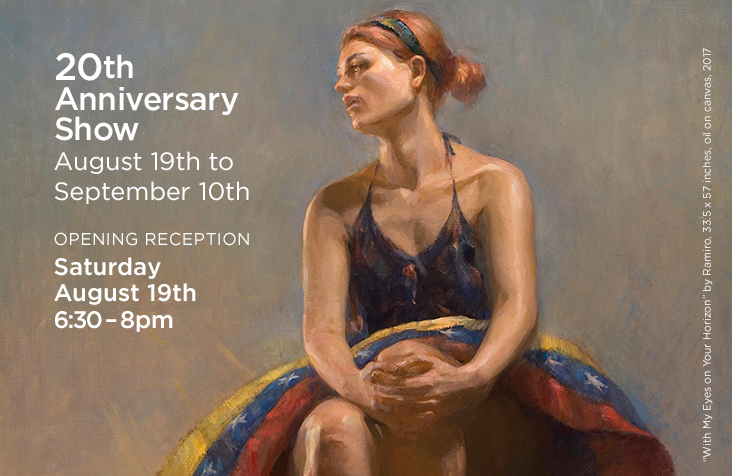 20th Anniversary Show
|
August 19th - September 10th | 2017
Please join us for the Opening Reception of Grenning Gallerys 20th Anniversary Exhibition on Saturday August 19th, from 6:30 to 8pm at the Grenning Gallery, 17 Washington Street, Sag Harbor. This exhibition will highlight some of our top artists throughout the years, including a few who helped us launch the business.
Ramiro, Ben Fenske, Paul Rafferty, Beth Rundquist, Ted Minoff, Maryann Lucas, Edwina Lucas, Jacob Collins, Marc Dalessio, Sarah Lamb, Melissa Franklin Sanchez, John Morfis, Anthony Ackrill, Nelson H. White, Kamille Corry, George Morton, and Stephen Bauman are only some of the great artists that have propelled the Gallerys success. Each of them will have work in the show.
Twenty years have passed, and Grenning Gallery is still enthusiastic about this art movement and its ideals. In 1995, Laura Grenning chose to leave the world of finance in Hong Kong to pursue a creative life on the East End of Long Island. After a chance encounter on Shelter Island with plein-air painter, Nelson H. White, her artistic destiny was set in motion. White taught Grenning about the history of art, instructed her in plein air painting, and introduced her to the Florence Academy of Art in Italy.
In Florence, Grennings passion deepened. She took the view that the blossoming of atelier education in the US and abroad would represent this generations art movement, differing distinctly from the 20th centurys in philosophy and practice. These new artists heralded a return to discipline, to the canons of beauty and to the celebration of direct observation of nature. They adhere to the traditions and painterly standards found in all the great works from the Old Masters through the end of the 20th Century.
Philosophically, these artists believe that the world is in harmony, and that the artists job is to focus on technical skill so that they may best represent the beauty and peace they see in nature. The purpose of this is to recreate, on canvas or in clay, this truth and to share this with the viewer. This is harmonious with the 21st centurys other cultural movements of environmentalism and holistic health. The individual sees his-self or herself as a small part of a bigger whole, and believes its their job to get their egos out of the way so that we can tune into the entire picture. The nihilism of the 20th century doesnt hold their attention.
Ben Fenske, one of the most prolific and individualistic painters in the Grenning Gallery, stands out for his loose and expressionist brushwork – yet his classical training is evident in the accuracy of his draftsmanship and tones. Although his landscapes are hugely popular, it is actually his figurative work that resonates especially. Floral Sheets is one of those important paintings, and hints at the influence of Lucien Freud, Klimt and Bonnard.
Ramiro, with his deeply felt humanistic philosophy, is one of the Gallerys most important artists, having set the tone for the Grenning Gallery in the early years. He has also trained many younger artists in his role as the chief painting instructor at the FAA. In our marquee painting of this show, With My Eyes on Your Horizon he paints with great emotion about the plight of his home country, Venezuela. The subject floats in limbo, isolated and detached… with the flag in her lap, and although anxious, there is a hint of hope in her eyes.
Marc Dalessio, who stewards one of the most notable and generous blogs on painting, at www.marcdalessio.com, has also been with the Grenning Gallery since the very beginning. His fabulous major scale landscape paintings grace many of our clients walls. This gifted draftsman has always been able to get a great likeness in his figurative work and some of his best paintings depict his subjects outdoors, amongst a landscape.
We have seen many artists rise to success over the last two decades, most notably - Jacob Collins. In 2001, he founded the Water Street Atelier in New York City, now known as the esteemed Grand Central Atelier. This painting academy, along with the FAA, is where we originally recruited our emerging artists. In this exhibition, we will highlight timeless paintings from Collins, alongside work from his past students, Sarah Lamb, and Edward Minoff, fine masters of contemporary realism whom Grenning Gallery now represent.
The Grenning Gallery has become an oasis for what Laura Grenning calls Poetic Realism, what some call Classical Realism and what the New York Times calls Slow Art. Under the masterful guidance of Jacob Collins, Lamb and Minoff arduously perfected their craft and now deliver some of the most important and sought-after paintings in the academic realism community. Not only is Lamb represented by a number of respected galleries across the nation, she was also recently featured in an exhibition of important still-life paintings at the Museum of Fine Arts Houston, in Houston, Texas (A Feast for the Eyes: 200 Years of American Still-life Painting from the Hevrdejs Collection). Minoff is also represented by many well-regarded galleries in the US. But his involvement in the art world doesnt stop there. He co-anchors a hit podcast titled, Suggested Donation, alongside Tony Curanaj, another GCA alum. These conversations provide an insight into the creative mind. By speaking with both traditional and non-traditional artists and craftsmen, curators and restorers, they create a dialog through which they discover common ground across disciplines and spaces united by a love of and deep devotion to skill.
Another artist well be highlighting is Stephen Bauman, who first showed with Grenning in 2006. Since then, Bauman has exhibited at galleries across the globe, been featured in museum exhibitions, and has shared his expertise with aspiring students at the FAA in Florence, Sweden, and the US. His work has evolved from academic realism to emotive, with a surreal depiction of reality seen through cerulean-colored glasses.
Gallery painters Anthony Ackrill, Kamille Corry, Maryann Lucas, Edwina Lucas, John Morfis, Melissa Franklin Sanchez, Nelson H White, and George Morton will also have work on view. Finally, for the first time in many years, we will feature several new works by Beth Rundquist.
---
= SOLD
---