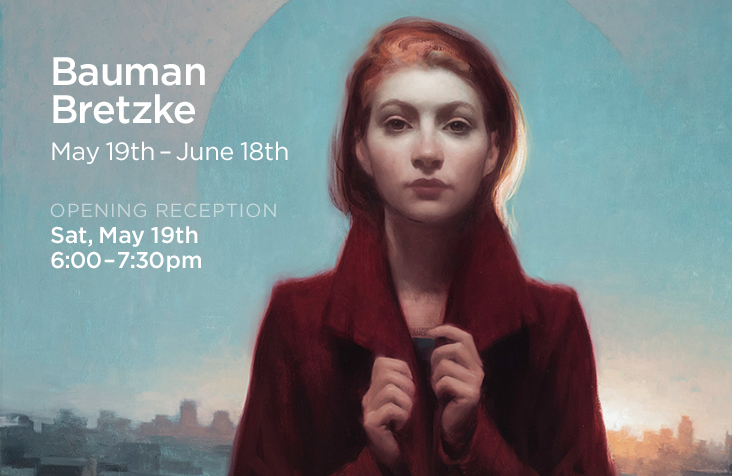 Bauman | Bretzke
|
May 19th to June 18th | 2018
Please join us for the Opening of Bauman | Bretzke on Saturday, May 19th from 6:00 - 7:30pm
Luminous tonal figurative paintings and spectacular graphite drawings. from Stephen Bauman, radiate emotional energy he has observed of the natural world. Bauman also delivers his latest figurative works done in the style of academic realism. Lastly, Carl Bretzke unveils his latest popular plein air paintings of contemporary Americana!
Please join us for the Opening Reception of Grenning Gallery's latest exhibition, Bauman | Bretzke, Saturday, May 19th, from 6:00 to 7:30pm at the Grenning Gallery, 17 Washington Street, Sag Harbor.
SAG HARBOR, NY - The Grenning Gallery is pleased to exhibit the latest work from the gifted artists Stephen Bauman and Carl Bretzke.
Stephen Bauman (b. 1980) offers a series of drawings and paintings, which are both stylistically realistic, and technically expressive. Bauman's work excites both the technical enthusiast as well as the contemporary need for impact with his two viewpoints. On one level his work makes a big impression across the room, and on another level, up close, reveals abstract markings which convey an intense observation of the details found in nature. Bauman is returning to the Grenning Gallery after a decade of developing his career overseas. Bauman, a New York resident for two years now , had spent the prior ten years honing his very original visual voice, while working in ateliers in Italy and Sweden. Bauman's eternally original and introspective expression makes him well poised to make his mark on the art scene, especially now that he is living and working in the New York area. We have always been drawn to his original and deeply felt paintings and drawings, having first shown him back in 2006 when he was only 25 years old.
The emotional intensity found in Bauman's figurative work is astounding. A hallmark of Bauman's character portraits is that, somehow, the subject's gaze mysteriously extends beyond the plane of the canvas to connect directly with the viewer. This is what originally caught our attention 12 years ago. We are not the only ones that have noticed, as he has over 90,500 number of followers on instagram (@stephenbaumanartwork).
In "New Town", we see a young woman heroically posed against the backdrop of a miniscule New York. Here Bauman uses his highly refined figurative painting technique to convey a 21st century 20-something thoughtfully facing the challenges of the big city - it's a classical realism 'Me Too' painting. Subtle yet direct, using his considerable technique to convey a contemporary subject - AHHHH....exactly what I have been waiting to see emanating from the poetic realism movement at this stage!
Bauman is a gifted draftsman searching for a way to express beauty through these simple materials and in this group of new works, we see that he is hitting his mark. In a step outside of our normal fare, the Grenning Gallery will be showing several very important drawings from Bauman in this show. Bauman claims that "people are not familiar of drawing as a fine-art form", so he began exploring painting techniques through drawing. The same way painters use impasto or a palette knife, Bauman uses drawing materials like charcoal and graphite to an expressive end; for instance: he modulates the heaviness of markings, creates depth through layers, and accentuates highlights via an eraser. The medium's capabilities are infinite. Bauman's drawings are deeply crafted, and time consuming.
Growing up in Miami as a street artist, although seemingly miles away from his current aesthetic, explains the graphic sensibility which distinguishes Bauman from many of his fellow travelers in the classically trained artist world. He is currently living in New York City and teaching at the Florence Academy of Art New York branch and painting in his studio at Mana Contemporary.
Carl Bretzke (b. 1954) has been showing and painting on the East End at the Grenning Gallery for several years. He is drawn to scenes that evoke a sense of familiarity, not unlike Hopper and Norman Rockwell. His work instills an emotional connection to the feeling of a place rather than to the place itself. A quiet city scene at night is more about the quietness than about the city.
Most of Bretzke's paintings include contemporary, unpretentious vehicles. "I find that vehicles, like figures, add a sense of realism and scale to my paintings." And it is true. Automobiles in paintings are an immediate indicator to the era of creation.
Carl Bretzke, best known for his recent series of the movie theatre facade, being the last artist to paint it from life in November 2016, a month before it burned down. We have prints available of this painting "The Last Show ". Bretzke's work is growing in quality and depth, which is evidenced by this interesting collection of familiar local and not so local scenes from American life.
Bretzke explains his work clearly when he says "Mark Jenkins, of The Washington Post (Feb 20,2015), once described my work as simultaneously intimate and detached...with a style that recalls Edward Hopper and the Ashcan School. This was an appropriate assessment in that Hopper and Bellows are two of my personal favorites from history. I am attracted to work like theirs that depicts familiar images of everyday life with a somewhat undefined narrative that involves the viewer on a slightly different level. Although I most recently have been known as a Plein Air painter, I don't think of myself as a single category artist. I spend equal time in the studio developing larger and somewhat more complex work. Many friends and teachers in the contemporary art world have been influential to my work including St. Paul artist Joe Paquet and Florence artist Ben Fenske."
Bretzke has garnered countless awards in plein air contests around the country (See Here), is represented by Grenning Gallery and three others across the country and has been covered extensively in the art press.
---
= SOLD
---