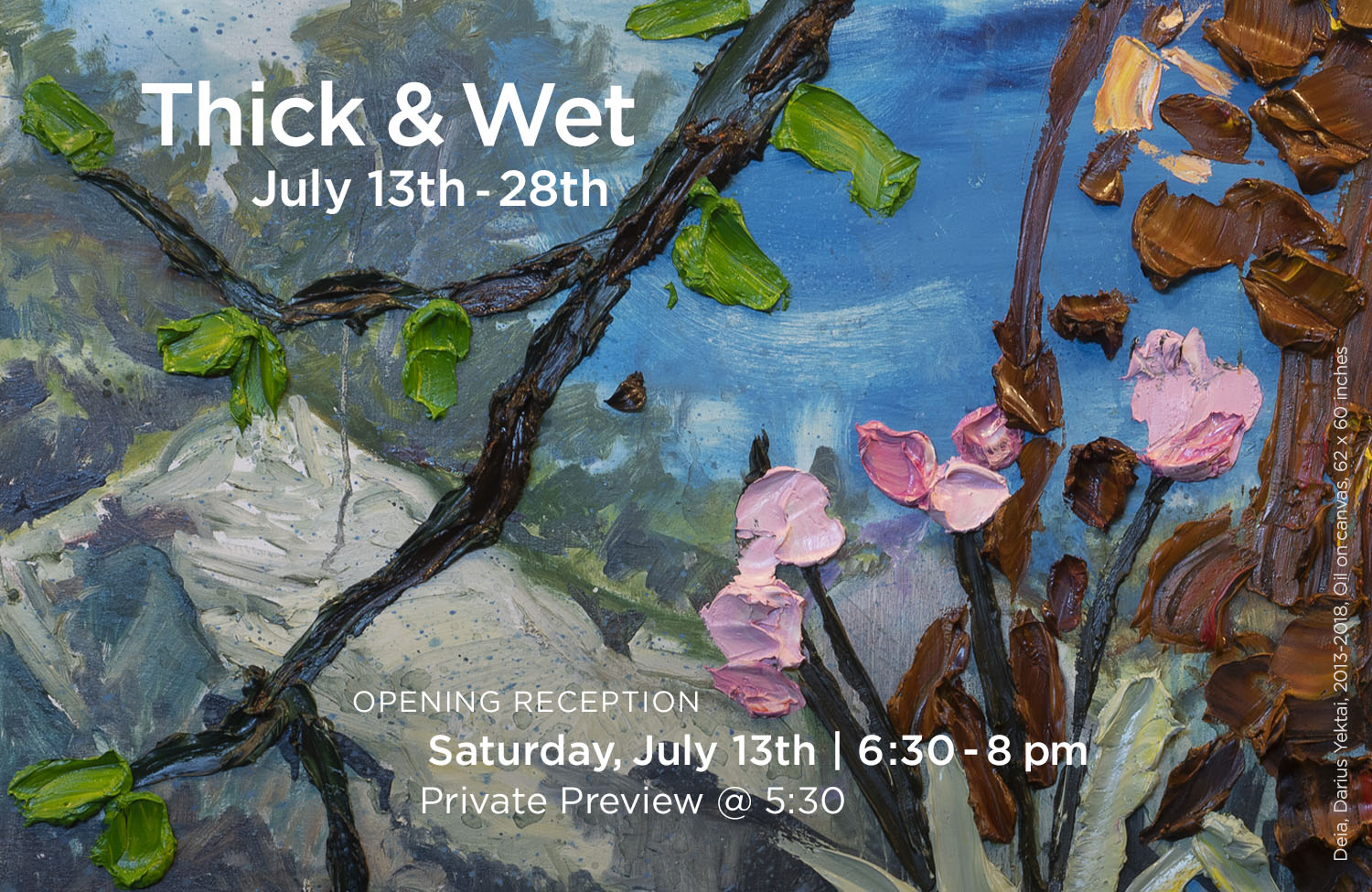 Thick and Wet
|
July 13 - July 28
The Grenning Gallery is pleased to announceThick and Wet: a group show of painters who value and accentuate the materiality of paint. Longtime Grenning Gallery artist Nelson H. White is highlighted and will be joined by local painters Beth Rundquist, and Darius Yektai; Russian painters,Irina Rybakova, and Daniil Volkov;and introducing Emily Persson, a young painter all the way from Melbourne, Australia. On Saturday July 13th, 2019 an invitation-only, champagne reception will take place from 5:30 - 6:30 pm. A public opening reception will follow, from 6:30 - 8:00 pm.
Nelson H. White has been with the Grenning Gallery since its inception in 1997. White comes from a long line of painters, whom were important to the American Impressionist movement of the late 19thand early 20thcentury. White picked up lots of his technique from his father, Nelson Cooke White, and his Grandfather, Henry Cooke White. Moreover, despite his 60+ year career as a professional painter, he continues to actively train at the acclaimed Florence Academy of Art.
He splits his time between the US and Italy. Each summer since the 1940s, he returns to his family's property on Shelter Island, to paint locally. White also resides in Waterford, Connecticut. A few of his weeks in winter are spent in the Bahamas, and the rest of the time he's painting along the Mediterranean coast of Italy. White, driven by his passion for seascapes, makes an effort to live and paint beside bodies of water, all year round.
A classically-trained hand which acts through a modern method: White says his paintings are 80% palette knife, and 20% paintbrush. By laying paint on thick, White faces the difficulty of translating abstract markings into naturalized forms. In "Sea and Sky" (2019), dense lines of bright yellow are used to highlight the reflection of natural light from above, reflecting onto a reaching wave below.
Another third-generation artist, Darius Yektai(b. 1973) is native to the East End of Long Island, and Grenning Gallery Manager, Megan Toy, has had her eye on his paintings for the last 10 years. Yektai's work has always been expressive; it's in his genes! His father, Manoucher Yektai was a leading figure in the Abstract Expressionist movement centered on the East End of Long Island in the 1950's. However, in recent years, Yektai's work has transformed into bright, textural, extra dimensional canvases that connote a sense of celebration; celebrations of color, of paint, of surface, of depth, of indoors and outdoors, of simple and of complex. Yektai's work has a newfound aura of clarity, which is immediately palpable to the viewer. Although his compositions appear abstract, they are based on subjects often found in historical painting; common themes include pots of flowers, patterned tablecloths, and verdant, sun-filled landscapes.
Yektai's paintings aren't meant to be read from left to right. Some of these canvases were started years ago, the earliest being 1998 (Morning Glory). Each painting has been cultivated with care, from its initial layer of paint, to forms created, and reinvented as the paintings evolve, as the painter evolves. Deiawas started in 2013, initially intended to be a landscape of mountains beside a body of water. As time passed and new ideas came to Yektai, he returned to the canvas with a new approach. Paint laid on as thick, wet, globs, depicting an opaque tree-trunk, a reaching branch, a vase of pink flowers, and a brightly patterned tablecloth. This painting can be read as a whole, from surface to that first layer. From flower vase to the profundity of the mountainside beyond.
On the theme of Thick and Wet, Yektai's Cement Paintings come into question. It is clear that the work is thick; conversely, they are NOT wet. They art anti-wet actually. When painting with cement, you only have a short amount of time to work with the material, and that is when it is wet. Cement is carefully, but quickly, spread onto the canvas, in swift, singular motions. You can actually count the number of strokes, or movements of Yektais hand. Seven strokes indicate a surface in the foreground. Four strokes create a vase, where tulips are illustrated; two motions for each pair of petals, nine motions for each stem. So, even though the end result of the painting is dry as stone, we must note the importance of the way the material is used, while its wet.
Beth Rundquist(b. 1962) is a highly sought-after painter, rarely available through a gallery. Classically trained at some of the finest classical academies, including the Ecole National Superieure des Beaux Arts in Paris, and the Lyme Academy in Connecticut.
Rundquist's work demonstrates a refined observation of nature; she translates the real, to the canvas, expertly. However, in her fine details, one can find heavy, thick, impasto; in Red Skirtwe see this demonstrated in the figure's hair, where her foot rests on the white surface in the foreground. Although Rundquist's paintings may appear less textural than the rest of the work in this show, it's the subtle use of the body of paint to accentuate important edges that really secures her place in this exhibition.
Emily Persson's (b. 1991) palette knife paintings make an impression all the way from Australia to the United States. Curator Megan Toy discovered the young painter on Instagram, and was taken with her simple yet lush compositions. Persson exclusively uses a palette knife, with which she sets paint on abundantly, creating naturalistic forms via paints' 3-Dimensional qualities.
Inspired by her surroundings in Queensland Australia, Persson began to paint landscapes, seascapes, and flowers. She believes that nature is there for people to admire and explore, and she wants that beauty that we see outdoors, to be seen magnificently, indoors. Persson has exhibited at galleries and exhibitions in Melbourne, New South Wales, and Queensland. In only two years of painting full-time, she has amassed over 14,000 followers on Instagram!Thick and Wetis Persson's first exhibition with the Grenning Gallery, and her first exhibition in New York State.
Finally, two Eastern European painters, Irina Rybakova and Daniil Volkov, will exhibit their impasto paintings. Irina Rybakova (b. 1961 in Vyshny Volochok) is a famous Russian master of landscape. The persona of the Russian village and the village worker are her dearest subjects. Her art is appreciated in museums and collections both in Russia and abroad. She is a member of The Russian American Painting Alliance, a popular exhibition series started by Ben Fenske in 2016. Daniil Volkov (b. 1974, Yalta, Ukrane) is the son of renowned Ukrainian artists with an ancestral history of painters going back to the court of Imperial Russia. His first personal exhibition was held in Yalta in 1995. Further studies at Moscow State University in 1996. Returned to Yalta 2001 where he has been living and working since, specializing in capturing the beauty of the Crimean landscape in his own distinctive, lyrical style. With gratitude to Vanessa Rothe Fine Art, we are honored to show his work and support his successful career as a fine artist.
---
= SOLD
---