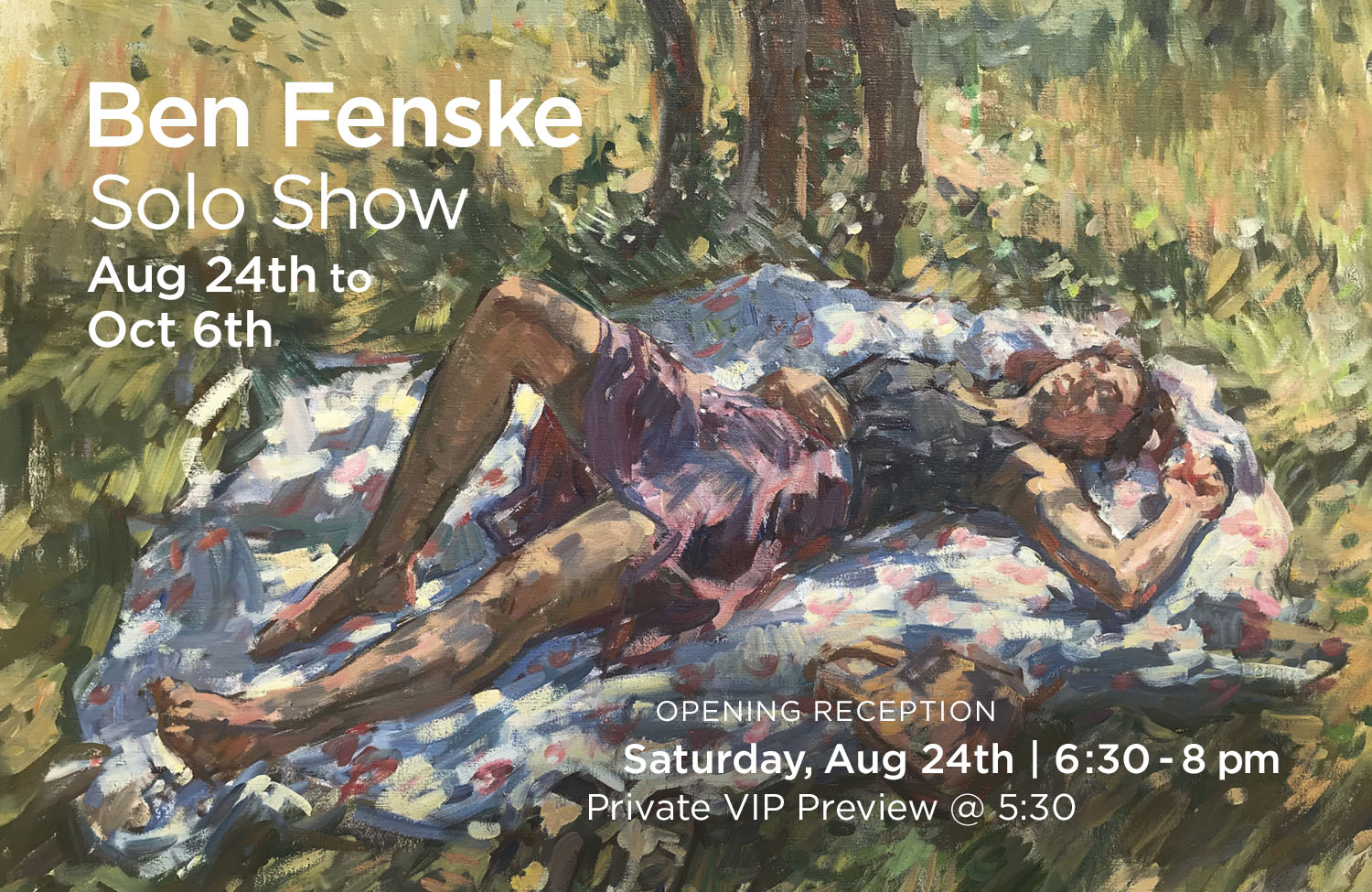 Ben Fenske Solo Show
|
August 25 - October 6th
Ben Fenskes Annual Solo Show at the Grenning Gallery
Ben Fenske (b. 1978) continues to help lead this generation of painters by meticulously advancing and adjusting his process. He's focused solely on capturing the beauty that he sees in nature and all around him whether he is at home in in Chianti, spending the summer on the East End of Long Island, or traveling in the States and Europe. His solo show of recent works will be hung on August 19th and open with a reception on August 24th, 6:30 - 8:00pm at the Grenning Gallery's new location at 26 Main Street in Sag Harbor. The exhibition will hang through October 6th.
In addition to painting for this show, Fenske is also going to be featured in the invitational group show "Corpo a Corpo" at the Annigoni Museum in Villa Bardini, in Florence Italy, opening October 25th, 2019.This invitational show will consist of the finest figurative work from thirty five classically-trained artists, from twelve different countries, all of whom have studied in Florence over the past 30 years. For more information go to www. VillaBardini.it, or check #CorpoACorpo on social media. Fenske will be showing his delightful multi figure composition "Summer Afternoon". Afternooncaptures the mood of conviviality between friends over lunch, while demonstrating Fenske's supreme ability to paint light effects. The glinting sunlight cascades through the bamboo awning, drenching the luncheon setting with informative and beautiful dapples of light and shadow, with a glowing mid-day Tuscan landscape in the background. "Corpo a Corpo" is sponsored by Cassa di Risparmio di Firenze Bank, and will be on view at Villa Bardini from October 25th2019, through January 12th, 2020.
Fenske has also just returned from filming in Los Angeles, for the new online atelier New Masters Academy. His devotees will finally have access to his original approach to creating paintings when his classes are uploaded in September 2019. For more information visit (https://www.nma.art/#lessons).
Fenske's latest work bares the interiors, people, and lush landscape surrounding his home and life in Chianti Italy. In Evening Cloud we see rolling hills illuminated and shadowed by the natural light of a clouded sky. The foreground depicts green plowed land encompassed in shadow from a large cloud directly above, unseen to the viewer. Beyond, the earth is enfolded in bright natural light. In Bedroom, a woman lays nude on the bed, sleeping. 2 large windows are wide open, revealing the verdant landscape outdoors, and admitting layers of light. The elements of the room soak up the sunlight. A wardrobe door swung open, is backlit, and stands in shadow. The chair beneath the window is covered in sunlight and casts a shapely shadow to its left. Colors vibrate and bounce, from sunlit to shade, throughout Fenske's work.
Fenske has had a solo show with the Grenning Gallery every summer, since 2007. Each summer before the show opens, the artist comes to the East End to paint locally, and each year, Fenske is attracted to something new. The many beaches, farms, fields, and villages can be found depicted in his oeuvre. Last summer (2018), Fenske was inspired to paint Cedar Point, in East Hampton. Big, bold clouds scattered above a bright glistening shoreline. Short, but thick, urgent brushstrokes connote the natural energy of the environment that day. Strong winds blow the water, and the tall grasses in the lower right foreground. Fenske had to walk about a mile off the trail to get to this quiet destination, clearly compelled to capture the remote parts of bustling East Hampton.
This summer, Fenske has been drawn to happenings which integrate social scenarios. The Sag Harbor Carnival happens every year at Havens Beach, but 2019 is the first year Fenske has felt allured to paint it. "Harbor Carnival" places the viewer at the entrance of the fair; the eye goes directly to the color-illumined Ferris-wheel against the night sky. Ticket-booths and novelty games fill up the outer edges, as crowds of people flock to-and-fro. Another new painting, "Moonlit Bonfire Sketch" was painted en-plein-air at Peter's Pond in Sagaponack. A blossoming Sturgeon Moon illuminates the vast and immeasurable night sky. Fenske uses his bright blues, greens, highlights of yellow, and vigorous brushstrokes to sensibly capture his impression of this natural brilliance. Figures conjure around a bonfire on the black, backlit sand in the foreground.
---
= SOLD
---